احیائے اسلام : علامہ اقبال کے کردار کا ایک مطالعہ
Islamic Renaissance: A Study of the Role of Allama Muhammad Iqbal
Keywords:
Iqbal, Reconstruction, Islamic thoughts, innovation, Struggle, implications
Abstract
The reconstruction of the Islamic thoughts and ideology has been propagated by various revivalists and theologians who were apt in Islamic etymology. Allama Dr. Muhammad Iqbal is one of them who with his overwhelmingly innovative style of poetry reconstructed the Islamic thoughts for the cause of the Islamic revivalism. The concept of Islamic reconstruction is associated with Ijtehad and it is the fundamental inclination of Iqbal's poetry and his entire poetry is embed in the charismatic influence of Islamic revivalism. In this aspiration of Islamic Revivalism Iqbal highlights the vivid and hidden penetrating traits of Islamic Thought. The unity of Islamic Ummah was not only the poetic desire of Iqbal but it also ran as implied tide in his poetic philosophy too. The comprehensive ness of Islam as complete code of life and it's poetic presentation is another hall mark of Iqbal,s poetry. In pressing upon Islamic codes and culture Iqbal masterly brings forth their uniqueness to revive and adopt them. This article is a key attempt towards exploration of the aforesaid implications.                               
References
Allama Muhammad Iqbal, Bāl-e-Jibreel (Lahore: Usmān Publishers, 2009), 162.
Dr.Khalifa Abdul Hakeem,Fikr-e-Iqbal (Lahore: Mushtāq book Corner, 2015), 104.
Allama Muhammad Iqbal, Dr, Bang-e-darā (Lahore: Asad Near printers, 2009), 84
Allama Muhammad Iqbal, Kuliyat-e-Iqbal Urdu (Lahore: Iqbal Ikādmee Pakistan, 2014), 453.
Iqbal, Kuliyat-e-Iqbal Urdu, 454.
Iqbal, Kuliyat-e-Iqbal Urdu, 554.
Iqbal, Kuliyat-e-Iqbal Urdu, 558.
Iqbal, Kuliyat-e-Iqbal Urdu, 557.
Iqbal, Kuliyat-e-Iqbal Urdu, 267.
Iqbal, Kuliyat-e-Iqbal Urdu, 388.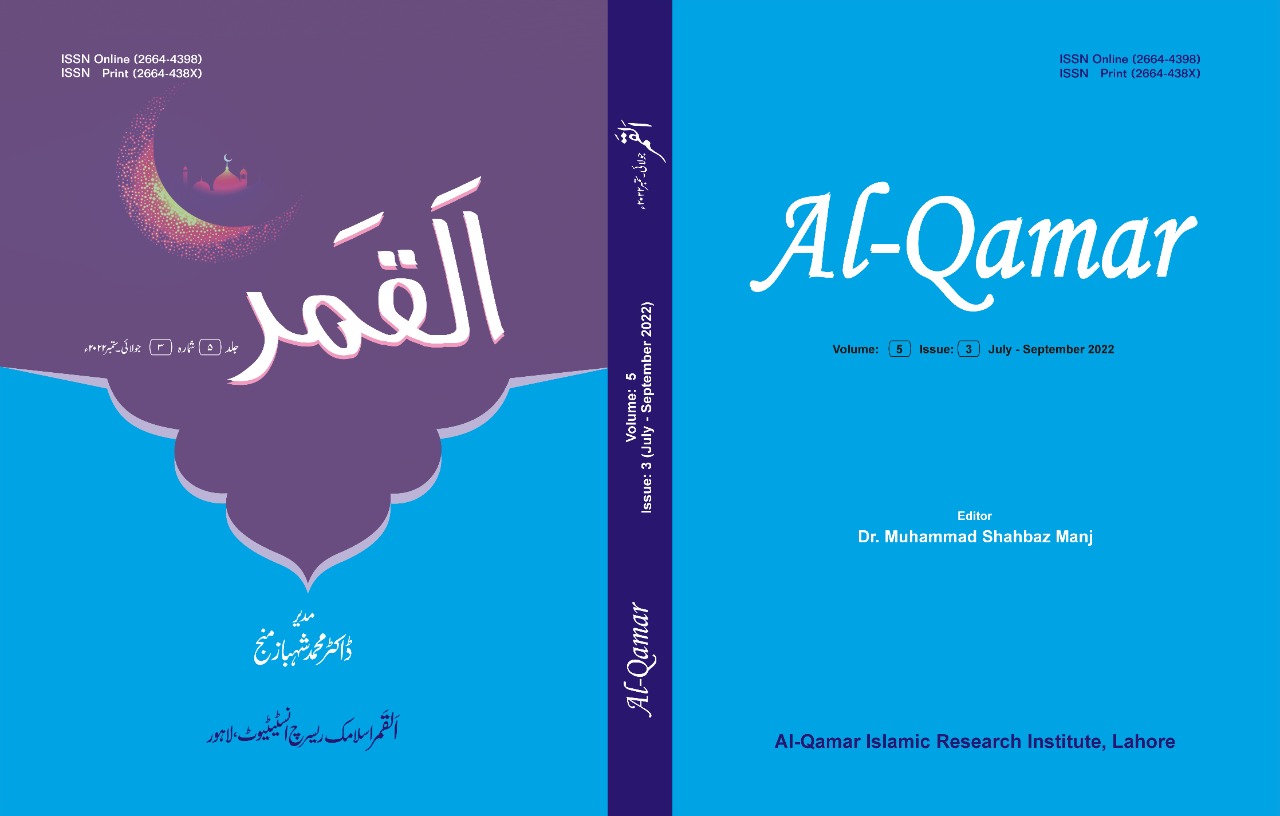 How to Cite
Dr. Tayyaba Nighat, Dr. Uzma Bashir, and Dr. Shazia Andleeb. 2022. "احیائے اسلام : علامہ اقبال کے کردار کا ایک مطالعہ: Islamic Renaissance: A Study of the Role of Allama Muhammad Iqbal". Al-Qamar 5 (3):41-48. https://doi.org/10.53762/alqamar.05.03.u5.
Copyright (c) 2022 Al-Qamar
This work is licensed under a Creative Commons Attribution 4.0 International License.