اردوناولٹ میں اخلاقی ومعاشرتی مسائل کی عکاسی
Reflection of Moral and Social problems in Urdu Novelt
Abstract
Abstract
Urdu novelettes have played a crucial role in addressing moral and social issues in the sub-continent, particularly the challenges faced by the weak and middle class. These literary works have highlighted the unjust division of wealth and the dominance of certain sections of society, leading to economic, moral, and social crises. They have shed light on social evils, such as corruption and gender inequality, and have offered solutions and alternative values. Through compelling narratives, Urdu novelettes have created awareness, stimulated discussions, and advocated for positive change in society.
References
Academic american، encyclopedia, 1934 (1st edition) v.2, p 231
Wazir Agha, Dr., "Navlet ka Masla ", Mushmoola, Mahkar navelt No., (New Delhi: Press, 1991), 81.
The Oxfored English Dictionary, 1989, (2nd Edition) 565
Syed Shafique Ahmad Ashrafi, Professor, London ki aik raat, (Karachi: Insha, July-December 2015 shumara ), 76-78-88,
Ahmed Nadeem Qasmi, "us rasty per" pesh lafz: Mashmoola, Zabt ki Deewar, (Lahore: Gora Publisher,1959) 11-12.
Qudrat ullah shahab, "Ya Khuda", (Lahore: Sange Meel Publications 2017), 09.
Manto Saadat Hassan, mashmoola, wazahat hussain rizvi, doctor, urdu novelet ka tehqeeqi wa tanqeedi tajziya, (Lakhnow: faizi art press 2001) 201
Wazahat Hussain Rizvi, syed,doctor,Urdu Novelet hiyat, asleeb or rujhanaat (Lakhnow: Masiha Computer Center 2014) 126
Ahmed Nadeem Qasmi, "us rasty per" pesh lafz: Mashmoola, Zabt ki Deewar, (Gora Publisher Lahore,1959) 11-12
Ismat chughtai ziddi, (Lahore: Chowk Minar anar kali 1970) 94
Muhammad Ilyas, not at all, (Lahore: sange meel punlications 2020) 101
Seema Ali Abidi, imtehano ki raaten, (Lahore: sanjh publication 2018) 50
Zaib Un Nisa Zebi, Aks E Zindgi, (Karachi: Zebi and Anzaar Publications 2014) 266
Mustansar Hussain taarar, fakhta, (Lahore: al tehreer publicaions 1972) 08
Abdullah Hussain, ziddi, (New Dehli: gola market darya ganj 1995) 57-63
Muhammad Ilyas, (Lahore: rangraiz sange meel publications 2020) 299
Muhammad Ilyas. Maya ko maya mily, (Lahore: sange meel publicaitons 2020) 51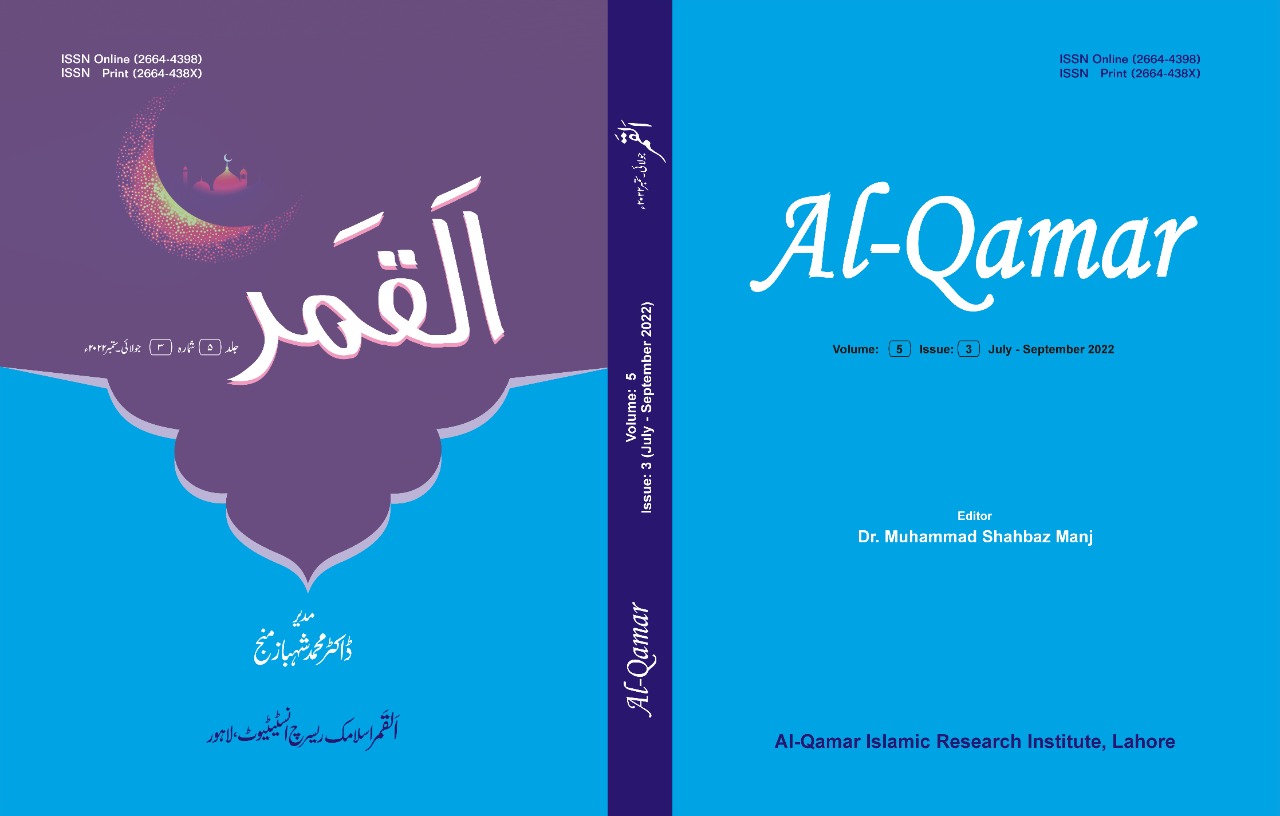 How to Cite
Muhammad Naeem Babar, Dr. Iftikhar Baig, and Ali Raza Yousaf. 2022. "اردوناولٹ میں اخلاقی ومعاشرتی مسائل کی عکاسی: Reflection of Moral and Social Problems in Urdu Novelt". Al-Qamar 5 (3):255-64. https://doi.org/10.53762/alqamar.05.03.u22.
Copyright (c) 2022 Al-Qamar
This work is licensed under a Creative Commons Attribution 4.0 International License.