An Analysis of Robert Spencer's Views on Jihad
Keywords:
Orientalists, West, Prophet Muhammad, Terrorism, Jihad
Abstract
The meaning and treatment of jihad are often misunderstood by ordinary people starting from the confusion caused by various parties, Muslims and non-Muslims. An explanation of the true meaning of jihad needs to be made public especially in rejecting the false accusations and statements of Western scholars. In addition, the issue of malignancy which is increasingly widespread in all corners of the world has made the issue of jihad an important and often debated issue. In fact, there are those who link the violence and war that is currently in force with the personality of the Prophet Muhammad, as Robert Spencer did in his writings. Therefore, the main purpose of this study is to analyze and explain the views of the orientalist Robert Spencer in his book, "The Truth about Muhammad." regarding the misunderstanding of this issue of jihad. Through the method of text analysis which focuses on the theme of jihad in the book. This article has identified several errors and elements of propaganda spread in his writings. All of these negative views may make ignorant and naive readers to hate the Prophet Muhammad (PBUH) for practicing jihad and alienating non-Islamic people instead of knowing Islam through its true perspective.
References
Amiri, M.A.Yusoff, & F. Soltani, Arab Spring: Geopolitical Implications R.I for Iran. International Journal of Asian Social Science. (2014):1534.
K.Salenda, Terrorism in the Perspective of Islamic Law, Journal of Islamic Studies XIII.no.6 (2009):105.
Zul' Azmi Yaakob & Ahmad Sunawari Long, "Terrorism as a Challenge of Today's Ideology: One Analysis from a Philosophical Perspective." International Journal of Islamic Thought 7, no.6 (2015):59.
al-Baqarah 2:11; al-A'raf 7:56
al-Nisa' 4: 93; al-Maidah 5: 32
Abdullah Bayyah. Terrorism: Diagnosis and Solution ,trans. Ahmad Naqiuddin (Kuala Lumpur: Ilham Books, 2018),84.
https://www.bbc.com/news/uk-23064355.
https://www.jihadwatch.org/why-jihad-watch.
https://www.jihadwatch.org/about-robert.
https://www.nationalreview.com/phi-beta-cons/pakistan-book closed-muhammad-candace-derussy/.
Robert Spencer, The Truth about Muhammad(Washington DC: Regency Publishing, 2001), 9-10
Spencer, The Truth about Muhammad,10.
Spencer, The Truth about Muhammad, 99.
Spencer, The Truth about Muhammad, 98.
Ghazi bin Muhammad, Ibrahim Kalin & Mohammad Hashim Kamali..War and Peace in Islam: The Uses and Abuses of Jihad (Jordan:Royal Islamic Strategic Studies Centre,2013),162.
M.I. Asep, Islam in the West & the Threat of Islam to the West: A Review of Robert Spencer's Book, Islam Unveiled, Journal of Religion and Society Studies. (2005):115-121.
Syed Irar-ul-Haq, Dahshat Gardi Aur Islami Mauqif (Karachi: Idara Al-Quran wa Uloom Ilamiyya, 2009), 163.
Dr.Badshah Rehman and Saeed Akhtar, "Jihād against Terrorism: A Response to Robert Spencer's Viewson Jihād" Burjis 5, no.1 (2018):14.
Abi Bakar bn Mas'ood Alkasaani Al'uddin, Bada'e As-sana'e (Bairut :Daru Kutub Ilmiyya, 1986),40.
Yusuf Qaradawi, Fiqh Jihad (Bandung: Mizan Publisher,n.d),xiviii.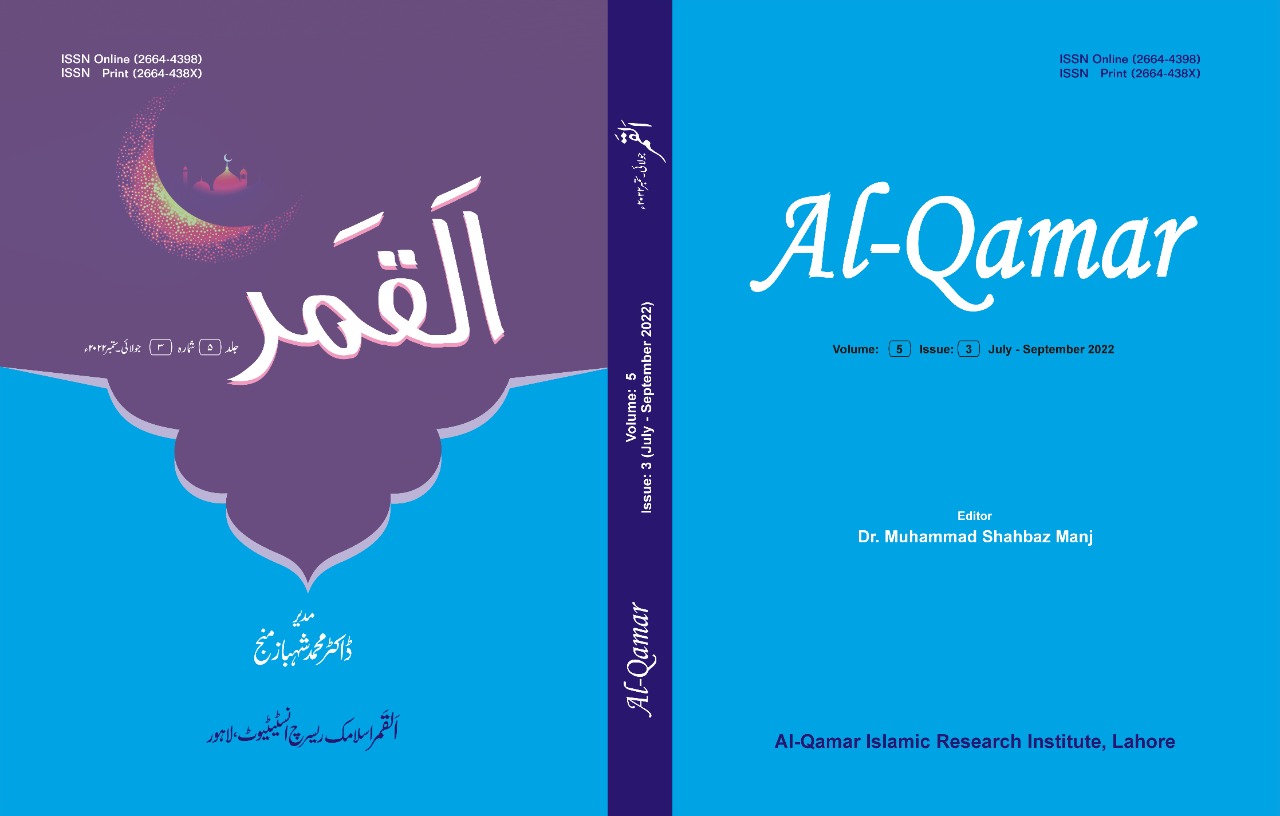 How to Cite
Dr. Rizwan Younas, Dr. Tariq Aziz, and Abida Shaheen. 2022. "An Analysis of Robert Spencer's Views on Jihad". Al-Qamar 5 (3):125-32. https://doi.org/10.53762/alqamar.05.03.e08.
Copyright (c) 2022 Al-Qamar
This work is licensed under a Creative Commons Attribution 4.0 International License.