اسلامی قوانین میں ذبیحہ اور تحفظ نسواں کا مقام و اہمیت
Zabiha and The Feminist Protection in Islamic Law
Keywords:
Reforming the society, Peacemaker, Slaughter Approached.
Abstract
The important role of women in reforming the society and keeping it on the right path cannot be denied. For the betterment of the society, apart from Hazrat Adam, as many Prophets as came, scholars, peacemakers, elders of religion, heads of nations, those who played a significant role in courage and bravery, all of them were born from a respected woman. Their mother's embrace was their first teacher and first school. The credit for all the achievements of the best goes to their first education. Therefore, the Prophet ﷺ has said in view of the importance of women; "The most valuable thing in the world is a good woman, by her goodness the world becomes good."  The people of the West and Europe are constantly criticizing the people of Islam that Islam is unable to give women their real importance. Keeping the same thing in mind, the writer raised her pen and the analytical text was brought forward.
References
Al-Mā'ida 5:27.
Al-Hajj 22:9.
Alāw Dīn ʻAlī, Tafsīr Khāzīn (Beirūt: Dār al-Kitāb al-Ulamiyyah), 3:309.
Al-Kūsar 30:2.
Imām Abū Abdullah Muhammad, Sunan Ibn Mājah, 2:1045.
Al-An'ām 6:121.
Al-An'ām 6:118.
Imām Muslim, Sharaḥ Saḥīḥ Muslim, 2:145.
Al-An'ām 6:146.
Al-Mā'ida 5:103.
Muhammad Ibn Ismā'īl, Saḥīḥ Bukhārī, Ḥadīth no: 3541.
Imam Abū Abdullah, Tafsīr al-Qurṭubī, 6:335
Al-An'ām 6:145.
Muhammad Bin Ismā'īl, Saḥīḥ Bukhārī, Ḥadīth no: 3521.
Abū Abdullah, Tafsīr al-Qurṭubī, 6:121.
Abdullah Abd al-Raḥīm, Al-Zabaih fī Shariah al-ʻIslamiyya al-Ḥāḍī.
Mufti Nizām Dīn Rizvī, The Order of Machine Slaughter in the Light of Araba Religions
Mirzā Bashīr al-Dīn Mahmood, Tafsīr-e-Kabeer, 3:253.
Al-Baqarah 2:29.
Al-An'aam 6:312.
Al-Baqra 2:35-39.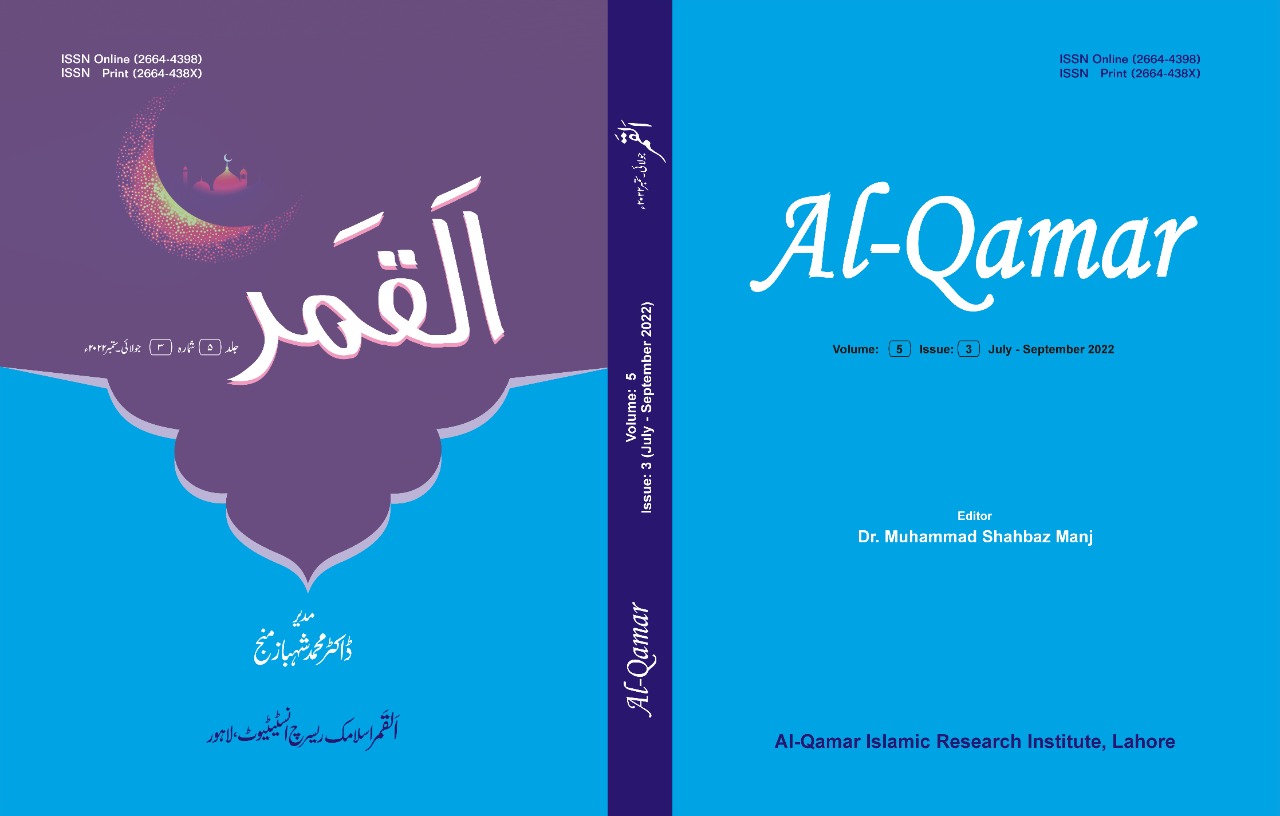 How to Cite
Kaneez Fatima, Nuzhat Javed, and Dr. Muhammad Hassan Imam. 2022. "اسلامی قوانین میں ذبیحہ اور تحفظ نسواں کا مقام و اہمیت: Zabiha and The Feminist Protection in Islamic Law". Al-Qamar 5 (3):177-86. https://doi.org/10.53762/alqamar.05.03.u16.
Copyright (c) 2022 Al-Qamar
This work is licensed under a Creative Commons Attribution 4.0 International License.