ضلع ڈیرہ اسماعیل خان کے علمائے کرام کی علمی خدمات: ایک مطالعہ
A Study of the Academic Services of ʻUlamāʻ of Dera Ismail Khan District
Keywords:
Scholars, religious, God, country, development, hardships, Muslims, services
Abstract
Islamic scholars are the capital of any country and they play an important role in the religious and political development of the country. Due to the Islamic scholars we learn religious and worldly sciences. The status of Islamic scholars is very important in the eyes of God and His messenger. God has said that "An educated person is much better than an uneducated person". If we look at the history of the sub-continent, we will know that the Islamic scholars faced severe hardships for the development of religion. When the British colonialism started in the Indian subcontinent, the power of Islam weakened. Religions characteristics were declining. Rituals innovations and myths will spread, and in the Muslim Ummah there was a state of anxiety. On this occasion scholars came forward and they managed the plight of the Muslims. Just as the Islamic scholars of Dera Ismail Khan have been very important in the religious and political field of the country since the beginning. Due to which their services cannot be forgotten.
References
Al-Alaq: 96, 1-4
Al-Zumr,39:9
Imam Ibn-e-Maja, Sunnan Ibn-e-Maja,150/1, Hadis:229
Mishkat, Al-Fasal Sani, Vol-1, P-34
Mishkat, Kitab ul Ilm, Fasal Sani, Vol-1, P-34
Ghulam Abbas Siyal, Dera Ismail Khan, P-59
Muhammad Farooq Qureshi, Mufti Mehmood Aik Quomi Rehnma, P-52
Molana Mufti Jamil Khan, Fatava Mufti Mehmood (Muqadma), Vol-1, P-138
Qadir Dad Khan, Tareekh Dera Ismail Khan Mazi Aur Haal Ke Ainay Main, P 22-23
Molana Qari Muhammad Tayyeb, Tareekh Dar-ul-Aloom Deo-Band
Inayat Adil, Roznama Meezan-e-Adal, Ilmi wa Amli, Chiragh Hazrat Molana Allauddin
Sahib, 19 December, 2013
Molana Allauddin, Ilam ul Bari Fi Taqreer Al-Bukhari
Molana Allah Wasaya, Chaminstan Khatam-e-Nabuwwat
Qari Shams ud Din Shamsi, Zamaay Umat Ki Nazar Main (Molana Fazal ur Rehman)
Molana Musa Khan Albazi, Targeeb ul Muslimeen, P-120
Alama Hussain Bakhsh Jara, Anwar ul Najaf Fi Israr ul Mushaf, P 4-5
Ghulam Abbas Siyal, Dera Ismail Khan.
Ghulam Abbas Siyal, Dera Ismail Khan.
Amin Ullah Gandapur, Tareekh Sarzameen Gomal,
Amin Ullah Gandapur, Tareekh Sarzameen Gomal
Mufti Molana Muhammad Shafi Multani, Faisala Ulma Mutalqa Rovet ul Hilal, P-2
Hafiz Muhammad Naseem Kulachvi, Naqoosh Hayat
Qazi Riaz ud Din, Roznama Ietidal (Hazrat Molana Qazi Abdul Karim ki Zindagi Ke Bare Main Ulmaay Karam Ke Tasarat), 10 August, 2017
Syed Hafeezullah Gillani, Apna Dera Ismail Khan Tareekh Kay Aainay Main, P-70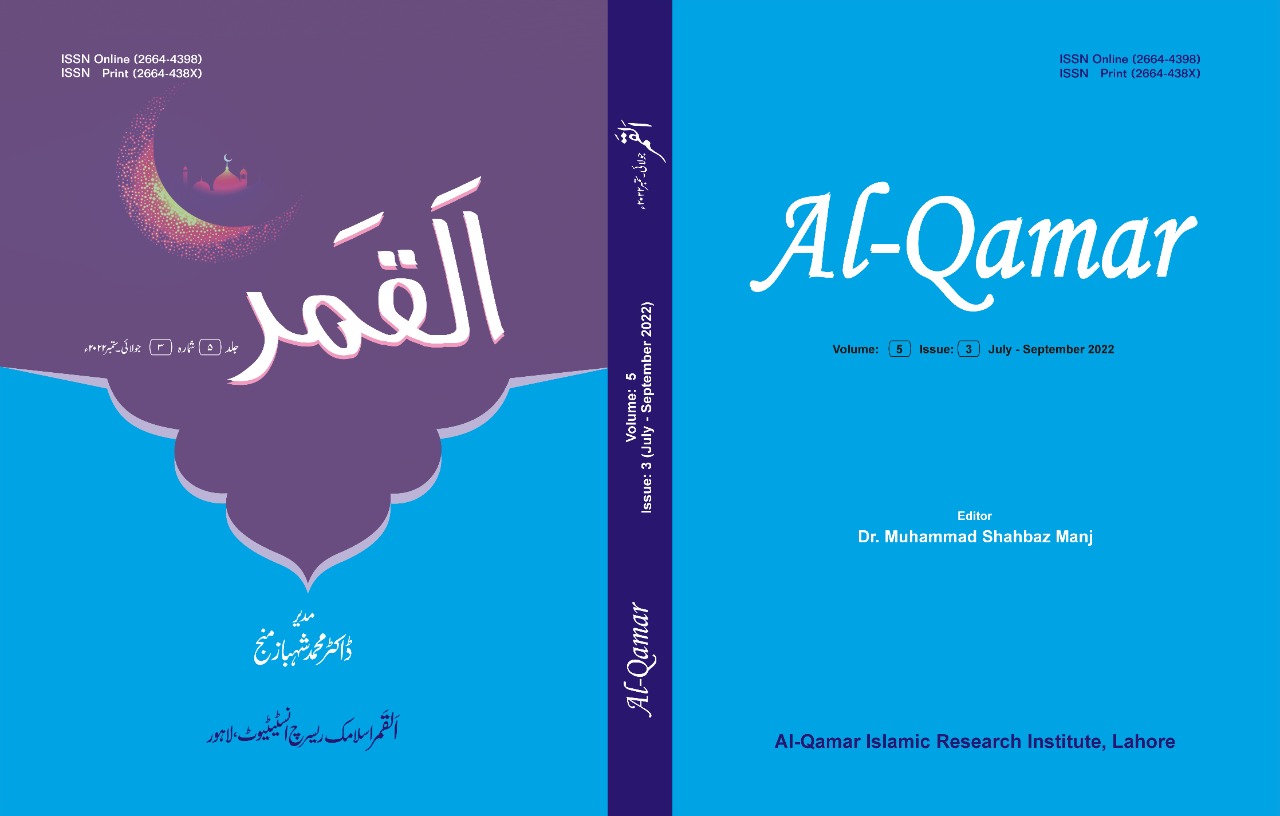 How to Cite
Fahd Rauf Bhatti, Professor Dr. Fazal Ilahi Khan, and Professor Dr. Aslam Khan. 2022. "ضلع ڈیرہ اسماعیل خان کے علمائے کرام کی علمی خدمات: ایک مطالعہ : A Study of the Academic Services of ʻUlamāʻ of Dera Ismail Khan District". Al-Qamar 5 (3):205-14. https://doi.org/10.53762/alqamar.05.03.u18.
Copyright (c) 2022 Al-Qamar
This work is licensed under a Creative Commons Attribution 4.0 International License.