زرعی پیداوار کی مارکیٹنگ کی مروجہ صورتیں اور شریعت اسلامیہ کی روشنی میں ان کا تجزیہ
Contemporary Types of Agricultural Marketing from the Perspective of Islamic Jurisprudence
Keywords:
Western, commodities, precarious, criterion of Halāl, 'Ihsan', interest
Abstract
Islamic approach to marketing is different from the western approach. The western approach sees it 'as it is' eg, how commodities are being marketed? On the other hand, Islamic principles of marketing approach things from a different perspective of how things should be marketed, according to Islamic way of marketing. The following discussion takes in to account the present marketing situation in Pakistan. Regretfully, in Pakistan which came into being in the name of Islam, the Islamic principles of marketing kept getting neglected resulting in a very precarious situation in which every stake holder participates in marketing practice from the perspective of their respective 'profit' even at the cost of other stake holders resulting in a very exploitative situation. The Islamic principles of marketing take in to account the criterion of halal (permitted) versus haram (prohibited) in marketing dealings. This distinction between halal and haram is based on the element of 'interest' which makes business dealing lawful or unlawful. The defining feature of Islamic concept of marketing is 'Ihsan' rather than 'interest' which is the associated with the western concept of interest.
References
Chambers Harrap Publishers, The Chamber Dictionary ( UK: Chambers Harrap Publishers Ltd,2006), 947.
Harrap Publishers, The Chamber dictionary, 189.
Luais Maluf, AlMunjad (Beirūt: Dār al-M'arifah, 1406 AH), 350.
Ibrahim Mustafa, Al Mujam Al-awasit (Beirūt: Dār al-M'arifah, 1406 AH), 448.
Muhammad Ibn Ismail al-Bukhari, Sahih al-Bukhārī (Riyadh: Dar es Salaam, 2001), 3: 73.
al-Bukhari, Sahih al-Bukhārī , 3: 72.
Abū Dawūd Suliman Ibn Ashaas, Sunnan Abi Dawood (Riyadh : Dar es Salaam, 2001), 3: 269.
Abū Dāwūd, Sunnan Abi Dawood, 3: 69
Ismail Ibn Hammad Al-Juhari, Mujam al- Sihah (Beirūt: Dār al-M'arifah, 1406 AH), 426.
Muhammad Ibn Ali al-Shokāni, Neil al-Awtār (Syria: Dar ul Kalim ,1999), 3: 628.
Malik IbnAnas, Al Muatta (Beirut: Dar al-Ihyaa al-Arabin.d) , 490.
Muhammad Asif Khan, Promotion of Agriculture in Pakistan (Islamabad: October 2015), 12.
Al-Bukhāri, Sahih Al Bukhari, 3: 71.
Al Bukhāri, Sahih Al Bukhari, 3: 59.
Al Baqrah 2: 208.
Muhammad Taqi Usmani, Islam and Modern Economic Issues )Lahore: Idāra Islamiāt, 2008(, 50.
Muhammad Ibn Isa al-Tirmdhī, Jām̒ al-Tirmdhī (Riyadh: Dar es Salaam, 2001) 2: 357.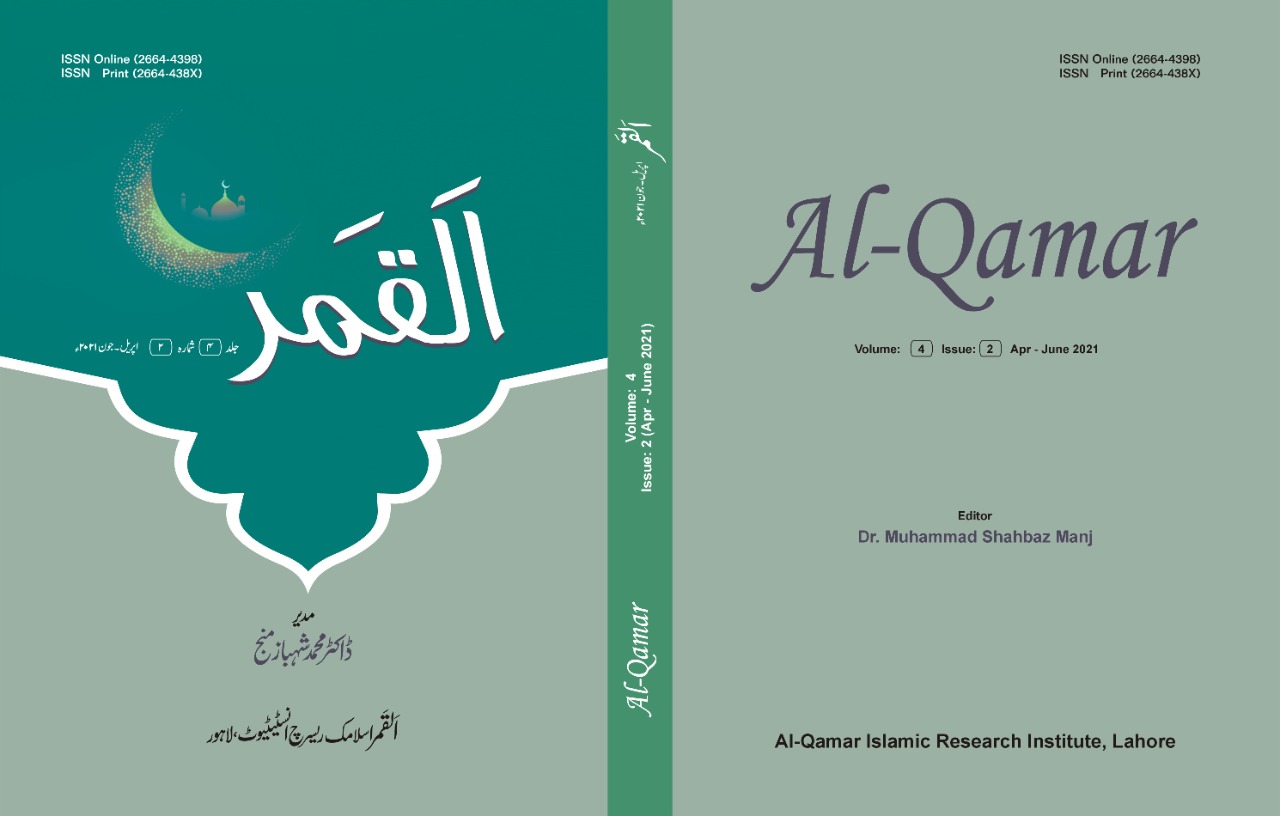 How to Cite
Dr. Allah Bakhsh Najmi, Dr. Nisar Ahmad, and Yasir Munir. 2021. "زرعی پیداوار کی مارکیٹنگ کی مروجہ صورتیں اور شریعت اسلامیہ کی روشنی میں ان کا تجزیہ: Contemporary Types of Agricultural Marketing from the Perspective of Islamic Jurisprudence". Al-Qamar 4 (2):327-36. https://doi.org/10.53762/alqamar.04.02.u27.
Copyright (c) 2021 Al-Qamar
This work is licensed under a Creative Commons Attribution 4.0 International License.