شریعت ِاسلامیہ کی اخلاقی تعلیمات کا تقابلی جائزۃ
A Comparative Study of Moral teaching of Islamic Sharī̒ah
Keywords:
Tafsīr, Usūl, Sources, scholars
Abstract
There are three parts of human practical life, first is about God that is called worship, second is about men's mutual business that is called affairs, and the third part is about social life this is totally based on law. The third one is the implementation of human relationships and connections this is called morality. In this article, I choose the last two parts of human practical life that are called human relationships and affairs. The real purpose of every shariah is to cultivate these human being parts and not to prevent them from denying it. All Sharī̒ah refers to all the virtues that ignite human nature and prohibited all denials refers to evils which humanity has always considered bad. Islamic law has taken full care of ethics and has given this aspect the opportunity to impose legal rules. The fact is that the Holy Quran and Hadith of the Holy Prophet (peace be upon him) associated morality with life in such a way whole life became worship. Islam has expanded morality throughout life. In this way no area of life has left such as individual or collective national or international in which its moral spirit is not equally forgotten. The Quran raised the level of moral values so high that was unimaginable to human being and offered an alternative concept of right and wrong. So high speed media and modern technology have reduced the ground distance in which humans sitting millions of miles apart but talking and filling together, but as the side effect deprived of human values and suffering from moral degradation.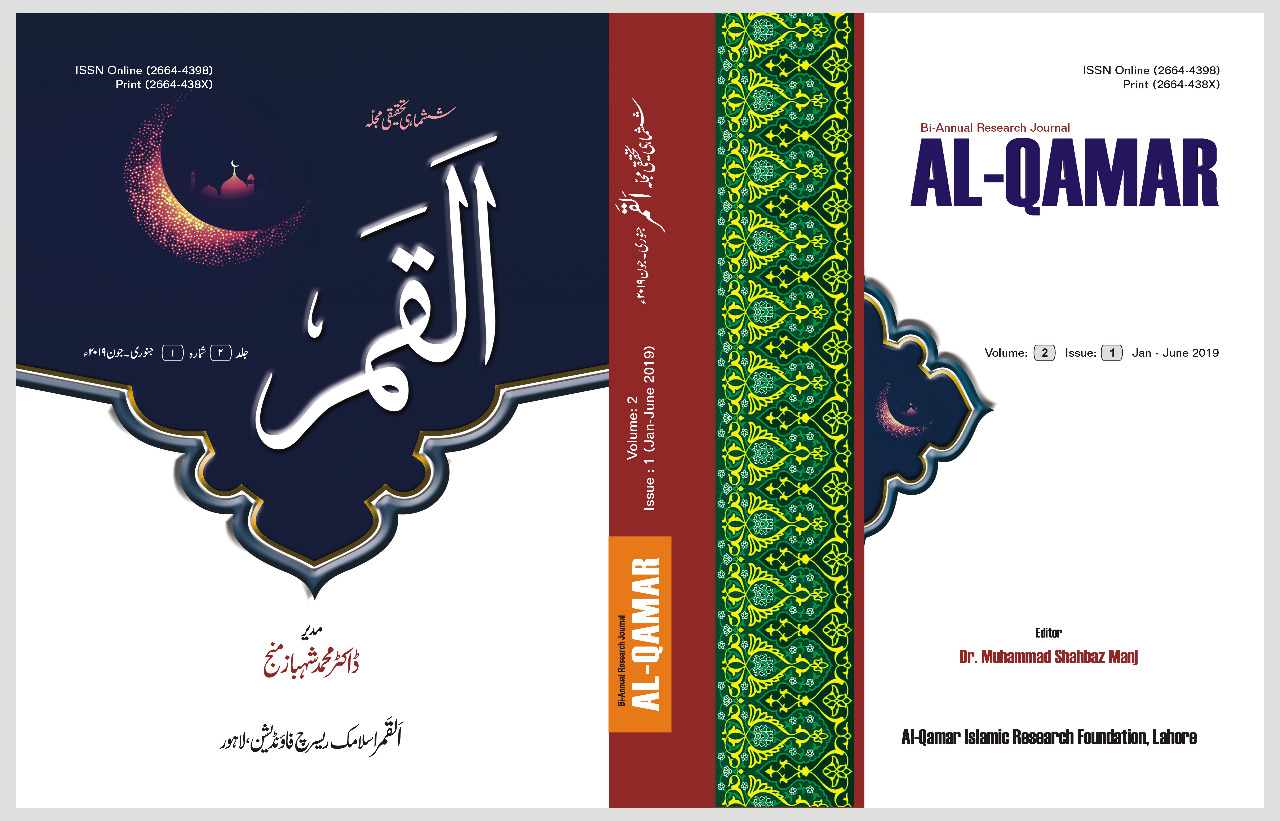 How to Cite
Dr. Kalsoom Bibi, Dr. Farzana Iqbal, and Munir Subhani. 2019. "شریعت ِاسلامیہ کی اخلاقی تعلیمات کا تقابلی جائزۃ: A Comparative Study of Moral Teaching of Islamic Sharī̒ah ". Al-Qamar 2 (1):313-26. https://alqamarjournal.com/index.php/alqamar/article/view/538.
Copyright (c) 2019 Al-Qamar
This work is licensed under a Creative Commons Attribution 4.0 International License.