اُردونعتیہ قصیدہ:موضوعاتِ تشبیب اور ان کے تخلیقی محرکات
Urdu Naʻtiya Qaṣīda: Themes of Tashbīb and their Creative Stimulations
Keywords:
Urdu Naʻt, Naʻtiya Qaṣīda, themes, stimulations
Abstract
Qaṣīda is a significant genre of poetry. It was mainly devoted to eulogizing kings, heroes, nobles, Prophets, sages and saints. Urdu Naʻtiya Qaṣīda, a subgenre of Urdu Qaṣīda, praises Prophet Muhammad (ﷺ). It has a variety of themes. Tashbīb is a part of Naʻtiya Qaṣīda. It consists of complex stanzas that serve a preceding event or introduce what follows. Urdu poets have fully demonstrated their artistic and poetic skills in Naʻtiya Qaṣīda. This paper studies the themes of Urdu Naʻtiya Qaṣīda and its creative stimulations. It explores that different themes are there in Tashbīb of Naʻtiya Qaṣīda. There are Tashbībs with spring, wisdom, advice, morals, adoration, pride, civilization, philosophy, grievances of the time etc. The theme of spring landscaping has been written by different poets in different styles, which is adorned with high imagination, exaggeration, forcefulness and majestic rhetoric. Adoring Tashbīb aims at getting the attention of the readers. The themes of pride and grievances of the time actually show the poet's sense of inferiority. Munīr Shikohabādī and Moḥsin Kākorvī expanded the canvas of Naʻtiya Qaṣīda by adopting the themes related to politics and local Indian civilization. Azīz Lucknowī, Nazm Tabātabā'ī, ʻAlī Ḥāmid Sandelvī, Farīd Mānak Pūrī and Iqbāl Sohail wrote philosophical thoughts on the creation of the universe and on life and death. Khālid Ahmed has introduced the features of modern Qaṣīda by adopting simplicity in various Bahāriya Tashbībs, but there is still ample scope for new experiments in this genre of Urdu Poetry.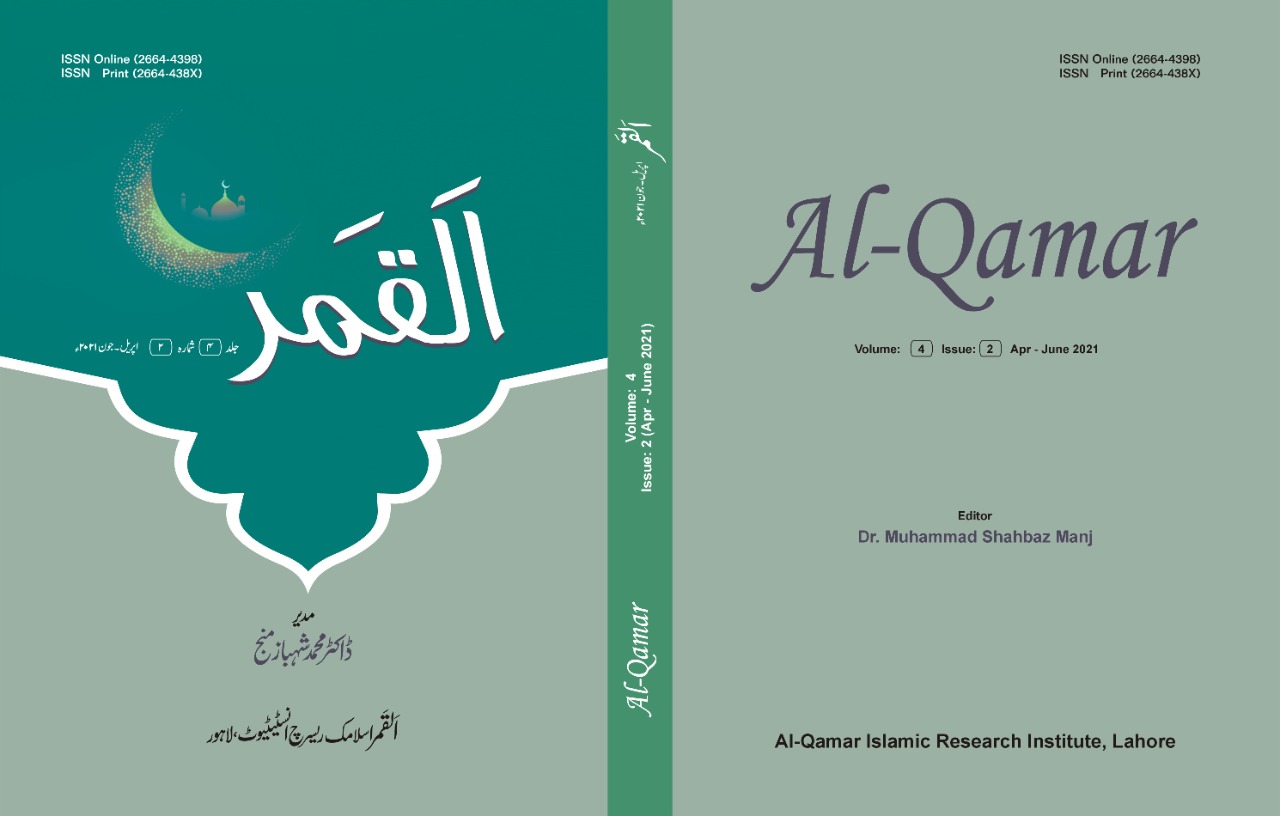 How to Cite
Navid Ahmad, Dr. Rukhsana Bibi, and Dr. Shehzad Ahmad. 2021. " اُردونعتیہ قصیدہ:موضوعاتِ تشبیب اور ان کے تخلیقی محرکات: Urdu Naʻtiya Qaṣīda: Themes of Tashbīb and Their Creative Stimulations". Al-Qamar 4 (2):19-32. https://alqamarjournal.com/index.php/alqamar/article/view/559.
Copyright (c) 2021 Al-Qamar
This work is licensed under a Creative Commons Attribution 4.0 International License.