خیبر پختونخواکی مطلقہ خواتین کے حقوق و فرائض کا اسلامی تعلیمات کی روشنی میں تجزیاتی مطالعہ
An Analytical Study of the Rights and Duties of Divorced Women in Khyber Pakhtunkhwa in the Light of Islamic Teachings
Keywords:
Khyber Pakhtunkhwa, Islam, divorced women, rights
Abstract
The condition/plights of divorced women in KPK is that after announcing divorce the man become free himself but he do not think that how a divorced woman can sustain this fact and situation. After divorce in Islam, she obtains her vested rights along with graduation, while some duties are also given to women and after completion of these duties/rights, can live pleasant life. But in KPK the situation is opposite/contrary to Islamic teachings, on one hand the divorced was announced to a woman and on other hand the "Iddat" was completed by her in her parents' house. She also deprived from her maintenance and her legal right. The expenses of children were also put on the shoulders of divorced woman or in some cases the custody of minor children were also been taken away from them which is unjust, unfair and beyond the teachings of Islam.
References
Mashriq Peshawar/Islamabad,2 february2018.
Mian Masood Ahmad Bhatta, Hayatul Nisa, Aorat ki zindagi (Lahore: March Manakihat,Ahan Idara Ashaat w Tahqeeq, 2010), 696.
Abu Bakr Ahmad Ibn Al-Hussein Ibn Ali Al-Bayhaqi, Al-Sunan Al-Kubra Wafi Zila Al-Jawahar Al-Naqi (Hyderabad:, majlis Daira tul muarif Intezamia allkatta fe alhind baldata, 1344 AH), Hadith Number: 15346, Volume 10, Page 333
Abu Bakr Ahmad Bin Al-Hussein Bin Ali Al-Bayhaqi Al-Sunan Al-Kubra Wafi Zila Al-Jawahar Al-Naqi , 7:573.
Wahba al-Zuhili,Mutrajmen Mawlana Muhammad yousaf tanoli, All Fiqa Al Islami w Adillathu (Lahore: ,babul ajwaj,urdu bazaar, 2016), 1:9:418.
Muhammad Kaleem Arain, Aourat or Azdwaji Zindagi Quran Majeed ki Nazar ma (Rabia book house(S.M), MA), 257,
Wahba al-Zuhili,Mutrajmen Mulana Muhammad yousaf tanoli, All Fiqa Al Islami w Adillathi, l.9:433.
Al-Baqarah: 235.
Muhammad Ibn Idris al-Shafi'i Abu Abdullah, Kitab al-Um, Beirut, Dar al-Ma'rifah, second edition 1393 AH, Al-Bab A'dat al-Mudkhul bha al-Taheed, No. 1449, vol. 5, p. 209.
Maulana Khalid Saifullah, Qamoos ul fiqa (Karachi: Zamzam Publishers Urdu bazaar karachi, 2017),4: 387.
Muhammad Idris Abu Abdullah Al-Shafi'i, Musnad Al-Shafi'i Mushkul ( Beirut: Publisher Dar Al-Kitab Al-Alamiya), Hadith Number: 1234, vol Number 1, 338.
Muhammad Kaleem Arain, Aourat or Azdawaji Zindagi, 201.
Salma Begum, Ex-Husband Jabbar, Mohalla Adab Ghar Baghicha Dheri, Tehsil Mardan District, Dated 2018-12-05, 2 PM.
Farida Husband Gul Wali, Mohalla Kokhel Baghicha Dheri, Tehsil and District Mardan, on 2018-12-05, time 2 to 3 p.m.
Khaleda, Ex-husband's name Zarkhan, Mohalla Omar Khel, Musa Zai, Post Office Musazai, Tehsil and District Peshawar City, 2019-03, 10 am.
۔Samina Gull,H# No 399, In side mohbaharsarki gate Peshawar city, time 11:30, date 03-March-2019.
Nisar Akhtar, Abdul Jabbar, Tetara, Post Office Tarojaba, Tehsil and District Nowshera, dated 9/29/2018 at 2 pm.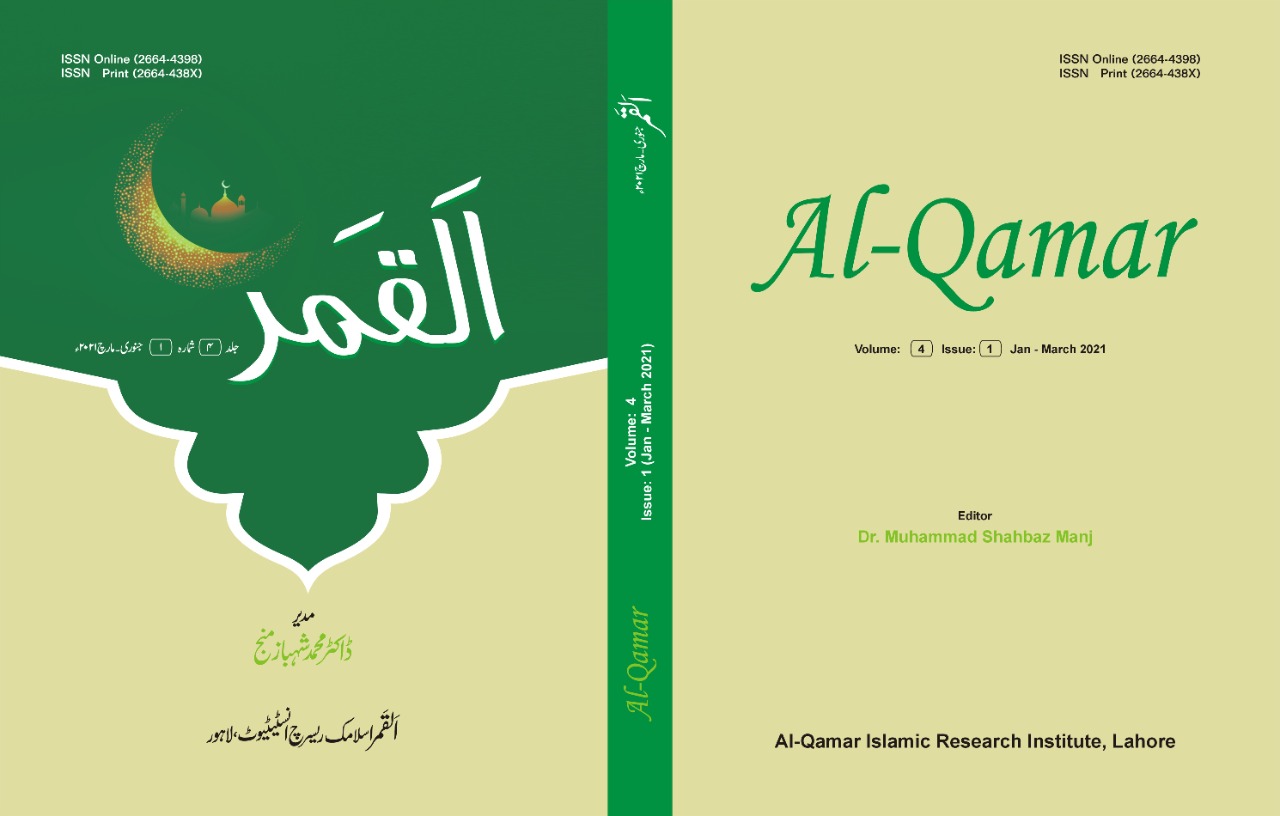 How to Cite
Shumaila Rafiq, Dr. Naseem Akhter, and Muhammad Rashid. 2021. "خیبر پختونخواکی مطلقہ خواتین کے حقوق و فرائض کا اسلامی تعلیمات کی روشنی میں تجزیاتی مطالعہ: An Analytical Study of the Rights and Duties of Divorced Women in Khyber Pakhtunkhwa in the Light of Islamic Teachings". Al-Qamar 4 (1):193-200. https://doi.org/10.53762/alqamar.04.01.u19.
Copyright (c) 2021 Al-Qamar
This work is licensed under a Creative Commons Attribution 4.0 International License.