Transformation of Islamic Democracy in Pakistan 1977-88: An Analytical Study
Keywords:
Politics, Local Govt. System, Referendum, Elections, Constitution and Legitimacy, Parliament, Islamization
Abstract
Islamization of the political system in the post-partition Pakistan was a foremost desire of the people but the ground realities were totally different. Since its inception as an independent state, Pakistan has experienced different political dispensations including elected ones patronized by dictatorships. Though elections are one of the prerequisites of a democratic system but they are not the only precondition for a system to be democratic. Democratic attitudes, values, and a conducive environment are must for a flourishing democracy. Although General Zia held elections and there was an elected assembly still we cannot term his system as democratic. The system actually strengthened one person: General Zia with the parliament as a rubber stamp. As General Zia lacked legitimacy to rule, he resorted to the so-called Islamic system to get support of the people. He actually used Islam for his political objectives. The religion card enabled him to enjoy the longest military rule in the country.
References
Mahmud, Arif Khalid. 1995. Working with Zia: Pakistan Power Politics, 1977-1988. New York: Oxford University Press.
The PNA's parties were a conglomerate of diverse views and of contradictory causes and united by common dislike of PPP's autocratic policies. They promised to enforce "Nizam-e-Mustafa" and the Shariah in the country. The implementation of Islam was its primary election slogan.
Shah, Jamal. 2012. "Zia-Ul-Haque and the Proliferation of Religion in Pakistan." International Journal of Business and Social Science 3 (21): 310–23.
Political Parties Act was introduced in Pakistan in 1962. Later on, General Zia-ul-Haq amended the Act in 1979 to introduce Political Parties Registration Act. After the 8th Amendment, it was again modify in1985 by Prime Minister M. Khan Junejo. Political Parties Act was again revived by General Pervez Musharraf by Executive Order in 2002.
Ahmad, Niaz, Abida Bano, and Shughla Ashfaq. 2019. "Women's Political Empowerment through Local Government in the Patriarchal Society of Pakistan." Liberal Arts and Social Sciences International Journal (LASSIJ) 3 (1): 1–8. file:///C:/Users/Haier/Downloads/14-Article%20Text-2970-63-10-20200516.pdf.
Ali, Syed Muhammad. 1997. "Politics of Alliance: A Case Study of MRD (1981)." Dissertation. Quaid-e-Azam University.
Ahmad, Ghafoor. 1988. Phir Martial Law A Gaya. Karachi: Jang Publishers.
Kanwal, Lubna. 2015. "Zia, Islam and Politics of Legitimacy." AL-ADWA 43(30): 39-52.
Ziring, Lawrence. 1988. "Public Policy Dilemmas and Pakistan's Nationality Problem: The Legacy of Zia- Ul-Haq." Asian Survey 28 (8): 795–812.
Ansari, Zia Ul Islam. 1990. General Ziaul Haq: Shakhsiyat Aur Karnamay. Islamabad, Pakistan: Islamabad.
Hussain, Mazher, Shahid Hassan Rizvi, and Mian Saeed Ahmad. 2016. "Religio-Political Discourse and Jam'iyyat Ulema-i-Pakistan (JUP): A Careful Study of Different Narratives." International Journal of Social Science Studies 4 (6): 24–36. https://doi.org/URL: http://ijsss.redfame.com.
Saddique, Javed. 1990. Noorani Siasat. Karachi: Shabeel Publishers.
Burki, Shahid Javed, and Baxter Craig. 1991. Pakistan under the Military Eleven Years of Zia Ul-Haq. Colorado: Westview Press.
Daily Times, USA, March 29, 1981.
Arif, Working with Zia.
Yaseen, Zahid, Muhammad Abrar Ahmad and Tahir Mahmood Butt. 2016. "Hypothetical Political System of Martial Law: A Case Study of General Zia-ul-Haq." JPUHS 29 (1): 122-132.
Zahid, Masood Akhtar. 2011. "Dictatorship in Pakistan: A Study of the Zia Era." Pakistan Journal of History and Culture XXXII (1): 1-27.
Wasim, Muhammad. 1987. Pakistan under Martial Law 1977-85. Lahore: Vanguard.
Shami, Pervez. 2002. Jerneloon key Referendum. Lahore: Sadiq Publishers.
Richter, William L. 1986. "Pakistan in 1985: Testing Time for the New Order." Asian Survey 26 (2): 207-218.
ECP. 1984. Referendum 1984
Ahmad, Ghafoor. 1988. General Zia Key Akhri Giarah Saal. Lahore: Jang Publishers.
The London Times, London, December 28. 1984.
Sohail, Azhar. 1988. General Zia key 11 Saal. Lahore: Firoz sons Publishers.
Ziring, Lawrence. 1988. "Public Policy Dilemmas and Pakistan's Nationality Problem: The Legacy of Zia- Ul-Haq." Asian Survey 28 (8): 795–812.
Ahmad, Mumtaz. 1996. "The Crescent and the Sword: Islam, the Military and Political Legitimacy in Pakistan,1977-1985." Middle East Journal 50 (3): 372-386.
Mahmud, Zafar. 1995. Athween Tarmeem Martial Law Ka Tawan. Lahore.
Richter, 1986.
Duncan, Emma. 1989. Breaking the Curfew: A Political Journey through Pakistan. London: Michael Joseph.
Daily Pakistan Times, December 22, 1984.
Omar, Noman. 1989. Pakistan and General Zia: Era and legacy. Third World Quarterly 11 (1): 28-54.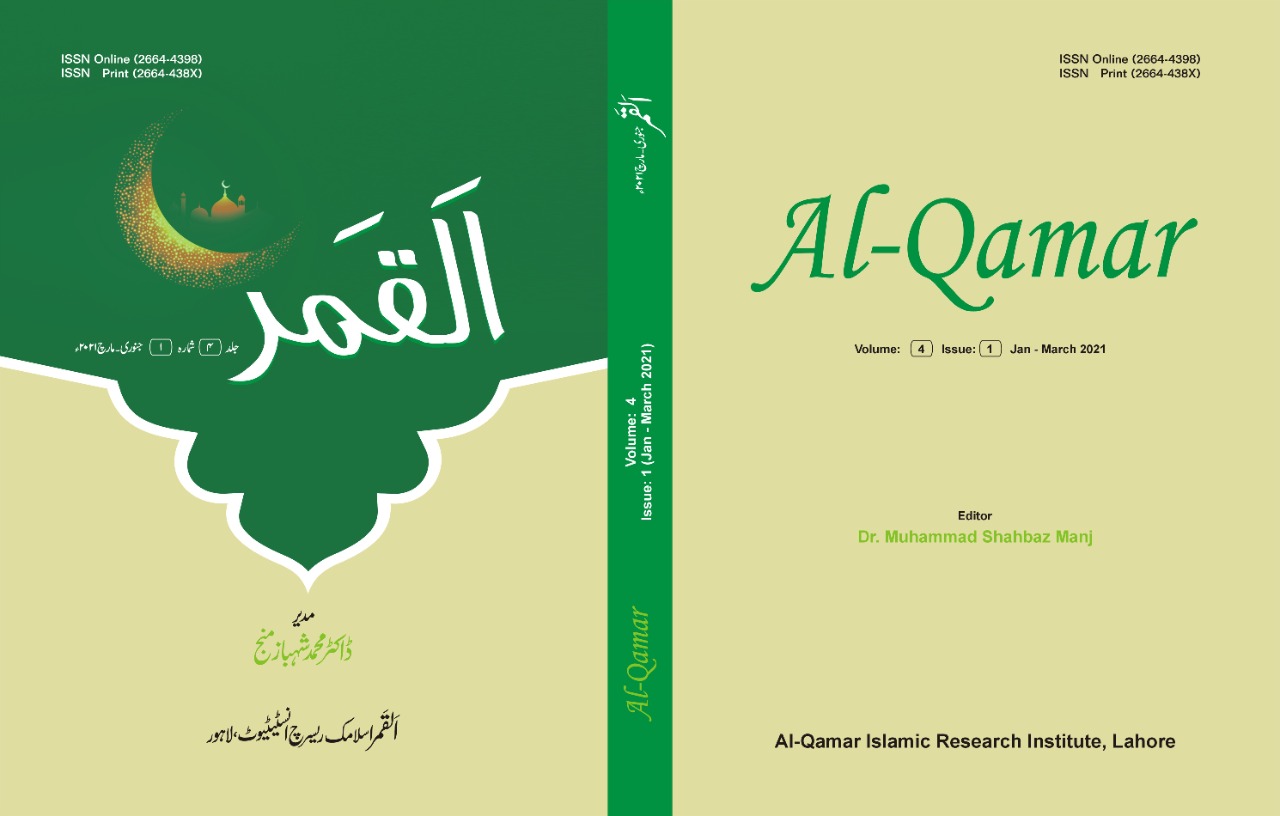 How to Cite
Dr. Mian Saeed Ahmad, Dr. Sabahat Jaleel, and Muhammad Ahsan Ghazali. 2021. "Transformation of Islamic Democracy in Pakistan 1977-88: An Analytical Study". Al-Qamar 4 (1):173-84. https://doi.org/10.53762/alqamar.04.01.e13.
Copyright (c) 2021 Al-Qamar
This work is licensed under a Creative Commons Attribution 4.0 International License.