عزیز احمد کے ناولوں میں مذہبی معاشی عناصر
Religious Economic Elements in Aziz Ahmed's novels
Keywords:
Aziz Ahmad, Religion, Economics, Novels, "Guraiz", "Aasi Bulandi Aasi pasti" and "Aag"
Abstract
Aziz Ahmad (1914-1978) was a noted Urdu poet, novelist, translator, Iqbal scholar and literary critic. In his novels, he describes human nature in the context of the environment and its psychological and sexual instincts with boldness and artistry in religious and economic terms. There is no precedent for this. In his novels, the religious and economic system of this era and the mental turmoil, despair, dissatisfaction, deprivation, thirst, reluctance and ideological attraction created by them are all revealed. Aziz Ahmad made many of religious and economic problems that aries due to distance from the Islamic way of life the subject of all his novels. This article presents a religious and economic analysis of his novels " Guraiz" , "Aasi Bulandi Aasi pasti" and "Aag".
References
Ameer Allah Khan, trans. Hindustan ka Samajī aur muashi irtaqa Maasko: dar-ul-ishaait taraqi,1978),106.
Al-Anba:78.
Al-Qsaas:228)
Encyclopedia of the social science ,Edited by Luzec and co, London : Russell street 1927),168.
Abdul Bari, Tajdeed Mushiat, lakhnau: Tajdeed deen, (Shabstaan,1955), 17
Albaqrah2:208.
Kinzul –ul-Amaal, Hadees No.5029.
Al-baqarh2:256.
Waqar Azeem, Dastan sy Afsany tak (Dehli: Tahir book Agency,1972),160.
Al-Mulak:15.
Aziz Ahmad, Guraiz (New Delhi: Modren publication House,1982),5.
. Nagina Jabeen, Urdu novel ka Siasi aur samaji mutalia, 1947 aur iss ky baad ( Illah abad: Keshu Pershaad,2002),65.
Al-Maidh:5.
Al-Maida:164.
Abid,pg,173
Al-Hujurat:49.
Al-noor:21.
Suhail Bukhari, Novel nigari aur Urdu novel ki tareekh-o-tanqeed (Lahore: Maktaba jadeed, 1960),272.
Al-Baqarah:219.
Jamia Tarmzi,vol: 2,104.
Aslam Aziz Yazdani, yad-e-baiza ( Sialkot: vol:10,shumara,6,15 August,2000),16.
Aziz Ahmad, Aag ( Lahore: Maktaba Jadeed, 1969),2;9.
Al--Qasas:7.
Aqeela Javeed, Urdu novel main tanisiat (Lahore: Fiction House,2020),165.
Aqeela Javeed, Urdu novel main tanisiat, 259
Mumtaz Ahmad Khan, Urdu novel ky badltay tanazur (Karachi: welcome book board limited, 1993), 20.
Aziz Ahmad, Aag, 325.
Aziz Ahmad, Aag,42.
Bani Israil:27.
Khaleel –ur-Raham Azzmi, Urdu main Tarqi Pasand adab, 252-253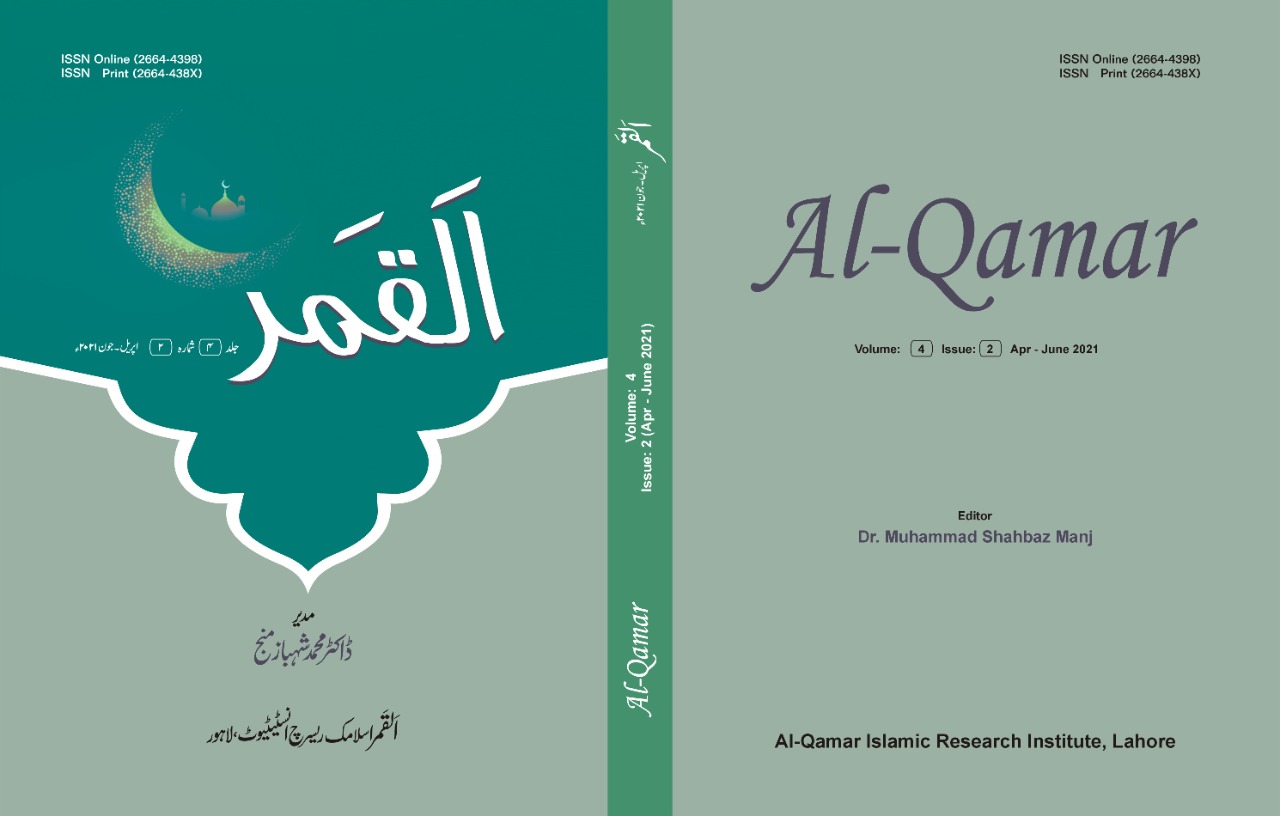 How to Cite
Saima Iqbal, Rubina Yasmin, and Dr. Sumaira Shafi. 2021. "عزیز احمد کے ناولوں میں مذہبی معاشی عناصر: Religious Economic Elements in Aziz Ahmed's Novels ". Al-Qamar 4 (2):257-70. https://doi.org/10.53762/alqamar.04.02.u22.
Copyright (c) 2021 Al-Qamar
This work is licensed under a Creative Commons Attribution 4.0 International License.