"عبد الحليم شرر رائد الرواية التاريخية "راوية فتح الأندلس
Abdul Halim Sharar, the Pioneer of the Historical novel "The Rawiah of the Conquest of Andalusia"
Keywords:
Islamic issues, history, Muslim youth, conciliation
Abstract
The historical novel is considered an important literary form because it provides assistance in studying the history. There is a great relationship between history and the historical novel, despite the different ways of studying it. The history is based on facts, while the novel is based on imagination. Abdel Halim Sharar in his narratives works focus on Islam and cultural and literary balance in his fiction works. Abdul Halim Sharar is considered the Dean of the Urdu Historical novel, and distinguished his work and wrote distinguished Islamic literature, where he laid the foundation for the art of historical novel. In this paper the researcher work seek to find out the narrative techniques of writer in his Historical novel. And how Abdel Halim Sharar create a new image among the Muslim youth through his work.
References
Majd Aldiyn Bin Yaequb Alfiruzbadi, Alqamus Almuhayti, (Bayrut -Lubnan: Dar Alkutub Aleilmiati, 1990,
Alfiruzabadi, Alqamus Almuhiti, Madat: 'Arkh
'Iibrahim Fatahi, Muejam Almustalahat Al'adabiati, Tunus, (Almuasasat Alearabiat Lilnaashirin Almutahadiyn , 1986), 1: 103
Dr. 'Abu Alllyth Sidiyqi, Al'adab Al'urdiu Almueasiri, (Qamar Kitab Kahari, Karatshi, Bidun Dhikr Sanat Altabei),1: 207
Mumtaz Minkluri, Ruiat Sharar Altaarikhiat , (Tabeat Jamieat Euthmaniat, Dukan, Bidun Dhikr Sanat Altabei) 1: 44
Eabd Alhalim Sharra, Mawadie Sharar ,( Ja3), 1: 230
Wasini Al'aeraja, Atijahat Alriwayat Alearabiat Fi Aljazayar, (Almuasasat Alwataniat Lilkitabi, Aljazayir, 1986),1: 87
Abu Alfadl Jamal Aldiyn Aibn Manzurin, Lisan Alearabi, (Dar Sadir, Bayrut, Lubnan, Ta1, 1997, Mujalad Alsaabiei), Mada "Sh Kh Si" 1: 45.
'Iibrahim Mustafaa Wakhrun, Almuejam Alwasiti, Almaktabat Al'iislamiatu, ('Iistanbul, Turkia, "Dita"), 1: 475
Alkhalil Bin 'Ahmad Alfarahidi, Kitab Aleayni, Tahqiqu: Eabd Alhamid Hinzuay, (Dar Alkutub Aleilmiati, Bayrut, Lubnan, Ta1, Ja4, Eam 2003), 1: 325.
Majdi Wahbat Wakamil Almuhandisi, Muejam Almustalahat Alearabiat Fi Allughat Wal'adbi, (Birut, Lubnan, Maktabat Lubnan, Ta2, Eam 1984) 1: 208.
Sabihat Eawdat Zaerb, Jamaliaat Alsard Fi Alkhitab Alriwayiy, (Eman, Ta1, Dar Majdalawi,2006), 1: 117
Ramadan Muhamad Alqadhaafii, Alshakhsiat Nazariaatiha Wa'asalib Qiasiha, (Almaktab Aljamieii, Al'iiskandiriata, 2001mi), 1: 9.
Dr. Sayid Hamid Alnasaji, Banurama Alriwayat Alearabiat Alhadithatu, (Almarkaz Alearabii Lilthaqafat Waleulumi, Alqahirati, Ta1, 1932), 1: 53
Eabd Aleali Bishir, Tahlil Alkhitab Alsardii Walshieri, (Dar Algharb Lilnashri, Aljazayir, Ta1, 2002) 1: 55
Mustafaa Altawati, Dirasat Fi Riwayat Najib Mahfuz Aldhihniati, (Aldaar Altuwnusiat Lilnashr Waltawziei, Tabeat Eam 1986m), 1: 31
Eabd Almalik Murtadi, Tahlil Alkhitab Alsardii , (Muealajat Takfikiat Simiayiyat Murkabatu, Tibaeat Aljazayir, 1995ma), 1: 12.
Dukturuh Tibat Khatun, Tarikh Al'adab Alnathrii Fi Al'ardiati, Ta1989), 1: 166
Sir Sayid 'Ahmad Khan Mualif Eazimun, Wakatib Fi Al'adab Al'iislahii Wulid Sanatan 1817m Tuufiy 1898m
nadhir 'ahmad (1836-1912) taealum alearabiat ealaa yad mulawi nasr allah khan qad manah khitab "shams aleulama'i" 'alf riwaya "mrat alearus" "bnat alnaesha".
Maqal (Al'urdiat Fi Albakistan" Yuniuristi Bik Ayjinsi, Bishawar), 1: 190
Dr. Waqar Eazima, Min Alqisat Altawilat 'Iilaa Alriwayat , (Ardu Markaz Lahur), 1: 57.
'Abu Allayth Sidiyqi, Al'adab Al'urdiu Fi Yawmina Alhadiri, ( Tabeat Qamar Kitab Kahr Karatshi, 1982m) ,1: 182
Marza Muhamad Hadi Bimadinat Likahnu,( Kutib Fi Alfalsafat Waeilm Alnafs Walmantiq Walmusiqii).
Dr. Sayid 'Iiejaz Husayn, Tarikh Al'adab Al'ardii Biakhtisari, 1: 343
Dr. Sayid. Ibid 335:1
Dr. 'Anwar Sadid, Akhtilafat , (Maktabat Allughat Al'ardiati, Lahur, Ta1, 1975ma) , 1: 32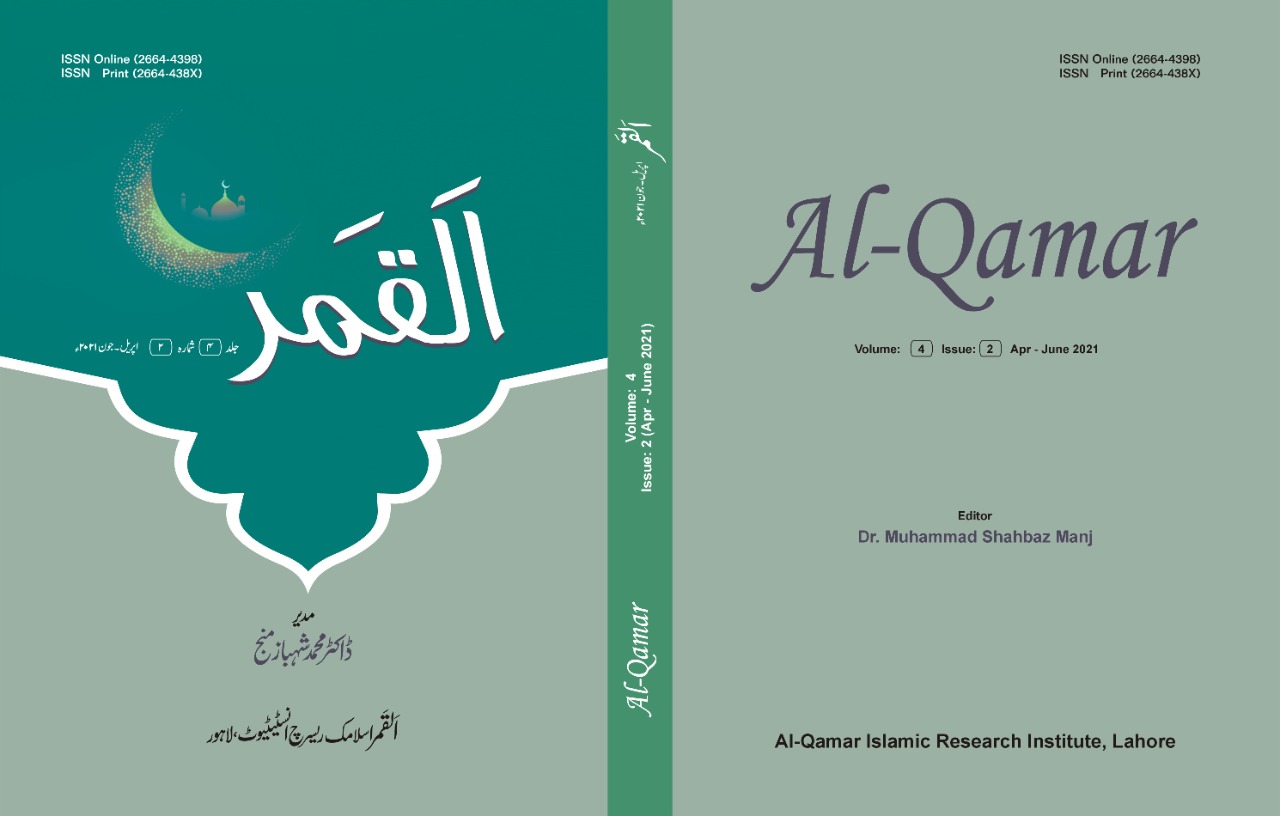 How to Cite
Dr. Lubna Farah. 2021. ""عبد الحليم شرر رائد الرواية التاريخية "راوية فتح الأندلس: Abdul Halim Sharar, the Pioneer of the Historical Novel 'The Rawiah of the Conquest of Andalusia'". Al-Qamar 4 (2):29-42. https://doi.org/10.53762/alqamar.04.02.a03.
Copyright (c) 2021 Al-Qamar
This work is licensed under a Creative Commons Attribution 4.0 International License.