Overview of the Epidemiology of Infertility in Islamic Perspective
Keywords:
Infertility, Determinants of infertility, Reproduction, Infertility in the Light of Quran and Hadith
Abstract
Infertility is a phenomenon that not only gives tough time to females but it equally affects male partners. Due to the quiet nature of males and communication gap with female partners they tend to hide their feelings of being incomplete and being not sharing these things could develop thoughts of suicide and can drag them to endless emotions of depression. While discussing the sexual and reproductive health noting all the facts and figures regarding maternal mortality and factors leading towards couple's fertility it becomes necessary to discuss infertility in detail and conceptualizing this phenomenon from perspective of religion. From clinical point of view, number of couples seeking help in conceiving fall under the criteria of infertility. Although there many reasons behind infertility as sexual history, age etc. but in this paper male infertility is the focus that sub fertile men have missing Y-chromosome, which effects the number of sperms and passes the infertility to the off springs. ICSI born child are affected by abnormal structure of chromosome and increased sex chromosome disorders.
References
ER Velde , R Eijkemans and HD Habbema, "Variation in couple fecundity and time to pregnancy: an essential concept in human reproduction," Lancet 355,no.9219(2000):1928-1929, 10.1016/s0140-6736(00)02320-5.
Henri Leridon, "Studies of fertility and fecundity: comparative approaches from demography and epidemiology," Journal of life sciences 330 no. 4(2007): 339, 10.1016/j.crvi.2007.02.013..
Johannes LH Evers, "Female subfertility," Lancet 360,no.9327(2002): 151-154,
1016/S0140-6736(02)09417-5.
"Sexual and reproductive health," World health organization, Accessed March 14, 2020, https://www.who.int/reproductivehealth/topics/infertility/definitions/en/.
Mike Joffe , Hilery Fielder, et al, "Use of time to pregnancy in environmental epidemiology and surveillance," Journal of Public Health 30, no.2(2008): 178-180, https://doi.org/10.1093/pubmed/fdn005.
Jeans peter Bonde ,Peter Kristensen,et al, "Validity Issues Relating to Time-to-Pregnancy Studies of Fertility," Epidemiology 17, no.4( 2006): 347-349, 10.1097/01.ede.0000210239.80406.46.
DJ Cahill , PG Wardle, "Management of infertility," BMJ 325, no. 7354(2002): 28-32, 10.1136/bmj.325.7354.28.
ibid
Samuel Smith, John A Collins, et al, "Diagnosis and Management of Female Infertility," JAMA 290,no.13( 2003): 1767, https://pubmed.ncbi.nlm.nih.gov/14519712/.
Diana Hamilton Fairley, Alison Taylor, "Anovulation," BMJ 327(2003): 546-547, 10.1136/bmj.327.7414.546.
Y Khalaf , "Tubal subfertility,"BMJ 327(2003):610, 10.1136/bmj.327.7415.610.
Roger Hart, "Unexplained infertility, endometriosis, and fibroids," BMJ 327(2003): 721-722, 10.1136/bmj.327.7417.721.
"Male infertility," Mayo clinic, Accessed June 14,2020, https://www.mayoclinic.org/diseases-conditions/male-infertility/symptoms-causes/syc-20374773
DB Dunson, CD Baird and B Colombo, "Increased infertility with age in men and women," Journal of Obstetrics Gynecology 103,no.1(2004): 51-56, 10.1097/01.aog.0000100153.24061.45 .
Nybo Andersen, J Wohlfahrt, "Maternal age and fetal loss: population based register linkage study," BMJ 320, no.7251 (2000): 08-12, 10.1136/bmj.320.7251.1708.
B Eskenazi, AJ Wyrobek,et al, "The association of age and semen quality in healthy men," Human Reproduction 18,no.2(2003): 447-452, 10.1093/humrep/deg107.
ibid
RHN Nguyen, AJ Wilcox,et al, "Men's body mass index and infertility," Human Reproduction 22,no.9(2007): 2488, 10.1093/humrep/dem139.
AC Martini, RI Molina RI, "Effects of alcohol and cigarette consumption on human seminal quality," International journal of andrology 46, no.2 (2012): 115-117, https://doi.org/10.1111/and.12054.
SR Soares, MA Melo, "Cigarette smoking and reproductive function," Journal of Obstetrics and Gynecology 20, no. 3(2008): 281-91, 0.1097/GCO.0b013e3282fc9c1e.
ibid
MB Bracken, K Sachse, "Association of cocaine use with sperm concentration, motility, and morphology," Journal of fertility and sterility 53, no.2(1990): 315-317, 10.1016/s0015-0282(16)53288-9.
B Zorn, J Auger, "Psychological factors in male partners of infertile couples: relationship with semen quality and early miscarriage," International Journal of Andrology 31, no.6 (2008):57-64, 10.1111/j.1365-2605.2007.00806.x.
Honor whiteman, " Stress linked to male infertility," Medical news today, May 30, 2014, https://www.medicalnewstoday.com/articles/277543 (Accessed May 3, 2020)
Kavindra Kumar Kesari , Ashok Agarwal, Ralf Henkel, " Radiations and male fertility," Journal of Reproductive biology and Endocrinology 16, no.18(2018):8-9, https://rbej.biomedcentral.com/articles/10.1186/s12958-018-0431-1.
P Shah, J Zao, "Induced termination of pregnancy and low birthweight and preterm birth: a systematic review and meta-analyses," BJOG 16, no. 11(2009):15-17, https://obgyn.onlinelibrary.wiley.com/doi/pdf/10.1111/j.1471-0528.2009.02278.x.
"Marriage," Meddline plus, Accessed August 25, 2020, https://medlineplus.gov/ency/article/001488.htm
"Ectopic pregnancy," Planned parent-hood, Accessed August 5, 2020, https://www.plannedparenthood.org/learn/pregnancy/ectopic-pregnancy.
"Infertlity overview," Mayo clinic, Accessed My 11,2020, https://www.mayoclinic.org/diseases-conditions/infertility/symptoms-causes/syc-20354317.
Paul Gallagher, "Male infertility:The pain does not fade with time-it intensifies," I news Uk, August 7, 2017, https://inews.co.uk/news/health/male-infertility-pain-not-fade-time-intensifies-83350 (Accessed July 16,20200.
Al-Zuriyat:28-30
AL-Anbiya:89-90
Abu Dawood Suleman bin Aash'as Al-Sajastani, Sunan Abi- Dawood (Beirut: Maktba Al-Asriya, N.d), Book of Nikah, Chapter 670: Prohibtion of marrying a woman who cann't give bith, vol.2, Hadith No: 2050.
Muhammad bin Ismail Bukhari, Al-Jamaih Al- Sahih ( Beirut: Dar toq wal nijah,1422), Book of diseases, Chapter 1: There is no disease except its treatment, vol.7, Hadith No: 5678.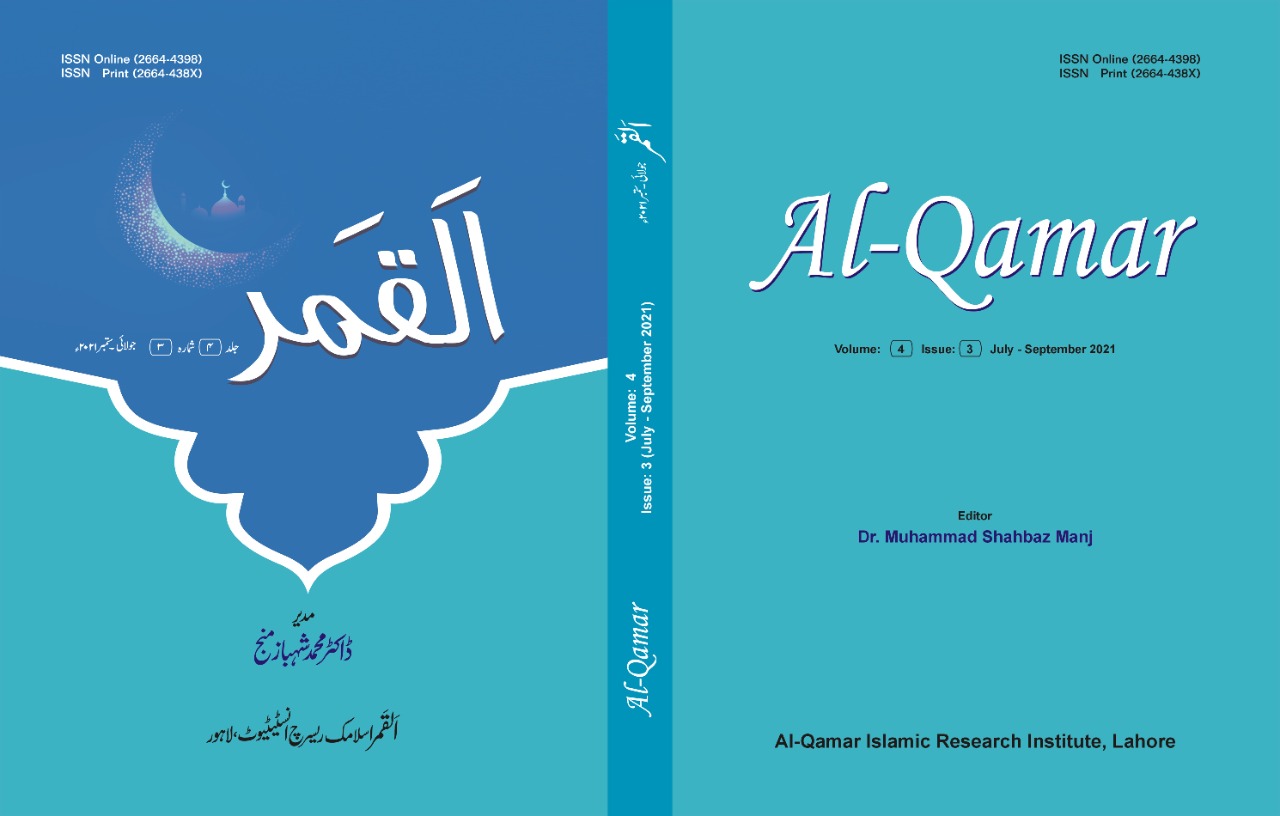 How to Cite
Dr. Muhammad Samiullah, Dr. Hafiz Muhammad khan, and Dr. Hassan Shakeel Shah. 2021. "Overview of the Epidemiology of Infertility in Islamic Perspective". Al-Qamar 4 (3):153-64. https://doi.org/10.53762/alqamar.04.03.e10.
Copyright (c) 2021 Al-Qamar
This work is licensed under a Creative Commons Attribution 4.0 International License.