The Patriarchal Barriers for Women Empowerment in Pakistan and Islamic Teachings: A Review of Published Literature
Keywords:
Honor killing, Patriarchal mindset, Rights
Abstract
This research analyzes the life of women in Pakistan. It will explain how Pakistani women deprive of their basic rights. Many women become victims of violence in Pakistan each year. These crimes include Honor Killing, kidnapping, rape, sexual assault, and murder. The main reason for this is the patriarchal mindset, this is the idea that women are weaker than men and men have a right to rule over women. When she raises her voice, she is often suppressed and restricted. She is unable to get a proper education and live a life according to her will. First, she lives her life according to her father's wishes and after marriage, according to her husband's desire. Many laws were made for these women, but sadly, those laws are not obligated. Women are not treated fairly in Pakistan, and they do not get equal rights either. This paper uses, descriptive, qualitative methods and studies in which authentic studies are used.
References
Ṣaḥīḥ al-Bukhārī 5626, Kitab-ul-Adabb, Ṣaḥīḥ Muslim 2548, Kitab Al-Birr was-Salat-I-wal-Adab.
Maliha Zia, "'Honour Killings' in Pakistan and Compliance of Law." Academia, Aurat Publication and Information Service Foundation, Nov. 2011, www.academia.edu/9835540/_Honour_Killings_in_Pakistan_and_the_Compliance_in_Law.
Jami` at-Tirmidhī 1162, The Book on Suckling, Chapter: What has been related about a woman's rights over her husband
World Economic Forum. Global Gender Gap Report 2021. 2021, www.weforum.org/reports/ab6795a1-960c-42b2-b3d5-587eccda6023.
Al-Nahl 16: 58-59.
Sahih Muslim 1420, Kitab Al-Nikah, Chapter: Seeking permission of a previously-married woman in words, and of a virgin by silence.
Foreign & Commonwealth Office. "Forced Marriage Unit Statistics 2017." Forced Marriage Unit Statistics, 2018.
Human Rights Watch. Pakistan: Girls Deprived of Education. 28 Oct. (2020), www.hrw.org/news/2018/11/12/pakistan-girls-deprived-education.
Hasan, Maryam. "State of Human Rights in 2019." Human Rights Commission of Pakistan, 2020.
National Assembly of Pakistan, The Constitution of Pakistan, 1973.
Al- Nisā̒ 4: 11.
R. K. Stack, An analysis of Muslim women's rights based on the works of Amina Wadud, Fatima Mernissi, and Riffat Hassan (Harvard University: Doctoral dissertation, 2020)
Ashfaq, Mohammad. Pa Bans Forced Marriage under Ghag. DAWN News, 9 Jan. 2013, www.dawn.com/news/777441/pa-bans-forced-marriage-under-ghag.
Al-Nisā4: 19.
Khan, Tahira S. Beyond Honour: A Historical Materialist Explanation of Honour Related Violence ( Oxford: Oxford University Press, 2006)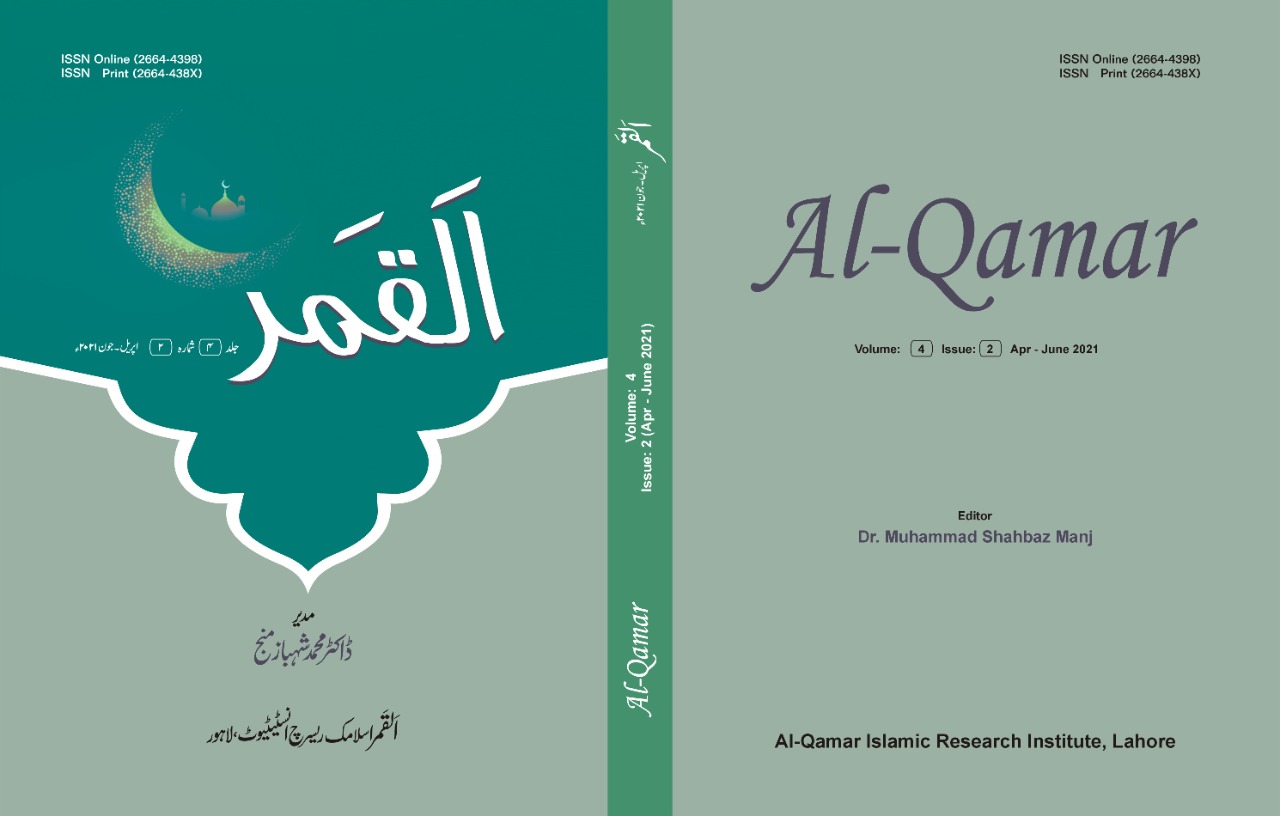 How to Cite
Aiman Khalid, and Dr. Muhammad Akram Rana. 2021. "The Patriarchal Barriers for Women Empowerment in Pakistan and Islamic Teachings: A Review of Published Literature". Al-Qamar 4 (2):187-96. https://doi.org/10.53762/alqamar.04.02.e13.
Copyright (c) 2021 Al-Qamar
This work is licensed under a Creative Commons Attribution 4.0 International License.