منهج التفسير اللغوي في تفسير الكشاف للزمخشري
Linguistic Interpretation Methodology in Tafsīr al-Kashshāf by al-Zamakhsharī
Keywords:
Linguistic Interpretation, Methodology, Kashshāf, al-Zamakhsharī
Abstract
The interest in the interpretation and study of the Qur'anic text opened the appetite for the commentators, so I ask the saliva of their pens, and open their hearts until they donated treasures and pearls, which were represented in the huge explanatory legacy that the Qur'anic library abounds in. Those curricula are well-known to scholars of interpretation, the linguistic approach. In this particular context - through the book of interpretation of the Scouts - we will content ourselves with studying the most basic aspects of the linguistic approach that Al-Zamakhshari took in his Scouts. I try to present this research according to the following methodology: Introduction, a brief translation of Al-Zamakhshari, the definition of Tafsir Al-Kashshaf, the definition of linguistic interpretation, the emergence of linguistic interpretation, the status of linguistic interpretation, features of linguistic interpretation of Al-Zamakhshari.
References
Abu abd ullh shams uldiyn muhamad bin 'ahmad AL_Dhahabi,Al-Tafsir wal-Mufassirun(Alqahira: Maktaba wahba,2000AD),1:304.
Salah Abdul-Fattah al-Khalidi,Tarif ul-daariseen bi-Manahijil-Mufassirin(Dar ul-Qalam,2008AD),532.,
Al-Tafsir wal-Mufassirun,1:304.
Al-Sayid Muhamad Ali,Al-mufassirun hayatu hum wa-manhaju hum(Wzarat ul-saqafa wal-Irshad al-Islamii1373AH),574.
Al-Mufassirun hayatuhum wa-manhajuhum,575.
Shahabul-Din Abu Abdullah Yaqut bin Abdullah Al-Hamwi Al-Rumi Al-Baghdadi,Mujam-ul-'Udaba' 'Iirshad-ul-Arib'ilaa Marifat-il-'Adib(Dar Al-Gharb Al-Islami, 1993 AH),19:126. )
Ahmad bin Muhammad bin Ibrahim bin Abi Bakr bin Khalkan,Wafayat ul-aayan(Dar-E- Sadir,2014AD),5:126.
Abd ulrahman bin 'abi bakr jalal uldiyn al-suyuti, Al-Itqan fi-ulum il-quraan((Muasasat-ul-risala,2.11AD)2:19.
Al-Itqan fi-ulumil-quraan,2:190.
Musaied bin sulayman bin nasir al-ayaar,Al-tafsir-ul-Lughawi-Li l-Quranil-karim(Dar e ibn eljuzii,2008AD)20.
Mahir jasim hasan,Al-Tafseer-ul-Lughawii-fi-Mahasin-E-Al-Tawil(Jamiat ulmusal,1424AH),196.
Ahmad bin ali bin muhamad bin ali bin hajar al-Aasqalani,Fataah-ul-Barii Sharh Sahih-al-Bukharii(Alqahira:almatbaeat ulsalafia,2015 AD),8:18
. Al-Itqan fi-ulumil-quraan,4:198
Al-Itqan fi-ulumil-quraan,1:347
Al-Itqan fi-ulumil-quraan,4:200.
Muetarak Ul-Quran fi 'iijaz il-Quraan(Dar ul-kutub il-eilmia,1988AD),3:105
Abu abd ullh badr uldiyn muhamad bin bihadir bin eabd allh alzarkashii, Al-Burhan-fi-Ulumil-Quran(Dar alturath 2008 AD),4:340
Muhamad almaliki, Dirasat-ul-tabari Min khilal-E_ Tfsire-hi(wizarat ulawqaf walshuwun al-iislamia,1996AD),191.
Abu jafar muhamad bin jarir bin yazid altabray,Tafsir al-Tabarii(Lubnan:dar ulkutub aleilmiia, 1995)3:10
Al-kashaf( Dar alturath 2008 AD),3:126.
Al-kashaf,23:607.
Abu Ishaq Ibrahim al_zujaj,Maani Al-quraan-W- iirabu-hu, (Alqahira:almatbaeat ulsalafia,2011 AD),2:85.
Al-kashaf,6:223.
Al-kashaf,1:312.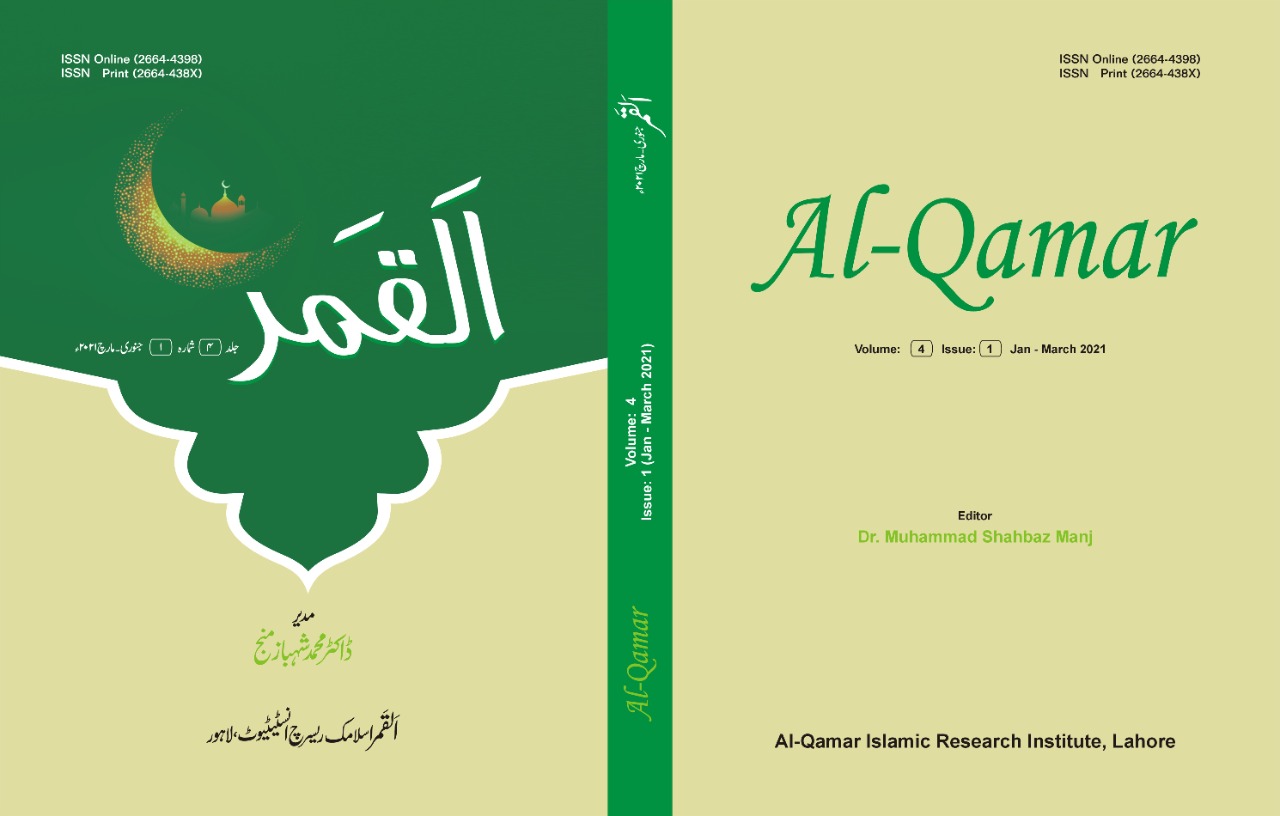 How to Cite
Malik Muhammad Salim, and Dr. Ruhmay Imran. 2021. "منهج التفسير اللغوي في تفسير الكشاف للزمخشري: Linguistic Interpretation Methodology in Tafsīr Al-Kashshāf by Al-Zamakhsharī". Al-Qamar 4 (1):117-26. https://alqamarjournal.com/index.php/alqamar/article/view/768.
Copyright (c) 2021 Al-Qamar
This work is licensed under a Creative Commons Attribution 4.0 International License.