Conceptualization of Polygamy in the Context of Islamic Law: A Study of Modern Human Rights Law and Pakistani Law
Keywords:
Polygamy; Islamic Law; Human Rights Law; Pakistan
Abstract
Polygamy refers to a marriage involving more than two partners. Polygamy is a social practice that is not widely accepted in most nations and is prohibited by law. Usually, this phrase would refer to a sort of marriage in which there have been more than one spouse, but at the same time, this will apply to more than one wife. For a long time, many communities, tribes, and civilizations around the world viewed polygamy as a regular practice, and there were no issues with a man having more than one wife, and sometimes even a woman having more than one husband. This research investigates the framework of polygamy in Islam and international human rights law, focusing on Pakistan. The application of Islamic law in relation to polygamy is compared with the needs and challenges of legal dynamism in terms of suitability with people, place, and time in the light of international human law and domestic legal framework. The study is divided into three sections: 1. polygamy in Islam; 2. Modern Human Rights Law where polygamy is prohibited; and 3. Pakistani legislation where polygamy is permitted within a regulated framework.
References
Topics and 2009, "The Problem with Polygamy."
economics and 1980, "The Economics of Polygamy."
Pol'y and 2006, "Everything Lawyers Know about Polygamy Is Wrong."
Philips and Jones, Polygamy in Islam.
"Polygamy in Islam - Abu Ameenah Bilaal. Philips, Jameelah. Jones - Google Books."
Azam et al., "Polygamy in Islam: Cultural Pressures and Religious Justifications in Pakistan."
Research and 2014, "Law Reform in the Muslim World: A Comparative Study of the Practice and Legal Framework of Polygamy in Selected Jurisdictions."
Nurmila, "Women, Islam and Everyday Life: Renegotiating Polygamy in Indonesia."
Philips and Jones, Polygamy in Islam.
Philips and Jones.
perspective and 2005, "The Nature of the Islamic Marriage: Sacramental, Covenantal, or Contractual?"
Quraishi-Landes, "A Meditation on Mahr, Modernity, and Muslim Marriage Contract Law."
Abbasi, Studies, and 2020, "Polygamy and Second Marriage under Muslim Family Law in Pakistan: Regulation and Impact."
Charsley, Networks, and 2013, "Transforming Polygamy: Migration, Transnationalism and Multiple Marriages among Muslim Minorities."
Soc'y and 1993, "The Debate on Polygamy in Pakistan and India."
Perspective and 2012, "Gender Equality: Human Rights v. Islam."
Review and 2003, "Human Rights Law and the Demonization of Culture (and Anthropology along the Way)."
Hale, "Gender and Economics; Islam and Polygamy - a Question of Causality."
Nordvik, "Are Polygamous Marriages to Be Considered a Human Rights Violation or a Human Rights Realization in the Contexts of Sweden and Tanzania?"
"Muslim Family Laws Ordinance, 1961"
Hoque and Zarif, "Legal Provisions of Polygamy in Bangladesh: A Comparison Between Muslim Family Law Ordinance 1961 And Islamic Jurisprudence."
Law and 2016, "The Debate over Polygamy in the Context of Muslim Family Law Ordinance 1961."
Shahjehan, Hira, and Sami Ur Rahman. "Laws Relating to Polygamy in Pakistan: Rights of the Polygamous Wives." Islamabad Law Review 5, no. 1/2 (2021): 47-64.
Maqsood, "Rationality of Restraining the Practice of Polygamy: Hegelian Discourse."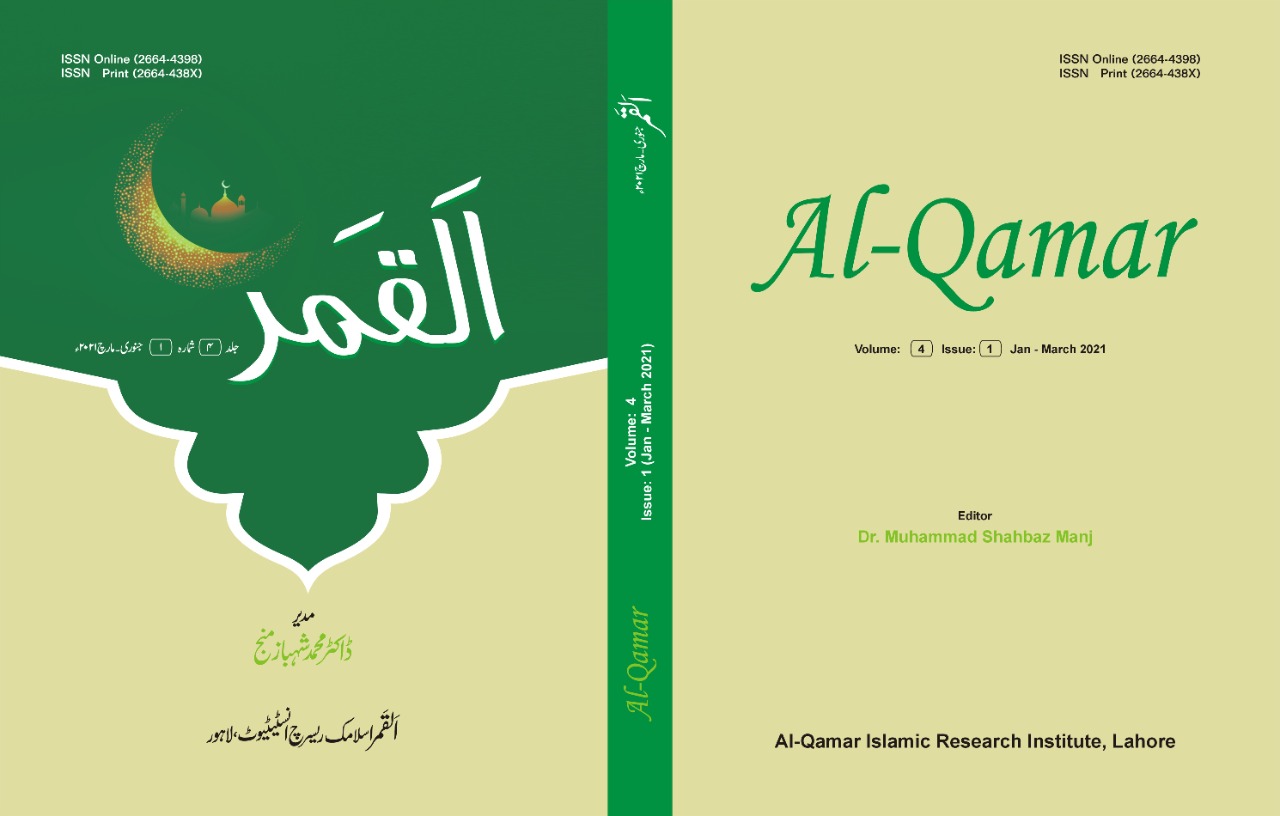 How to Cite
Muhammad Asif Safdar, Dr. Rashida Zahoor, and Waqas Rafiq. 2021. "Conceptualization of Polygamy in the Context of Islamic Law: A Study of Modern Human Rights Law and Pakistani Law". Al-Qamar 4 (1):161-72. https://doi.org/10.53762/alqamar.04.01.e12.
Copyright (c) 2021 Al-Qamar
This work is licensed under a Creative Commons Attribution 4.0 International License.