عصرِ حاضر میں مثالی نظامِ حکومت کا قیام اور حکمتِ عملی: اسلامی تعلیمات کی روشنی میں ایک مطالعہ
Establishment and Strategy of the Ideal System of Government in Cotemporary World: A Study in the Light of Islamic Teachings
Keywords:
Ideal System, Cotemporary World, Islamic Teachings
Abstract
Good Governance is basic subject of Islam. Islam has given comprehensive principles regarding peace, protection of public rights and social prosperity. Another an important aspect of Islam is that strategy of Good Governance presented for making stability. Social stability totally depends on strategy of Good Governance. Without comprehensive strategy we cannot protect our society and also can not address contemporary issues prevailing in the society in the shape of extremism, poverty and injustice. Development of strategy relating Good Governance is dire need of the time.
References
Syed Abu Al Ala Maudoodi, Islami Riasat, Islamic Publications 2005.
Dr. Muhammad Hamid Ullah, Khutbaat-e-Bahawalpur, Islamic Research Institute Islamabad, 2002.
Dr Muhammad Hamid Ullah, Ahd-e-Nabvi Ka Nizam-e-Hukamrani, Maktaba Ibrahimia Haiderabad Dakan.
Rehman, Gohar., Islami Siasat, Tafheem ul Quran Publication, Mardan.
Ansari, Maulana Hamid, Islam ka Nizam-e-Hakumat, Maktaba, Al-Hassan Lahore 2001
Siddiqui, Prof. Yaseen Mazhar, Ahd-e-Nabvi ka Nizam-e-Hakumat, Idara Tehqeeq o Tasneef, Aligarh, 2012.
Alvi. Dr. Khalid, Insan-e-Kamil, Al-Faisal Nashran Lahore, 2010.
Muslim, Imam Muhammad, Muslim Kitab ul Jihad fil Amr Atehseer, 5/161.
Taha 20:22-23.
Muhammad Hamid Ullah, Dr, Ahd-e-Nabvi ka Nizam-e-Hukmarani, p.571.
Al-Maida 5:8.
Al-Hujurat 49:13.
Dr. Khalid Alvi, Insaan-e-Kamil, 392-393.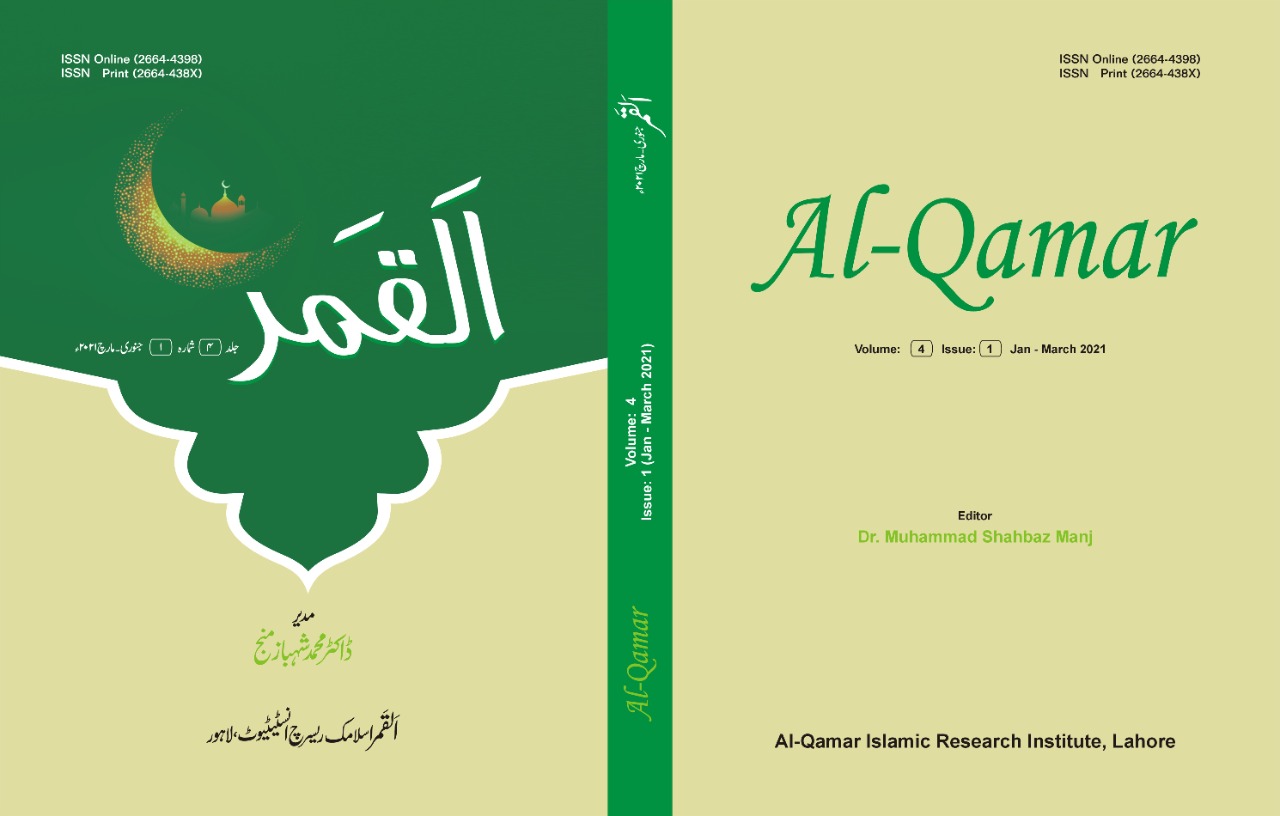 How to Cite
Dr. Ghulam Hussain, and Muhammad Farooq Khan. 2021. "عصرِ حاضر میں مثالی نظامِ حکومت کا قیام اور حکمتِ عملی: اسلامی تعلیمات کی روشنی میں ایک مطالعہ: Establishment and Strategy of the Ideal System of Government in Cotemporary World: A Study in the Light of Islamic Teachings". Al-Qamar 4 (1):379-84. https://alqamarjournal.com/index.php/alqamar/article/view/888.
Copyright (c) 2021 Al-Qamar
This work is licensed under a Creative Commons Attribution 4.0 International License.