عصر حاضر میں وحدتِ امت کے لیے آں جناب ﷺ کے داخلی و خارجی معاہدات سے رہنمائی
Guidance for the Unity of Ummah in Modern times through the Internal and External Treaties of the Prophet
Keywords:
Guidance, Prophet, Treaties, Unity of Ummah
Abstract
This paper will investigate how the Prophet (PBUH) used to make Internal and external agreements with the Muslims in his time and how can today Muslims, guided by these agreements, make the country a haven of peace? All these things will be explained in this study. Islam is a religion that promotes peace harmony and security at the national and international levels. For this purpose, Islam has laid down the principles of treaties and their observance which will be explained in this article. The aim of this article is to persuade the government to enter into agreements at the international level which do not harm the peace of the country. The all agreements of the Prophet (PBUH) are a guide line of all the human beings. The Holy Prophet (PBUH) made numerous agreements to create diplomatic state and good neighborly relations with neighboring tribes and countries of the Islamic state. For example He integrated the Jews and Muslims into collective unity through Medina peace agreement. The Prophet (PBUH) accomplished the peace task and achieved the results which no war could have happened. There is no better proof that this agreement of the repudiation of war as an instrument of policy and of his honest love of peace. The methodology of this research paper is descriptive and an analytic.
References
Al Fariqi, Ibn Manzoor,Muhammad Bin Mukarram,Lisan Ul Arab,Dar E Sadir, Berot,First Addition,Mada Aaien.Ha.Dal, P311-313
Al Isra17:34
Al Nisa4: 154
Al Maida5:89
Al Toba9:8
Al Maaida5:1
Raza,Shakh Muhammad Rasheed,Tafseer E Manaar, Misar1990,Vol4,P15
Al Surkhasi ,Shams Ul Deen Muhammad Bin Ahmad, Sharah Kitabul Seer Al Kabeer, Darul Kutab Al Elmiyah, Barot 1997,Vol5,P178
Al Kasani, Alo Ud Deen Abu Bakkar Bin Masood, Badaiy Wal Asna Fe Tarteeb Al Sharay, Dar Al Kutab Al Elmiyha, Berot1406, Vol7,P18
Dictionary.Reference.Com/Browse/Treaty, Retrieved Date 7-01-2022, Time 11:00pm
English. Wikipedia.Org/Wiki/Treaty/ Retrieved Date20-01-2022, Time 9:00am
Doctor Hameed Dullah, Sayasat Ka Mahda Tay Krny K Bad Is Ke Tafseel Hakem Ko Btaye Jy Gi, Se Waseeqa Jat, Translater: Mulana Abu Yahya Imam Khan, Majlis E Adab, Kalab Road Lahore2005,P154
Same
Nadvi,Mujeebullah,Islam Ky Baynul Aqwami Asool O Tasavorat, Nashar Markz Tahkeeq,Dayal Singh Trust Laibrary Lahore,1990,P117
Wahba Zuhali,Doctor, Baynul Aqwami Talukaat,Translater:Mulana Hakeem Mullah,Shareyha Academy, Baynul Aqwami Islami University,P194-261
Al Nahal 12:91
Abu Daood, Sulaiman Bin Ashas, Alsunan, Al Maktaba Al Asreya, Berot, Seen-Noon,Kitabul Akhraaj,Hadith3052
Al Surkhasi Shamsud Deen Muhammad Bin Ahmad, Sharah Ketabul Seer Al Kabeer, Dar Alkutab Al Elmiyha, Berot, A007,Vol1, P26
Al Infal8:72
Al Nisa4:90
Al Infal8:61
Ibn Jozi, Abu Alfaraaj Abdul Rehman Bin Ali Bin Muhammad Bin Ali Bin Abeedullah, Almuntazim Fe Tareekha Almalook Wal Umam, Dar Al Kutab Al Elmiyah Berot, Labnan,1995,Vol2,P311
Ibn Saad, Al Tibka Tul Kubra,Vol1,P168
Ibn Hisham,Abu Muhammad Abdul Malik Bin Hisham Bin Ayoob Hameri, Alseeratul Nabveyha, Zaya Al Quran Publications Lahore,2005,Vol3,P33
Abu Ubadul Qasim Bin Salam,Kitabul Amvaal, P260
Ibn Saad, Altinkatul Qubra,Vol1,P270
Same
Mansoor Puri,Qazi Sulaiman,Seerat Rahmatullil Alameen, Islamic Publications Lahore Vol1,P98
Ibn Saad, Altinkataul Qubra, Vol 1, P274- 275
Qurashi, Muhammad Saddiqe, Rasool Akram Ki Sayasat Kharaja,Fareed Book Depo Nai Delhi,P191
Ibn Saad, Altibkatul Qubra,Vol1 ,P274
Qurashi, Rasool Akram Ki Sayasat Kharaja,P192
Ibn Hisham, Abu Muhammad Abdul Malik Bin Hisham Bin Ayob Hameri, Al Seera Tul Nabveyha, Zaya Ul Quran Publications Lahore,2005,Vol3,P317
Tibr, Abu Jaffar Bin Jareer Bin Yazeed Bin Kaseer Bin Ghalib,Tareekh Al Umam Al Malook, Labnan,305,Vol1,P123
Al Infal8:61
Ibn Hisham, Abu Muhammad Abdul Malik, Al Seera Tul Nabveyha, Zaya Ul Quran Publications Lahore,1411,Vol4,P286
Mujeebullah Nadvi,Islam Ky Baynul Aqvami Asool O Tasaworaat,Markzi Tahkeeq Dayal Singh Tarust Library Lahore,1990,P117
Ibn Qayyam,Muhammad Bin Abu Bakkar Ayoob Alzare, Zadul Emaad Fe Huda Khair Ul Ebad, Mo Sasatul Resalah,Maktaba Al Manaar,Kavait,1407,Vol3,P325
Balazri,Fatuhul Baldaan, Berot Albnan,Dar Ul Kutab Al Elmiyha, 1403, P74
Balazri, Fatuhul Baldaan,P76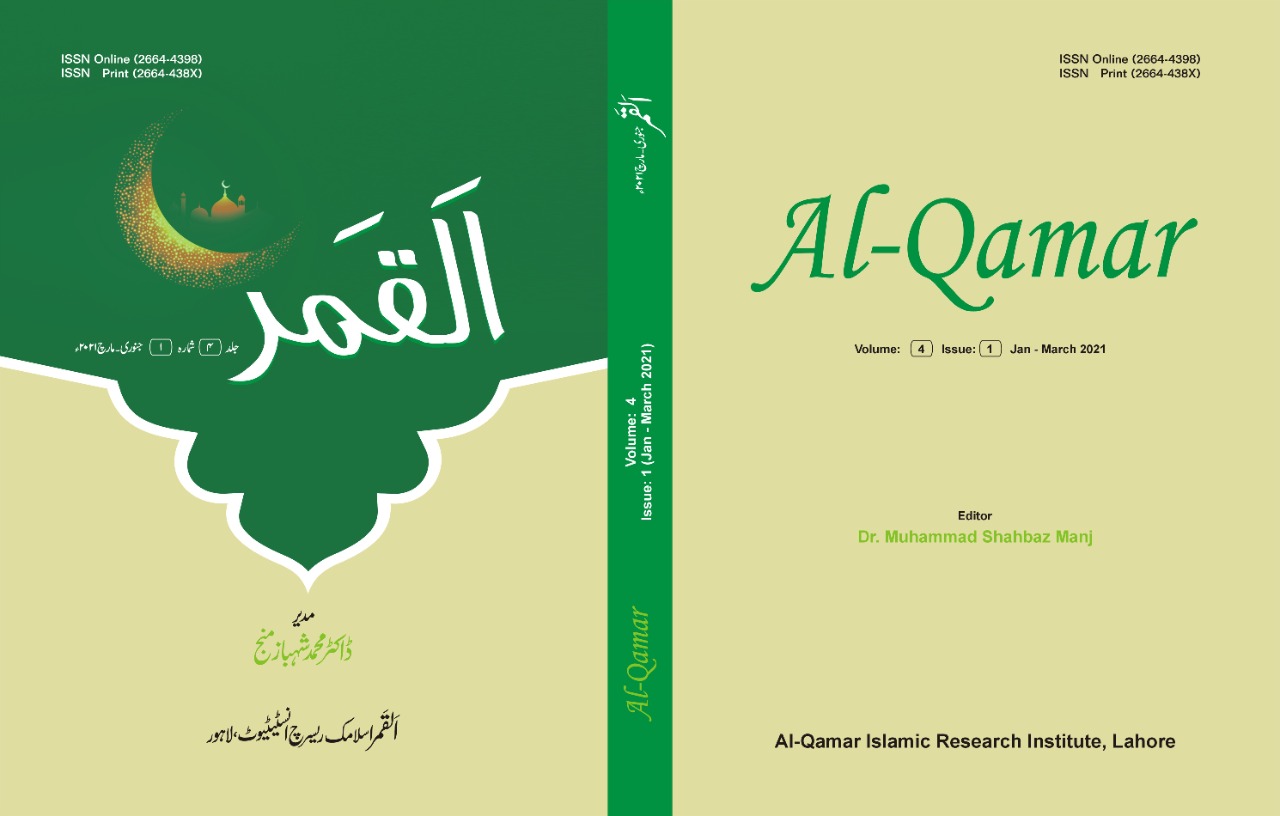 How to Cite
"عصر حاضر میں وحدتِ امت کے لیے آں جناب ﷺ کے داخلی و خارجی معاہدات سے رہنمائی: Guidance for the Unity of Ummah in Modern Times through the Internal and External Treaties of the Prophet". 2021. Al-Qamar 4 (1):385-94. https://alqamarjournal.com/index.php/alqamar/article/view/928.
Copyright (c) 2021 Al-Qamar
This work is licensed under a Creative Commons Attribution 4.0 International License.