معاشرتی عدم ِ توازن کا تدارک: سیرت طیبہ کی روشنی میں میں ایک مطالعہ
Prevention of the Social Imbalances in the light of Seerat-e-Tayabah
Keywords:
Social imbalances, Prevention, Seerat-e-Tayabah
Abstract
This article is discussing about Prevention of the social imbalances in the light of Seerat-e-Taybah (Holy Prophet Peace Be Upon Him). It also has been discussed before the advent of Islam. After this it commences in the eradication of extremism and rigidity in the light of Seerat-e-Taybah. It also through light politically consolidated society, more over it tells us Islam is the religion of universal brotherhood and free of prejudice and also tells us how we can make economical strong society and how can we formulate terrorism free society. Finally, this article is concluded with suggestion and recommendation gist of discussion. Before the study of the teachings of the Holy Prophet it is important to present a brief comparative analysis of the pre-Islam existing nations' narrow mindedness. In present scenario it seems pre-Islamic atmosphere is reviving again. Before Islam different nations were demonstrating narrow mindedness. We are witnessing the same situation again. Before Islam narrow mindedness of society is narrated by Allama Fareed Wajdi as, people were forced to accept religion and cruelty was very common, the people who refused to accept religion were put in fire and they were thrown before wild animals, and their legs were tied with the legs of horses and they were dragged into different directions. Melting mettle was thrown to them or they were hung on light fire for many days without caring for their noise or shout. They were made to lie on bed of hot coal which cased blood and fat come out of this body and some time they were lynched to death. When we study the pure life of the Holy Prophet "Seerat Tyaba" and Islamic society as compared to extremism and narrow mindedness and when we see the moderation, then Islamic moderation and optimism reflects with full force and glow. Neither its examples could be witnessed before Islam nor after Islam. The teachings of the Holy Prophets and his practices which completely pure from narrow mindedness, due to its effect the Arabs Shepherds who were used to implicit humanity turned to be complete human.
References
Al-Burooj 85:4-7
Al-Bayhaqi, Abu Bakr Ahmad Bin Al-Hussein, Shaab Al-Iman, Publisher: Dar Al-Kitab Al-Alamiya, Beirut, First Edition, 1410 AH
Al-Mominoon 23:71
Al-Maidah 5:45
Al-Nisa 4:128
Al-Anfal 8:61
Al-Razaqi, Syed Ismat Hussain Gilani, Safar Maarefat, Hassan Qalam Publications Lahore, 1912, p. 159
Al-Shura 26: 38
Al-Imran 2:158
Al-Imran 2:199
Al-Anfal 8:60
Al-Imran 2:103
Nadvi, Syed Sulaiman, Seerat-un-Nabi, Volume 2, National Book Foundation Islamabad, p.538
Qadri, Syed Shamim Hussain, Islamic State in the light of Qur'an and Sunnah, Ulema Academy Lahore, p.5
Al-Hujraat 49:9
Al-Anfal 8:61
Abdul Aziz Arfi, Jamal Mustafa ﷺ, Gilani Publishers, Karachi 1979, Volume 1, pp. 141,140
Tahir Muhammad Khan, Islamic State Concepts and Facts, Gulshan Composing and Graphic Lahore.2004, P-30
Muhammad bin Isma'il, Sahih Bukhari, (Translator, Allama Muhammad Da Wad Raz Dehlavi), Abu Al-Istisqa'a Bab, Maktaba Ahl Hadeeth, Karachi, P-552
Ibid, Kitab al-Salat, chapter, distributing wealth in the mosque and hanging a palm branch in the mosque, P-89
Al-Nisa 4:54
Muhammad ibn Ismail, P-552
Al-Nisa 4:58
Nadvi, Shah Moinuddin Ahmed, History of Islam, Maktab-e-Islami, Rawalpindi, 2002, P-100
Abu Dawood, Sulaiman bin Al-Shaath, Sunan Abi Dawood, Kitab Al-Amaraj and Al-Fa'iyya The chapter on the cleansing of the Messenger of God, may God bless him and grant him peace, Hadith No. 2974
Ibn Sa'd, Muhammad, Ab-Abdullah, Tabaqat Ibn Sa'd, "Urdu Tranlation, Al Tabqatul Kubra" (Translator: Maulana Ragheb Rahmani), Nafis Academy, Karachi, Volume-8, P-195
Ibid, P-194
Al-Quraish 106-4
Dr. Andapa Sabshta, Peace for Humanity, (Tar Jumma, Warteb, Mohammad Ikram Chughtai), Jang Publishers, 1997, P-67
Al-Nisa 4:1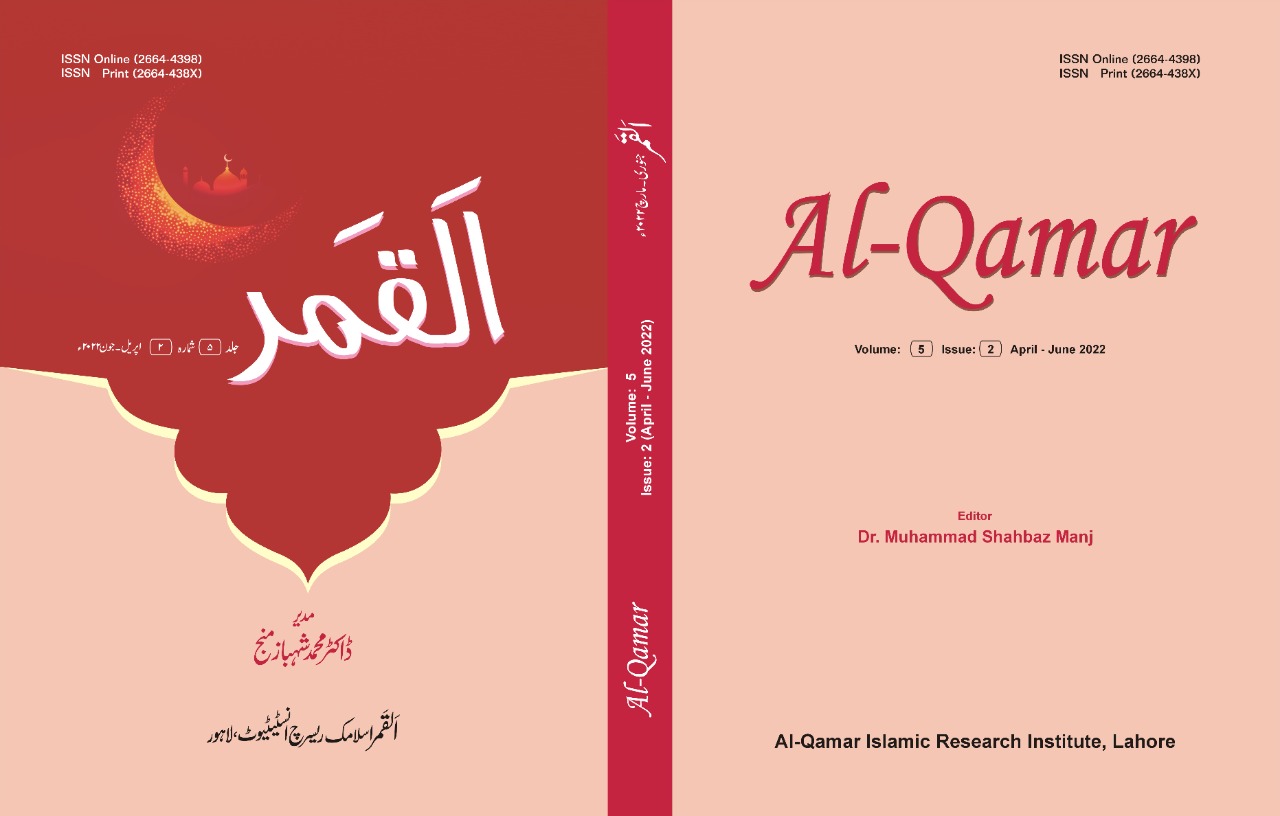 How to Cite
Prof. Dr. Matloob Ahmad, Dr. Uzma Begum, and Muhammad Qasim. 2022. "معاشرتی عدم ِ توازن کا تدارک: سیرت طیبہ کی روشنی میں میں ایک مطالعہ: Prevention of the Social Imbalances in the Light of Seerat-E-Tayabah". Al-Qamar 5 (2):77-88. https://doi.org/10.53762/alqamar.05.02.u07.
Copyright (c) 2022 Al-Qamar
This work is licensed under a Creative Commons Attribution 4.0 International License.