Treatise on Wooden Carved Doors: An Essay on Ornately Wooden Carved Doors from Lahore
Keywords:
bi-fold doors, Jharoka, pinjra work, gurudawar, teek wood, haveli, taali, Sehdarra
Abstract
Lahore is known as a cultural capital city of Pakistan. This city is also famous for its historical buildings as well for well-known colleges and universities etc. One of the hallmarks of Lahore is its old interior walled city. All over the year walled city is the center of attraction for many national and international visitors. Amongst many salient features of the interior walled city of Lahore, the ornately carved wooden doors embellishing local architecture, is worth praising. The doors are excessively decorated with the floral and geometric designs and clearly identify the rich taste of the owners once, living in the interior walled city of Lahore. The research paper is going to provide a visual walk through some beautiful old wooden carved (in-situ) doors from the city along with it a discussion will take place about the revival of ancient art of wood carving in Lahore. It will be discussed that the Wood Carving is one of the most ancient craft in the land of present day Pakistan and the roots of this tradition are deeply embedded in its soil. Lahore has earned fame particularly in carved wooden doors from colossal gateways of the forts, gardens, mansions, temples, gurudwaras and havelis to windows, jharokas, sehdaras, pinjras of ordinary houses. In this research article the focus will be mainly on the doors from Mughal period, Sikh period, and post Sikh period.
References
Riaz-ud-Din,Akhtar, History of Handicrafts Pakistan-India(Islamabad, Pakistan, National Hijra Council,1988),40-46.
Riaz-ud-Din, Akhtar, History of Handicrafts Pakistan-India, 353-356.
Handa, O.C. and Jain, Madhu, WOOD HANDICRAFTS: A Study of its Origin and Development in Saharanpur(New Delhi, India, Indus publishing company), 36-38.
Birdwood, George. The Industrial Art of India :South Kingston Museum Art Handbook (W.C: Champman and Hall Limited, May 1880), 216-218.
Yousaf, Mahrukh, Folk Motives of Pakistan (Pakistan, Islamabad, 1990), 56.
Dar, Saif-ur-Rehman, Crafts of Punjab Vol 3 Bhera (Lahore, Punjab Small Industries Corporation, 1988) 58-59.
Kipling, J.L. "Punjab Wood Carving", Journal of Indian Art and Industry, Vol. 29.
Rehmani, Anjum, Master Pieces of Lahore Museum (Lahore: Lahore Museum in collaboration with UNESCO, Youth Publishers, 2006)
Ananda, Sri G, ganesha: The Resurrected Son of God (India, Artofunity.org, 2011), 67.
Ahmad, Waseem, preservation and restoration of wooden objects in Lahore Museum, Lahore Museum Buliten vol vii, no I & II (Dec. Jan. 1994), 281.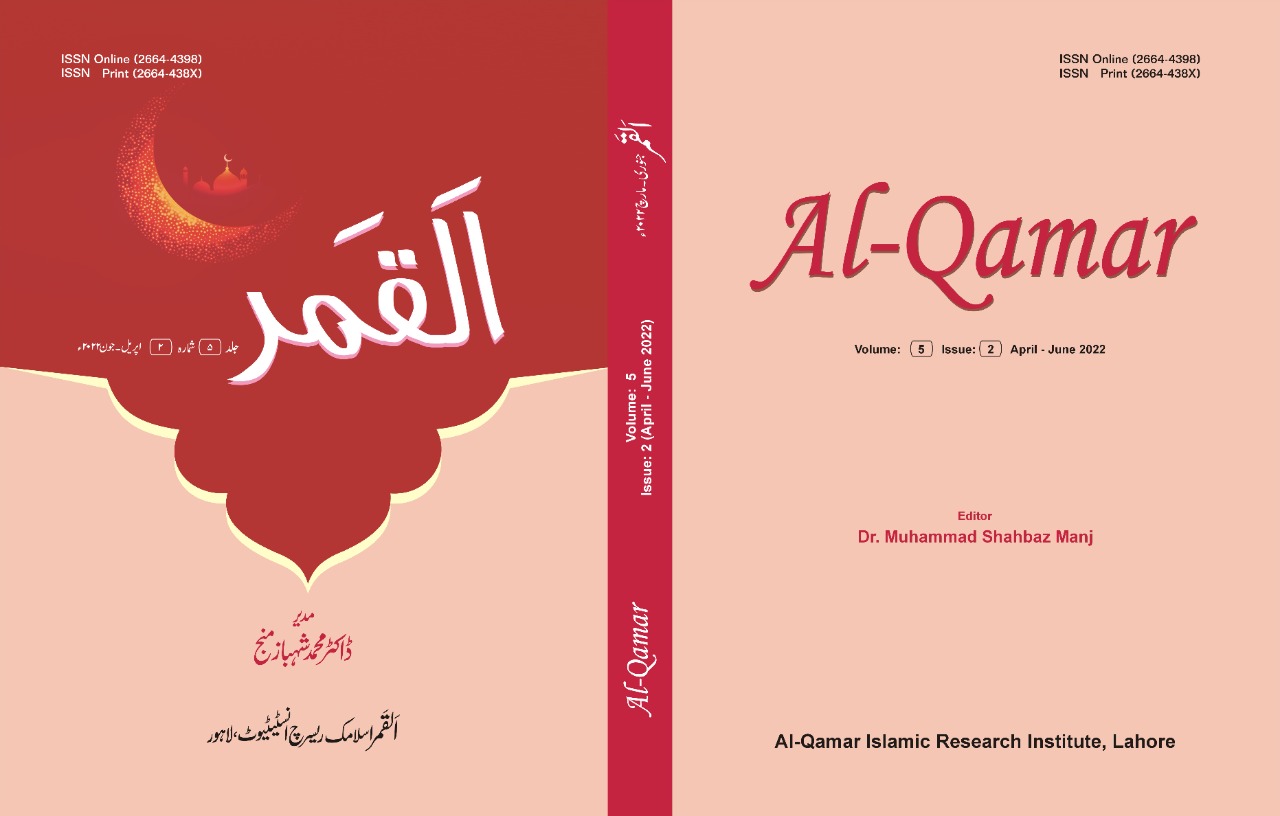 How to Cite
Asma Kamal, and Prof. Dr. Rifaat Saif Dar. 2022. "Treatise on Wooden Carved Doors: An Essay on Ornately Wooden Carved Doors from Lahore". Al-Qamar 5 (2):49-62. https://doi.org/10.53762/alqamar.05.02.e04.
Copyright (c) 2022 Al-Qamar
This work is licensed under a Creative Commons Attribution 4.0 International License.