رثاء المدن بالشعر العربي : دراسة جمالية
Lamenting Cities in Arabic Poetry: An Aesthetic Study
Keywords:
Elegy poetry, Cities, lamentation, feelings
Abstract
Lamentation is one of the purposes of ancient Arabic poetry, where we see the art of the ignorant people and this art moved from them to other Islamic ages, where we see poets added what they distinguished in lamenting their dear cities and their kingdoms, where poets did not move away from using rhetorical purposes as a means to show their suffering, because it is a purpose of The truest poetic purposes, as it embodies the human feeling and has sincere affection towards the one who is said about him. Lamentation is based on a characteristic which is the praise of the dead or the collapsed cities, and mentioning his good qualities and qualities that embody his image in the reader. Lamentation is an art linked to daily life and lived reality, since life is full of wars and the consequent loss of relatives and property. War is the main gesture in this art, as it gives the poet connotations of heroism, the experience of death, and the usurped right.
References
Al-Fayrouz Abadi, alqamus almuhiti, Article Ratha, (Part 1, publish, Dar Al-Jeel, Beirut), 16
Qudama Bin Jaafar, Criticism of Poetry, (Tahqiq by Abdel Moneim Khafaji, Dar Al-Kutub Al-Ilmiyya Beirut), 118
Ban Rashiq Al-Qayrawani, Al-Umda fi Beauties of Poetry and its Literature, (Thaqiq by Muhammad Qirqzan, Volume 2, Ed-1, Dar Al-Marefa, Beirut, 1988), 805
Shawki Deif, Al ratha fi share al arabi, (Dar Al-Maaref, Cairo,1956 , 4th edition), 8
The Days of the Arabs: These are the wars that took place in the time of ignorance and that lasted for many days and years, such as the war of Al-Basous, Dahes and Al-Ghabra, and others "the days of the Arabs before Islam".
Hussein Juma'a, Ratha Poem Roots and Phases, (1st Edition, Dar Al-Numeir, Damascus, 1998), 24
Dr. Mahmoud Hassan Abu Naji, Ratha in Arabic Poetry or Heartbreaks, (Life Library publications, Beirut, Lebanon, Ed.1, 1402 AH), 96
Ibid, P277
Ibid-86
Abd al-Rashid Abd al-Aziz, Poetry of Arab Lamentation and the Awakening of Wills, 77
Shaker Al-Nabulsi, Fadwa Toukan and Contemporary Jordanian Poetry, (printed by the National House of Printing and Publishing, 1966), 47
Shawki Deif, Lamentation, (Dar Al-Maaref, 4th floor, Cairo), 12
Al-Khansa Tamader, Diwan Al-Khansa, (Edited by Abdul Salam Al-Hofi), 5, 54
Al-Mubarrad: Condolences and Lamentations, (investigated by Muhammad Al-Dibaji, Publications Edition of the Arabic Language Academy, Damascus, 1976), 271
Izz al-Din Ismail, in Abbasid literature, The Vision and Art, (Dar Al-Nahsa Al-Arabiya Edition, Cairo, 1975), 364
AL-Nisa 4:66
Muhammad Metwally Al-Shaarawy, My thoughts about the Noble Qur'an, (Akhbar Al-Youm), 2:345
Al-Baqarah 2:246
Imam al-Tabari, History of al-Tabari, (investigated by Abu al-Fadl Ibrahim, Dar al-Maaref, Egypt, I 1, part 1), 125
Al-Hamawi, Mujam Al-Buldan, (Dar Al-Fikr, Beirut , 1995 AD) 3:114
Embracing Bin Ghaith Al-Biladi, Geographical Features in the Biography of the Prophet by Ibn Hisham, (First Edition, 1402 AH, House of Mecca, 1:99, Yaqout Bin Abdullah Al-Hammouri, Lexicon of Countries), 1,2:99,402
Abu Faraj, Al-Isfahani, Al-Aghani, , (Dar Al-Kutub, Cairo, c. 1938 AD, 16th edition), 299-300
Shaher Awad Al Kafawin, "Arabic Poetry in Lamenting Countries and Countries Until the Fall of Andalusia", (Ph.D. Thesis, Department of Arabic Literature, Umm Al-Qura University), 1984, 64
Muhammad Rajab al-Bayoumi, Andalusian literature between influence and influence, (Dar al-thaqafa for publication, Cairo), 212
Al-Taher Ahmed Makki, Andalusian Studies in Literature and History, (Dar Al-Maaref, 3rd Edition, Cairo, 1987), 201
Ibn Qutayba, Poets and Poets, (investigation by Ahmed Mujamed Shaker, Dar Al-Maaref, 2nd Edition, Egypt), 586
Munhad Mustafa Bahjat, Andalusian Literature from the Conquest to the Fall of Granada, Dar al kutab for publication, Iraq, 1988), 305
Dr. Abd al-Muti al-Sayyad, The Mongols in History, (first edition 1956 AD, Dar al-Maarifa Lebanon), 294
Ibrahim Mansour Muhammad Al-Yassin, Lamentation of Wives in Andalusian Poetry, (The Elegy of the Blind Attalily Model), 4
Hind Bint Ahmad Al-Othaim, The Andalusian Epitaph at the Time of the Almoravids and Almohads, 30-31
Shehab Al-Khafaji, Rehana Alba and the Flower of the World's Life, (Dar Al-Maarif Al-Arabiya, 1995 AD), 1:101
Munjed Mustafa Bahjat, 305
Abu al-Qasim Khalaf bin Abd al-Malik, The Connection in the History of the Imams of Andalusia, (Dar al-Kitab al-Masry, Cairo-1989), 1:285.
The Qasida from the Diwan of Ibn Rashiq Al-Qayrauni, (Compiled and investigated by Dr. Abdel Rahman Yaghi, 1989, House of Culture, Beirut), 212-204.
Hanna Al-Fakhouri, History of Arabic Literature, (Dar Al-Asala, Algeria, 212th Edition in 1987), 97
Abdul Hakim Radi and others, Awraq Baghdad, (The General Authority for Cultural Palaces, Cairo, 2003), 364
Abi Jaefar Muhamad bin Jarir altabri, tarikh altabri, tahqiq muhamad 'abu alfadl 'iibrahim, dar almaearifi, (Ed18, Egypt), 446
Baghdad built by Abu Jaafar al-Mansur, the background, (which he built on the banks of the Tigris River, and has religious shrines)
Al-Taher Ahmed Makki, Andalusian Studies, 202
Ragheb Al-Sarjani, Qisat Al-andalus min alfath ilaa alsuquta, (Part 1, Iqra Institution for Publishing and Distribution, 1st Edition, Cairo, 2010), 322
García Gómez, Andalusian Shier : (An Examination of Its Development and Characteristics), 61
Ragheb Al-Sirjani, The Story of Al-Andalus, Part 21, 323
Mustafa Al-Shaka'a, Andalusian Adab, (Its Themes and Arts, 10th Edition, 2000), 529
Fawzi Issa, Andalusian Poetry in the Era of the Almohads, (Publisher of Dar Al-Wafa Ladonia Printing and Publishing, Faculty of Arts, Alexandria University, 1, 2007), 180
Ibn eadharaa almarakishi, albayan almaghrib fi 'akhbar al'andalus walmaghrib, (qism almuahidina, tahqiq muhamad 'iibrahim alkitabi, waeabd alqadir zamamata, Dar Al-Gharab Al Islami, Beirut, Lebanon, 1985), 381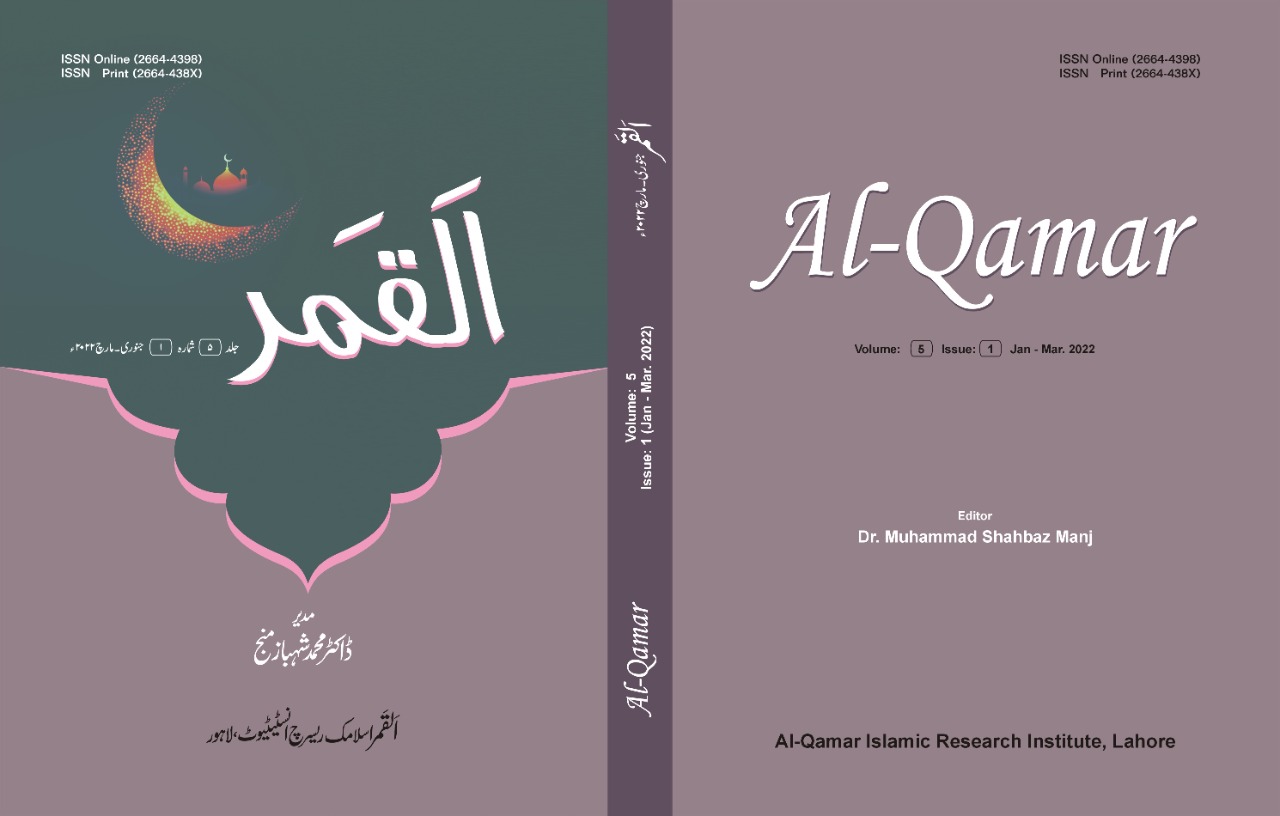 How to Cite
Dr. Lubna Farah, and Dr. Khushbakhat Alia. 2022. "رثاء المدن بالشعر العربي : دراسة جمالية: Lamenting Cities in Arabic Poetry: An Aesthetic Study". Al-Qamar 5 (1):35-46. https://alqamarjournal.com/index.php/alqamar/article/view/975.
Copyright (c) 2022 Al-Qamar
This work is licensed under a Creative Commons Attribution 4.0 International License.