رحیم یار خان کے ہائی سکولوں میں تدریس اسلامیات کے اثرات کا جائزہ
Review of the Effects of Teaching of Islam in the High Schools of Rahim Yar Khan
Keywords:
Islamic studies education, Knowledge secondary level, 21st century skills, Inquiry-based learning, Life and career skills
Abstract
The Islamic studies education in 21st century has become more challenging with reference to educating students in 21st century skills in addition to imparting critical attitude, knowledge and skills required for Islamic education in secondary schools. Education and training are our respect and prosperity. There is a person who is a teacher and a prophet. Our apostles like the prophet also taught and taught. It is a great way to life with us in our lives, and we have a great way of doing this for our self. It is a great way for us to educate you and teach you a wonderful life. Admit Samples we admit that the system of Islamic studies helps in placing the light of knowledge and darkness in the country. Thus the economy has reduced and has increased the economy. The use of this language has been proven and strengthened. We have given the teaching of Islamic teachings information and beliefs. Among us are scholars, scholars interpreters, thinker's preacher's judges and scholars over special duties are to be held. Paying for our religious duties and services we have given us the opportunity to accept the responsibility of education and education, and not only to spare them, but they have benefited from them. With the confession of the service the fact that the Islamic education should not have been given to our ideology, we are not able to give them. In this way, the seminars are the social leaders of education and training, where the education and competence is possible through the knowledge of the purpose.
References
Al-Alaq 96 :1.
Al-Zumur 39 :9.
Abu Abdullah Muhammad Bin Yazid Ibn E Majah; Tahqiq Muhammad Fawad Abdul Baqi, Sunan Ibn Majah (Egypt: Dar Ihya al-Kutib Al-Arbiya 1905)81:1,Ḥadith no: 224.
Ibn-e-Taj, Islami Uloom Aur Nisaab ( New Dahli, Jamia Hamdard 2017)36, No. 1.
Khalid Rahman, Islamic Studies Main Tabdili Kay Rojhanat, Roznamah Jasarat February 2021)6,No.1.
Molana Khalid Saifullah Rahmani, Deni Aur Asri Darssgahin (Haider Abad: Hoda Book, 201175.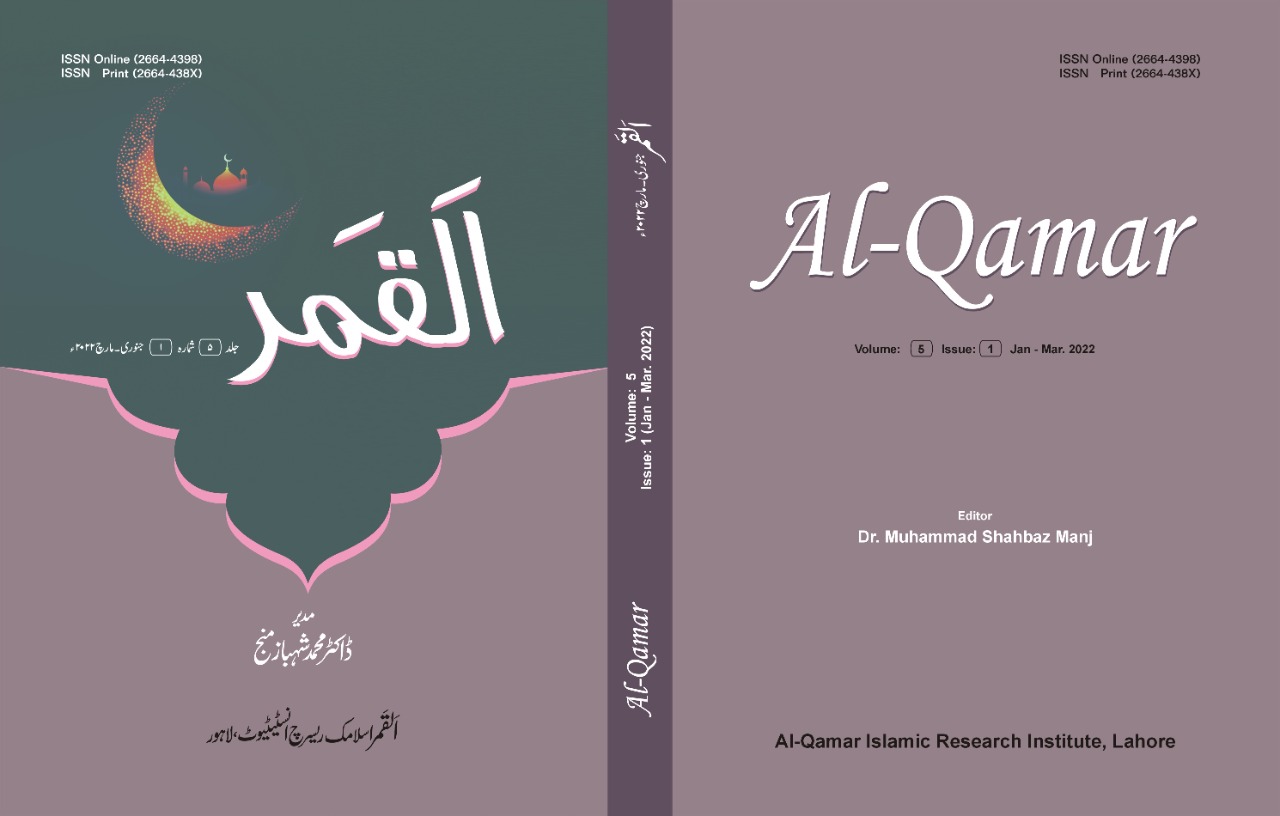 How to Cite
Iftikhar Ahmad khan, and Dr. Majid Rashid. 2022. "رحیم یار خان کے ہائی سکولوں میں تدریس اسلامیات کے اثرات کا جائزہ: Review of the Effects of Teaching of Islam in the High Schools of Rahim Yar Khan ". Al-Qamar 5 (1):185-94. https://alqamarjournal.com/index.php/alqamar/article/view/1019.
Copyright (c) 2022 Al-Qamar
This work is licensed under a Creative Commons Attribution 4.0 International License.