Gender Marginalization: A Textual Study Of Jamil's A Prince Who Destroyed my Life
Keywords:
Marginalization, transsexual, gender
Abstract
The study is carried out to uncloak the life of transsexuals who face discontentment in a Pakistani society. The study highlights that in the third world countries, such issues are in dominance. The problem is especially prevalent in Sub-Saharan African and South Asian countries. The research is qualitative in nature because it provides textual analysis of the novella A Prince Who Destroyed My Life. The research seeks to examine the status, the repercussions, various programs and recommendations on the lives of transsexuals through a literature review. The repercussions of transsexuals are highlighted in this piece, with the girls at risk of early pregnancies with life-threatening complications along with her transsexual baby. Each country should set its own mid and long-term targets to manage their lives significantly. The afore-mentioned problem has been a long-standing one in the society. Leading clerics, well versed in matter of religion, should be asked to speak out on the problem and ensure that people are fully informed about the issue in a country or a state where violation of transsexual is still common, especially in village areas and less developed parts of the country.
References
Bellow. K. (1864). General Report on Yusufzai's Bellow. Lahore: Government Press. Reprinted 1977. Saeed Press: Peshawar, Pakistan
Ahmad. A. (1976). Milenium & Chrisma among Pathans, Routledge: London
Charles. Lindholm. (1982). Generosity & Jealousy, "The Swat Pakhtuns of Northern Pakistan," Columbia University Press: Columbia
Ahmad. S. (1986). In Pakistan Society, Karachi: Oxford University Press. Pakistan: Society & culture, Vol-II, Code no. 4664, (P.129).
Awan, A. K. (1986). The Socio Economic Situation in Nasra Misbah. Pakistani women (Eds). A socio economic & Demographic profile, Islamabad. PIDE.
Nosheen. H. (2014) Impact of Changing Women Status on Pakhtun Society. (PhD Thesis) University of Peshawar, Peshawar Pakistan.
Ali, P. A., Gavino, M. I. (2008). Violence against women in Pakistan: A framework for analysis. Journal of the Pakistan Medical Association, 58, 198–203.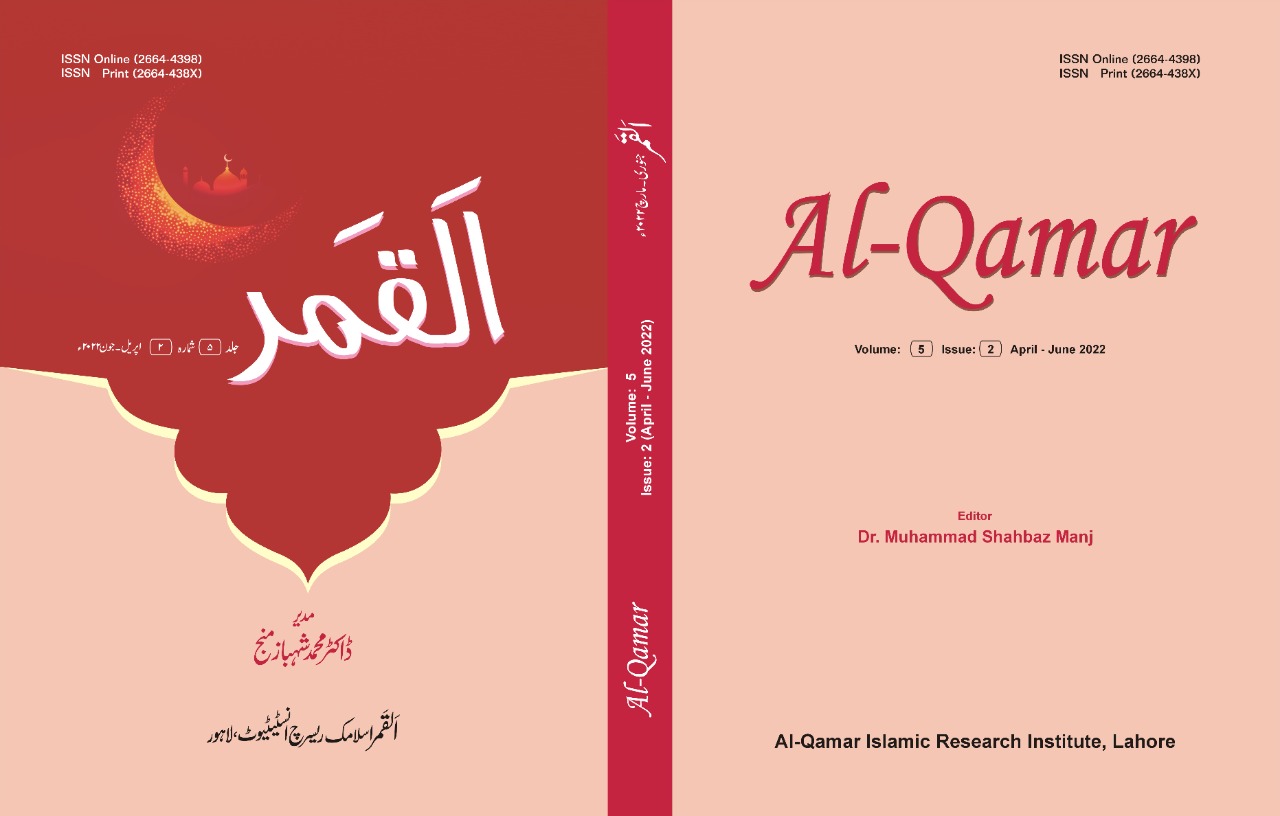 How to Cite
Saeed Ur Rahman, Nasiha Shah, and Pir Atiq Ur Rahman. 2022. "Gender Marginalization: A Textual Study Of Jamil's A Prince Who Destroyed My Life". Al-Qamar 5 (2):153-64. https://doi.org/10.53762/alqamar.05.02.e10.
Copyright (c) 2022 Al-Qamar
This work is licensed under a Creative Commons Attribution 4.0 International License.