نور الحسن الأويسي ومخطوطتہ "نور الواعظین": دراسة تمھیدیۃ
Nūr al-Ḥasan al-Uwaisī and his Manuscript "Nūr al-Wāʻiẓīn": An Exploratory Study
Keywords:
Nūr al-Ḥasan al-Uwaisī, Tafsīr, "Nūr al-Wāʻiẓīn"
Abstract
Sheikh Nūr al-Ḥasan al-Uwaisī (1268AH-1348AH) was a great religious scholar of the subcontinent and an icon of spiritualism. He was also an expert of Qur'ānic sciences. In this area of knowledge he wrote an exegesis titled "Nūr al-Wāʻiẓīn". Unfortunately Sheikh al-Uwaisī's achievements particularly his referred work was unknown to scholarly world. "Nūr al-Wāʻiẓīn" was written almost a century ago, but is not yet available in print. It is the need of the time to introduce this great scholar and bring out his magnum opus "Nūr al-Wāʻiẓīn" before the scholarly world. So, the present article centers a brief exploratory study of Sheikh al-Uwaisī and his achievements particularly his referred tafsīr manuscript. It maintains that "Nūr al-Wāʻiẓīn" consists of various unique characteristics and therefore is a blessing for students and scholars that they must take advantage of.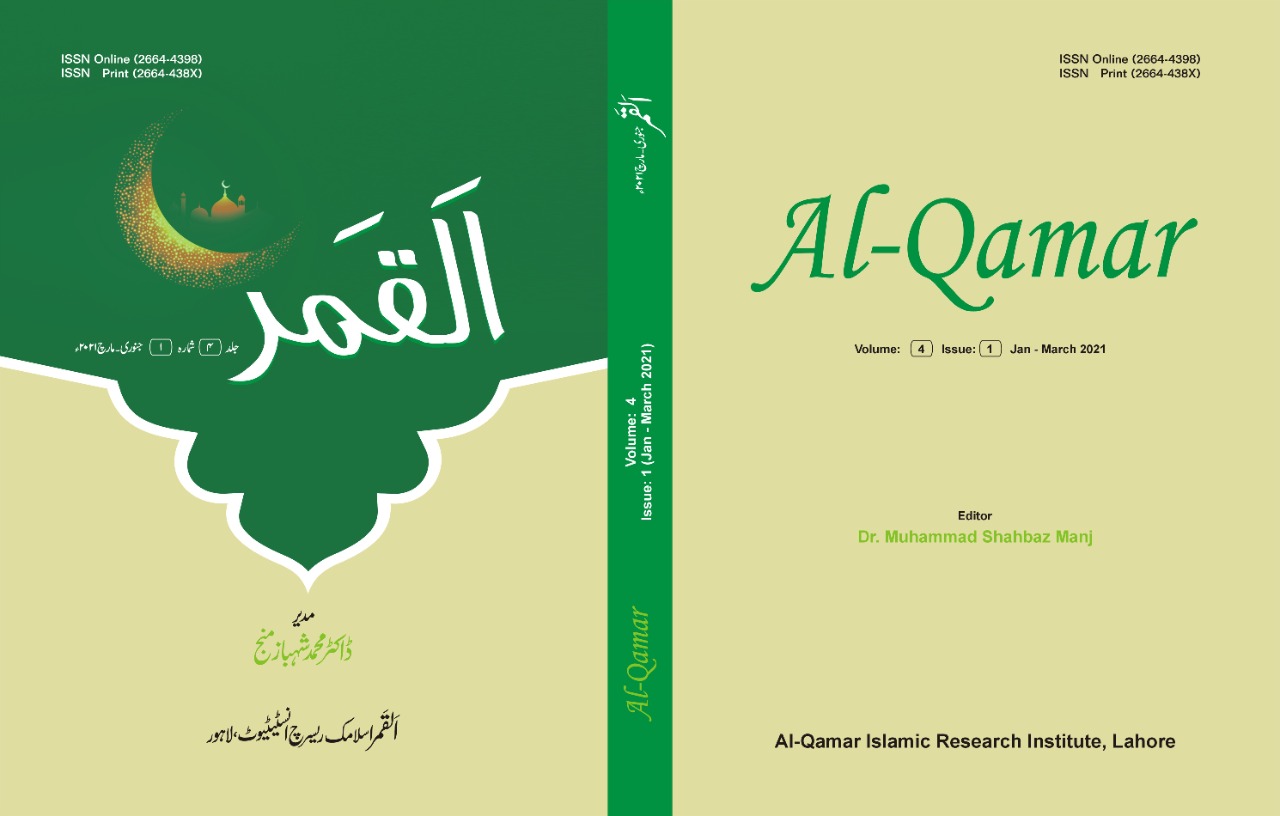 How to Cite
Sadia Nasrullah. 2021. "نور الحسن الأويسي ومخطوطتہ "نور الواعظین": دراسة تمھیدیۃ: Nūr Al-Ḥasan Al-Uwaisī and His Manuscript "Nūr Al-Wāʻiẓīn": An Exploratory Study". Al-Qamar 4 (1):29-40. https://alqamarjournal.com/index.php/alqamar/article/view/549.
Copyright (c) 2021 Al-Qamar
This work is licensed under a Creative Commons Attribution 4.0 International License.