تعمیر فرد و معاشرت اور اسلامی تعلیمات: ایک مطالعہ
Character Building of an Individual and Society: A Study in the Light of Islamic Teachings
Keywords:
Character Building, Individual, Society, Islamic Teachings
Abstract
Islam has given us different principles of social reformation. Comprehensive Islamic strategy is available to address contemporary issues relating human society. Socio Economic justice is core patron of Islam to establish inclusive and peaceful society. Islamic cultural values are also best source of peace, protection and prosperity. Character building and social development totally depends on inclusive values of Islamic civilization. Islamic thought in the shape of Ijtihād is the best source to conquer contemporary issues prevailing in modern world.
References
Abū Al-Aʻlā Mudūdī, Tanqīḥāt(Lahore: Manshūrāt, 2003AD), 7.
Al-Baqrah 2: 254.
Al-ʻAnkabūt 29: 41.
Abdul Ḥakīm, Islamic Ideology: The Fundamental Belief and principles of Islam and their application to practical life (Institute of Islamic Culture, 1993 AD), 105.
Gohar Reḥmān, Tafḥīm al-Masāel, 5: 112.
Al-Mominūn 23: 1.
Al-Furqān 25: 73.
Al-Mominūn 23: 2.
Al- Mominūn 23: 3.
Al-Mominūn 23: 4.
Al-Mominūn 23: 5.
Al-Furqān 25: 29.
Al-Mominūn 23: 9.
Al-Nisā 4: 103.
Al-Lail 92: 1, 2.
Al-Imrān 3: 190.
Muhammad Ibn Ismāʻīl Bukhārī, Al-Jāmi Al-Ṣaḥīḥ, 1: 312.
Al-Furqān 25: 74.
Al-Furqān 25: 73.
Al-Furqān 25: 67.
Al-Ḥadīd 57: 25.
Abū Al-Aʻlā Mudūdī, Islāmī Tehzīb aur us k Uṣūl-o-Mubādī (Lahore: Manshūrāt, 2003AD), 150.
Dr. Khālid ʻAlvī, Thaqāfat kā Islāmī Taṣawur( Islamabad: Daʻwā Accadmey, 2005AD), 19.
Muhammad Asad, Islam Duhrāy Per, 65.
Allama, M. Iqbal, The Reconstruction of Religions thoughts in Islam, 200.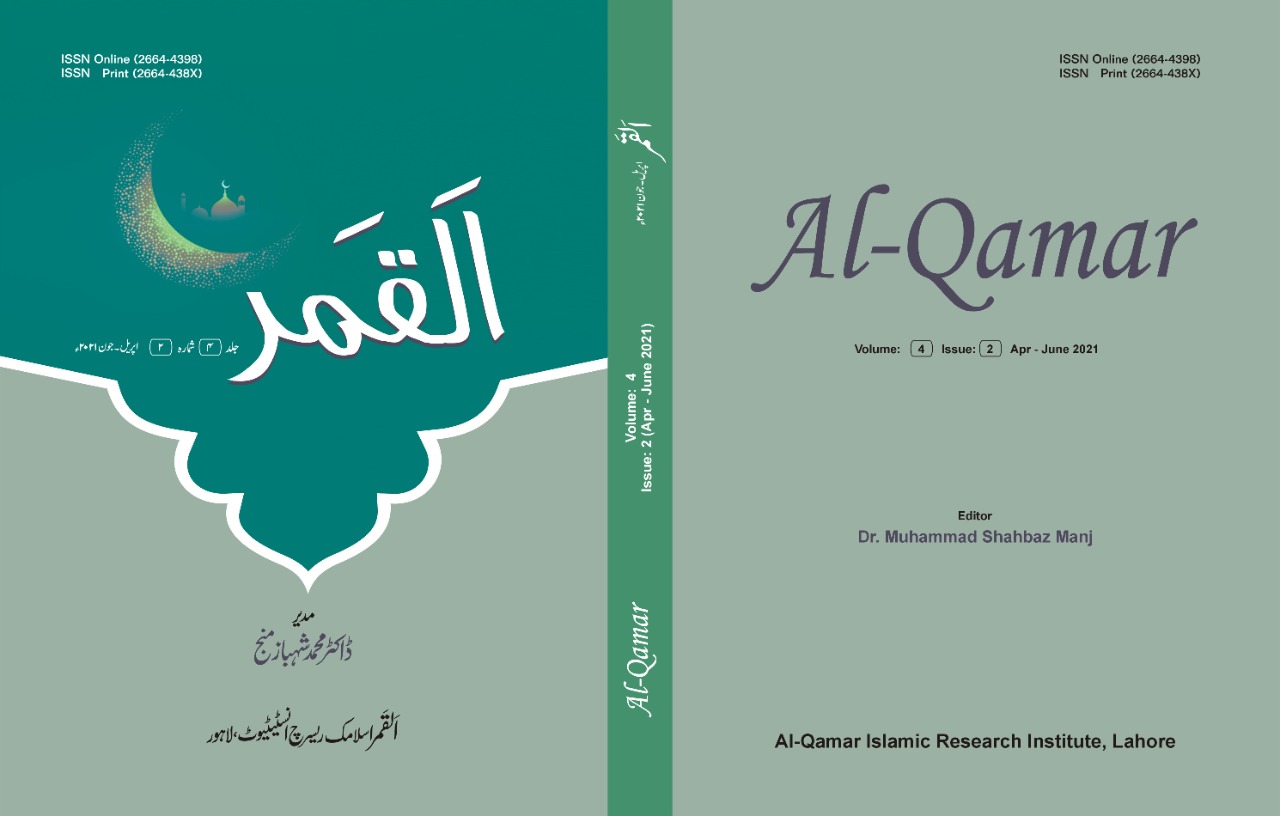 How to Cite
Dr. Ghulam Hussain, and Hafiz Muhammad Faisal. 2021. " تعمیر فرد و معاشرت اور اسلامی تعلیمات: ایک مطالعہ: Character Building of an Individual and Society: A Study in the Light of Islamic Teachings". Al-Qamar 4 (2):405-12. https://doi.org/10.53762/alqamar.04.02.u33.
Copyright (c) 2021 Al-Qamar
This work is licensed under a Creative Commons Attribution 4.0 International License.