Anti-Social Behavior Among Pakistani Students: Causes and Effects in the Light of Islamic Teachings
Keywords:
Aggression, harmony, Youth, Anti-Social, Islam
Abstract
There is a wide spread problem that ours in an era of violence and we are witnessing   an exceptional outburst of anti -social   behavior throughout the world. Young students are extensively discerned as being rowdy and anti- social as well as they commonly victimize of illegal activities. It is wide spread issue in all   societies is to have practices of   violence, aggression and   prejudicing behavior of young students.  It is experienced that sometime a person harms himself and sometimes other human being victimized. The question is what are   factors causing aggression and violence among the students? The answer to this question is there are some rationales; broken family, lack of guidance, weakening of the religious practices and ethical attitudes became main causes of this most thought full problem. Anti-social behavior is strictly prohibited by Allah Almighty in Islam and social harmony and peace is encouraged by equal measure. One of the reports in Bukhari(810AD-870AD) reports from Prophet of Islam, Muhammed (PBUH) A believer is he whose other believers remain safe from the wickedness of his hand and tongue. Islam has given great stress on keeping, promoting and encouraging peace and harmony and social leniency among the people. Because Islam gives complete code of life for character building of students and its social norms and values have great significance. As well as Islam demoralize violence in sura Baqarah (205) Wa Allahu la yuhibbu-al-fasad. The present paper will attempt to understand a study of causes and reasons of violence and aggression among the students which has become the pressing need of today owing to the escalation of extremism and violence in the world in the light of Islamic teachings.
References
Alhujrāt 49: 13
Maramaduke Pickthall, Translation of the Holy Quran (Lahore: Taj company n. d), 509.
Imam Muhammed Ibn Ismaiel al-Bukhari, "Sahi Bukhari" (India: Qademee Kutb Khana,1938),1:6.
Fred Frankel, Jeffry J. Wood ,Jossy Bass publishers 2011,USA,1st edition, 7.
R. Kumar, "Child Development", (New Dehli : APH Publishers 2012), l-1: 47.
Suzanne Haneef, Islam The Path of God ( USA: library of Islam 1996), 76
Arther C.Brooks, "Compassion, Religion, and Politics", publication public interest, september, 2004, 57-66.
Linda Brannon, Jess Feist, Health Psychology An Introduction to Behavior and Health (USA: Thomson Wadsworth Publishers, ,6th edition), 379.
Almāida 5:90.
Alhujrāt49:11.
Johnson and Larson, "Religion" and Byron R.Johnson, Does Adolscence Religious Commitment Matter? A Reexaminationof the Effects of Religiousity on Deliquency," Journal of Research in Crime and Deliquency,vol-38,No.1,(Feberury 2001): 22-43.
Patric F. Fagan, Backgrounder (Washington :The Heritage Foundation, 2006), 8.
Muhammed Munir Kayani, Exploring The Factors Causing Aggression And Violence Among Students And Its Impact On Our Social Attitude, ,Vol-2, No-3, December 2013, P.13//www.Journals.Savap.Org.pk
Chanelle Tarabay, Wayne Warburton, Anger, aggression and Violence P.5 www.theconversation.-com/anger-aggression-and-violence-it-matters
Douglas A, Bernstein, Louis A. Panner, Alison Clarke-Stewart, Edward J.Roy, Psychology, Houghton Mifflin Publishers, New York.8th Edition, P.737-745
Jean Brooks-Gunn, Allison fuligine, Lisa. Berlin, Early Child Development in the 21st Century, (New York :Teachers College Publishers, 2003), 256.
David R. Shaffer,Social and Personality Development (USA: Thomson Wadsworth Publisher 5th edition), 292.
Jean Brooks-Gunn, Allison fuligine, Lisa. Berlin, Child Development, P.175
David B Larson, Susan S Larson, John Gartner, Family Relationship and Health, Journal of the Scientific Study of Religion, Mosby Year book (1990): 135-147.
Patric F. Fagan, Backgrounder, .5
Mohammed Ibn Ismaiel al-Bukhārī, Sahih al-Bukhari (Karachi: Maktaba Qadeemi Kutub Khana, n. d) 2:1057.
Luqman 3ٍ1: 13.
Luqman 3ٍ1: 18.
Imam Muslim bin alhujaj Qusheri, Sahih Muslim, (Karachi: Qademmi Kutab Khana ), 2:122 1930.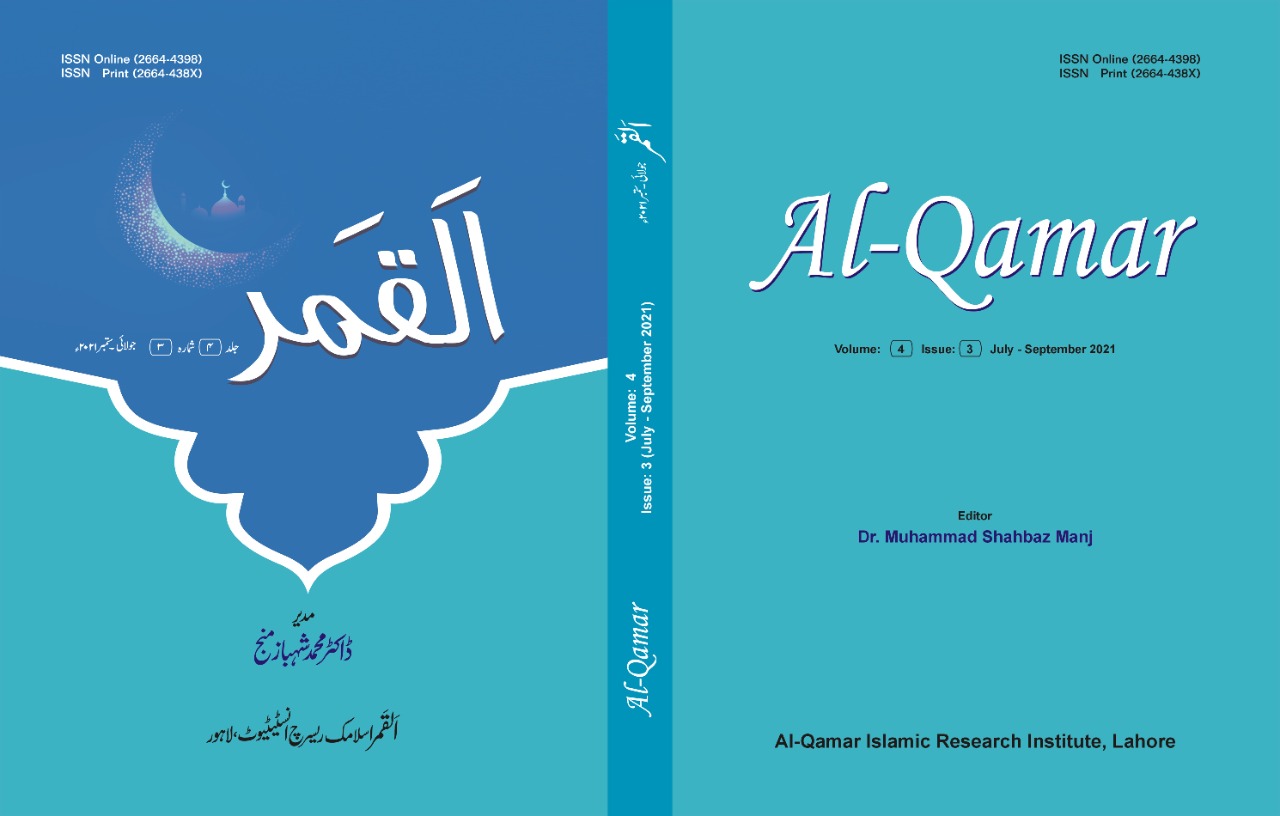 How to Cite
Dr. Fozia Fiaz, Dr. Saeed Ahmed Saeedi, and Dr. Ammara Tabassum. 2021. "Anti-Social Behavior Among Pakistani Students: Causes and Effects in the Light of Islamic Teachings". Al-Qamar 4 (3):139-52. https://doi.org/10.53762/alqamar.04.03.e09.
Copyright (c) 2021 Al-Qamar
This work is licensed under a Creative Commons Attribution 4.0 International License.