Restoration of Democracy in Muslim Countries: A Case study of Muhammad Khan Juneju Government in Pakistan (1985-1988)
Keywords:
Muhammad Khan Juneju, Government, Democracy, Islam
Abstract
The long-running debate over Islam and democracy has struck a watershed moment. Since the outbreak of the Political upheavals in late 2010, political Islam and democracy have been closely associated. The question of whether they are interoperable is now mostly moot. Neither of them can now operate without the other. On 14th of august 1947 Pakistan was emerged on the map of the world as an Islamic democratic state but the dream of its founder could not become true and it had to face autocratic and non-democratic traditions. After a long struggle democracy was rstored under Muhammad Khan Juneju but could not established its roots and had to face the wrath of military dictator. This article will highlight the background of the struggle for democracy and the style of government of Juneju which eventually faced the music of COAS Zia Ul Haq.
References
Miller, D., & Bogdanor, V. (1992). The blackwell encyclopedia of political science. Beijing: The Publishing House of China University of Political Science and Law
Arat, Z., & Crone, D. K. (1994). Democracy and Human Rights in Developing Countries. Economic Development and Cultural Change, 42(3), 667–668.
DIAMOND, L. J. (1995). Introduction: Comparing Experiences with Democracy. Politics in Developing Countries : Comparing Experiences with Democracy.
Hafeez Khan, The Conspiracies against Pakistan, 83.
Gauhar Sultana Uzma, Jamhooriat Kay Qatil Kon? (Urdu),(Lahore: Jang Publishers,1993), 151-152 .
Sajjad, An Autobiography, 110.
Hassan Askari Rizvi, The Military and Politics in Pakistan: 1994-1997 (Lahore:
Sang-eMeel Publishers, 2000), 239-240.
Hassan Askari Rizvi, op.cit., p.185
Muhammad Waseem, op.cit., pp.397-98.
Ijaz Shafi Gillani, Pakistan at the Polls, Islamabad, n.d,, pp.40-54.
General Muhammad Zia-ul-Haq [1924-88]', http://www.gatlineducation.com retrieved on 2nd March 2009.
Amir-ul-Momineen is the title of the head of the state in an Islamic state. The first four caliphs of Muslims adopted this title and then it was used by the heredity monarchs of Ummaids and Abbasids even. Zia liked to be called as Amir-ul-Momineen. He introduced Islamic conjunctions and replaced the word Parliament with Majlis-i-Shura (means parliament working with Amir-ul-Momineen to give him advice on affairs of the government).
Shuja Nawaz, cross sword, p.381.
President Zia's statement in Dawn, 26 October 1984.
Junejo's statement in Jang (Lahore), 26 March 1985 and prime minister's statement in the National Assembly on 25 March 1985.
Sahibzada Yaqub Ali Khan was a retired Major General, who as a Chief Martial Law Administrator of East Pakistan refused to conduct an army action against Bengalis. He was demoted from Lt. General to Major General and then retired from the army. He was from Armour Corps and Gen. Zia-ul-Haq had served under him. While Mr. Mahbub-ul-Haq was an economist of international repute.
Economic Survey of Pakistan (Islamabad: Economic Advisor's Wing, Ministry of Finance, 1987), p.xi.
Hamid Yusuf, op.cit., p.209.
ISI also shared the same view with General Zia, General Hameed Gul, interview by researcher, 30/10/09 at Islamabad. (He was the DG ISI at that time).
Muhammad Waseem, op.cit., p.413.
Hamid Khan, op.cit., p.383.
General K.M. Arif, interview telecasted in program 'Band File (close file)' on Geo News, 30 August 2009.
K. M. Arif, op.cit., p.390.
Mahmood, A. (2017). Restoration of Democracy under Siege: A Study of Junejo Government in Pakistan 1985-1988., p.24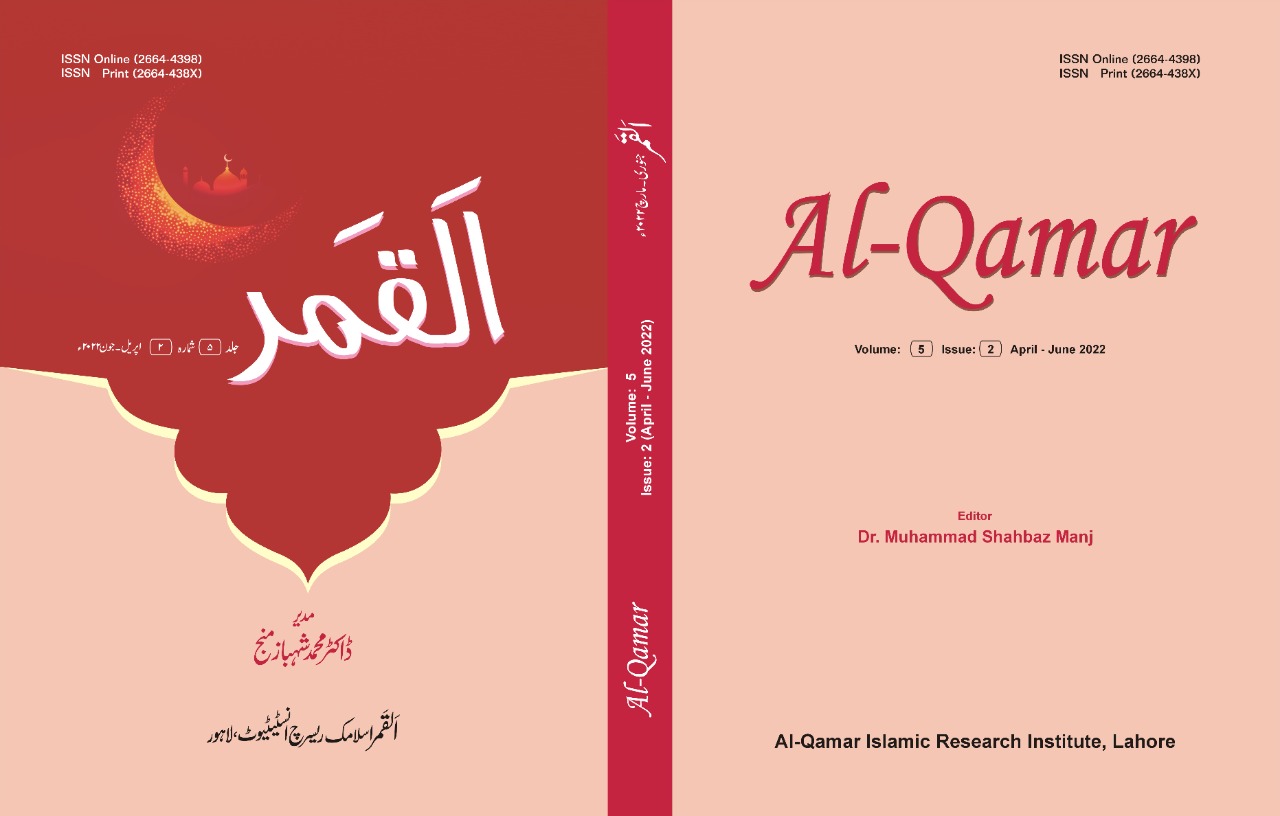 How to Cite
Muhammad Arslan Farooq, and Rana Eijaz Ahmad. 2022. "Restoration of Democracy in Muslim Countries: A Case Study of Muhammad Khan Juneju Government in Pakistan (1985-1988)". Al-Qamar 5 (2):33-48. https://doi.org/10.53762/alqamar.05.02.e03.
Copyright (c) 2022 Al-Qamar
This work is licensed under a Creative Commons Attribution 4.0 International License.