اجتہاد کا معنی و مفہوم اور اقسامِ : ایک تحقیقی مطالعہ
A Research Study of Meaning and Types of Ijtihād
Keywords:
Ijtihad, Qurʾān, Prophet Muhammad, original thinking, legal thought, organized, unquestioningly
Abstract
Ijtihād, (Arabic: "effort") in Islamic law, the independent or original interpretation of problems not precisely covered by the Qurʾān, Hadith (traditions concerning the Prophet Muhammad's life and utterances), and Ijmāʿ (scholarly consensus). In the early Muslim community, every adequately qualified jurist had the right to exercise such original thinking, mainly in the form of raʾy (personal judgment) and qiyās (analogical reasoning), and those who did so were termed mujtahids. But with the crystallization of legal schools (madhhabs) under the ʿAbbāsids (reigned 750–1258), jurists of the majority Sunni branch of Islam came to be associated with one or another of the schools of law and formulated their legal thought within the framework of their school's interpretive principles and against the backdrop of its doctrinal precedent. Over time, individuals' qualifications to exercise ijtihād were organized into levels, ranging from the absolute mujtahid, who was bound by no precedent and free to develop his own interpretive principles, to the absolute muqallid ("follower," "layperson"), who was required to follow authoritative jurists unquestioningly.
References
Tabrani,Suleman bin Ahmad,Al mojam ul Oast,(BBairut: Dar ul Kutub Al-Ilmia, 1420AH),1:142.
Ibn e Manzoor,Lisan ul Arab(Bairūt Dar ul Kutub Al-Ilmia,1414AH), 2:395.
Tabrani ,Al mojam ul Osat,1:142.
Ibn e Manzoor, Lisan ul Arab, 2:396.
Tabrani, Al mojam ul Osat,1:142.
Ibn e Manzoor,Lisan ul Arab, 2:390.
Razi,Muhammad Bin Abdul Qadir,Mukhtar ul Sihah ( Bairūt: Maktba Labnan, 1975AD),116.
Ibn e Manzoor, Lisan ul Arab, 2:390.
Isfahani, Hussain Bin Muhammad Ragheb, Mafradat Al-Quran (Damascus, Dara Al-Qalam, 2009AD),199.
Bazdavi, Aladdin Abdul Aziz bin Ahmad, Kshf ul Asrar Ala Usool ul Bazdavi ( Beirut, Dar al-Kitab al-Arabi), 14: 4.
Feroz sons,English to English Dictionary ( Lahore : New Edition), 232.
Ibn e Manzoor, Lisan ul Arab, 2:399.
Thanawi, Muhammad Ali Al-Thanawi, Kasshaf Istilahat al Funon Wal Aloom (Beirut: Maktab Lebanon Publishers, 1996AD), 1:198.
Jorjani, Ali ibn Muhammad Sayyid al-Sharif, Al-Tarefat,( Dar al-Fadhila, 1413 AH), 39.
Isfahani, Mafradat Al-Quran,199.
Tabrani ,Al mojam ul Osat,1:192.
Ibn e Manzoor,Lisan ul Arab, 2:397
Ghazali, Abu Hamid Muhammad bin Muhammad, Al-Mustafa min Ilm Al-Usul (Idara Tul Q uran Wl Uloom IL islamia, Karachi, 1987AD), 2:300.
Aamdi, Abu al-Hassan Ali ibn Muhammad, Ahkam Fi Usool Al Ahkam,( Beirut: Dar al-Fikr), 4:118.
Taftazani, Saad Al-Din Masoud bin Omar, Al Talveeh Alt Tozeeh,(Beirut: Dar Al-Kutub Al-Ilmia), 2:117.
Dehlavi, Shah Waliullah, Aqd al-Jaid fi Ahkam, Adlat al-Ijtihad wa Taqlid (Islamabad, Shariah Academy, 2000AD),3.
Al-Ghazali, Al-Mustafa min Ilm Al-Usul,1:300.
Amadi, Ahkam fi Usul Al-Ahkam, 4:1396.
Taftazani, Al Talveeh Alt Tozeeh, 2: 1174.
Al-Ghazali, Al-Mustafa min Ilm Al-Usul,2:54.
Bhopalvi, Siddiq Hassan Khan, Hasool ul Maool Min Ilm El Usool, (Spain: Al-Jawaib Press, 1296 AH), 94.
Shatbi, Abu Ishaq Ibrahim bin Musa, Al-Mawafqat,( Beirut, Dar abn Affan, 2008 AD), 4:92.
Bhopalvi, , Hasool ul Maool Min Ilm El Usool, 94.
Shatibi, Al-Mawafqat, 4:96.
sharani , Abdul Wawab bin Ahmad, Minhaj al-Wassul al-Maqassid Alam al-Usul( Jordan: Dar al-Fatah, 2013AD), 51.
Malik, Malik bin Anas, Muwatta Imam Malik, Kitab Ul Bayu, 50.
Maulana, Gohar Rehman, IjtehaD or Osaf e Mujtahid (Mardan: Maktab Tafheem-ul-Quran, 2000AD), 29.
Abu Dawud, Suleiman bin Ash'ath, Sunan Abi Daoud, Book of Kharaj,58.59.
Shokani, Muhammad ibn Ali ibn Muhammad, Irshad al-Fahul al-Tahiqiq al-Haqq min Ilm al-Usool ( Dar al-Fadhilah, 2000AD), 632.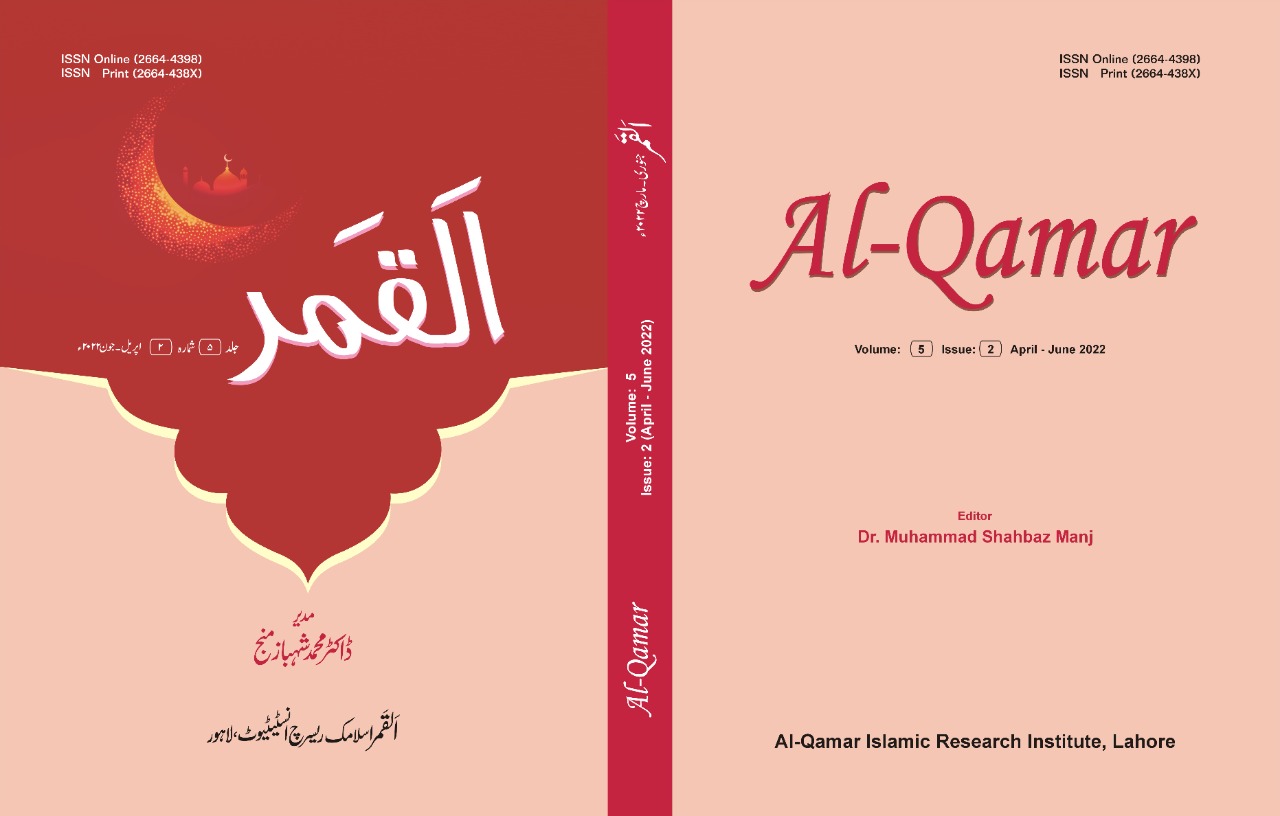 How to Cite
Muhammad Khalid Raza, and Prof, Dr. Rana Matloob Ahmad. 2022. "اجتہاد کا معنی و مفہوم اور اقسامِ : ایک تحقیقی مطالعہ: A Research Study of Meaning and Types of Ijtihād ". Al-Qamar 5 (2):119-26. https://doi.org/10.53762/alqamar.05.02.e10u11.
Copyright (c) 2022 Al-Qamar
This work is licensed under a Creative Commons Attribution 4.0 International License.