پاکستان میں ایلیمنٹری سطح پر تعلیمی پالیسیوں کے اہداف و مقاصد:اسلامی فلسفہ تعلیم کے تناظر میں ایک مطالعہ
Goals and Objectives of Education Policies at Elementary Levels in Pakistan: A Study in context of Islamic Philosophy of Education
Keywords:
Education, Policies, Objectives, Philosophy, Pakistan
Abstract
 Education is considered as a key to achieve socio-economic prosperity around the globe. The quality of education depends upon country's educational policy. Countries with better educational policies and a continued funding can better attain the socio-economic development with an ease. Whereas, countries like Pakistan, is yet to achieve the milestone of socio-economic development. The reason for such failure may be regarded to partial or complete catastrophe in policy implementation. Moreover, factors like political and bureaucratic reluctance, weaker economy, inconsistency in policy implementation, clash of political ideologies, wars, toppled regimes and above all corruption have been among the major factors of failure. For the attainment of economic and social prosperity, Pakistan needs to introduce a uniform policy along with qualified staff for inculcating the curriculum and either local or national language for more conceptual clarity. Moreover, the most important step is to check the goals and objectives of policies in the light of Islam. Another important step is the allocation of funds required minimum 4% budget of GDP for education with serious attitude of bureaucracy, political will and consistency or else the vision of Achieving social and economic uplift seems to remain a dream rather than a reality.
References
Dr. Ishtiaq Hussain Qureshi, Education in Pakistan (Lahore: Kitab Mahal Data Darbar), 312.
Professor Muhammad Usman, Taleemi Zawyay (Aligarh: Educational Book House), 147.
Muhammad Mazharuddin Siddiqui, Mazhab-e-Alam ka Taqabali Jaiza (Lahore: Institute of Islamic Culture, 1986)
Andalsi, Allama Ibn Al-Albar, Al-Ilm and Ulama", Jami Bayan Al-Ilm wa Fazla, trans; Abdul Razzaq, Lahore: , 1977.
Ahmed Shalibi, Nuslmano Ka Nizam-e-Taleem trans. Idris Siddiqui (Karachi: Urdu Sindh, 1985)
Gul Muhammad, Mehr, Pakistan main Primary Taleem (Lahore: Beacon Books, , Multan, 1988)
Anjam Rahmani, Pakistan main Taleem (Lahore: Pakistan Writer Cooperative Society, 2006)
Mohammad Aslam Khan Niazi,, Pakistan kay Taleemi Masail (Lahore: Book Talk)
John Dewey, Human Nature and Conduct *New York: Macmillan, 1916).
John Dewey, "Democracy and Education" (1916) "Human Nature and Conduct'' New York. The Macmillan Company
- B.F.Scinner,'Freedom and Dignity (,New York: 1971).
Al-An'am 3:165.
Mawlana Mawdudi, Tafheem al-Qutan. I:164.
Imam Ahmad Ibn Hanbal, "Musnad Ahmad Ibn Hanbal (Cairo: Dar al-Ilm, 1988)
Al-Qasas 28:77.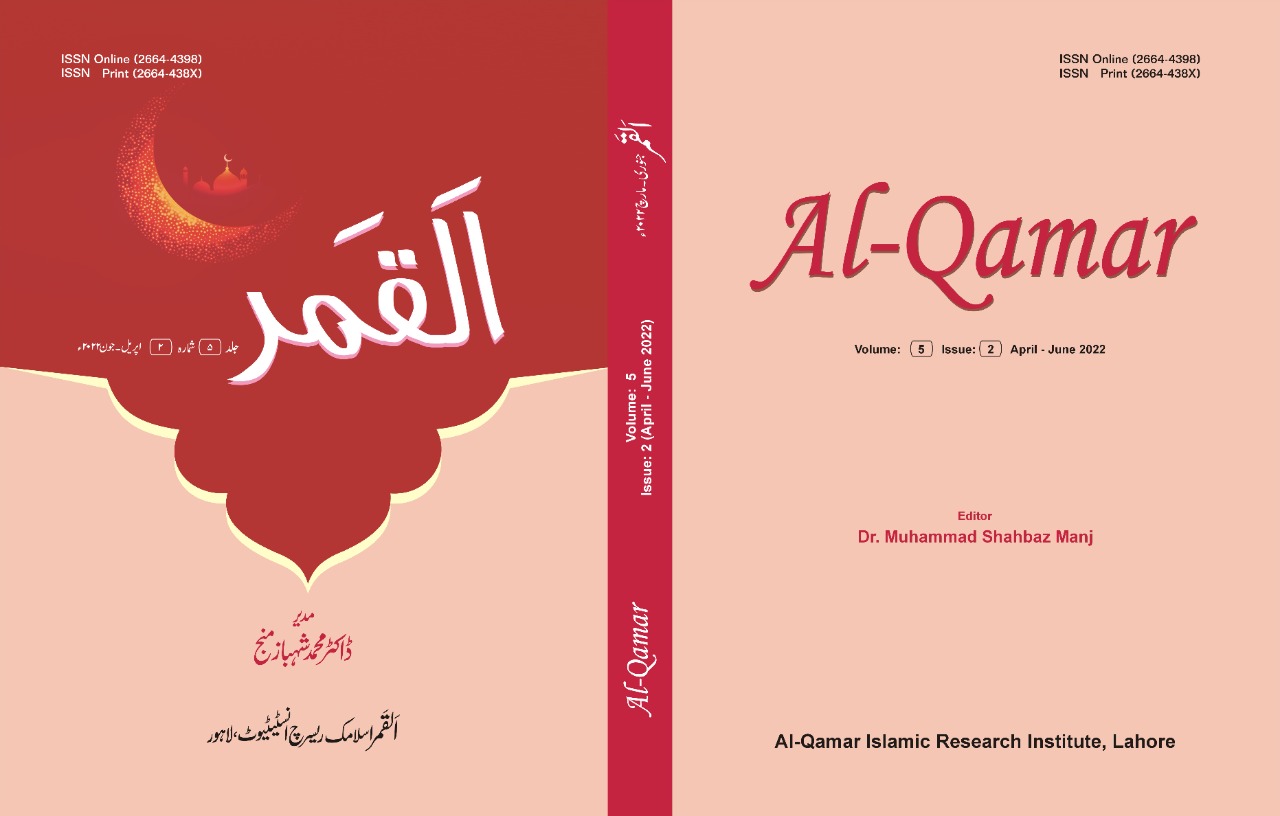 How to Cite
Yasir Hussain, and Dr Hassan Shakeel Shah. 2022. "پاکستان میں ایلیمنٹری سطح پر تعلیمی پالیسیوں کے اہداف و مقاصد:اسلامی فلسفہ تعلیم کے تناظر میں ایک مطالعہ: Goals and Objectives of Education Policies at Elementary Levels in Pakistan: A Study in Context of Islamic Philosophy of Education". Al-Qamar 5 (2):227-46. https://alqamarjournal.com/index.php/alqamar/article/view/1089.
Copyright (c) 2022 Al-Qamar
This work is licensed under a Creative Commons Attribution 4.0 International License.