سامی مذاہب کی تاریخ ، ان میں مذہبی حساسیت اور پاکستانی قانونِ توہینِ رسالت : ایک مطالعہ
A Study of the History of Semitic Religions, Religious Sensitivity in these Religions and Blasphemy Law in Pakistan
Keywords:
Religious Sensitivity, Semitic Religions, Blasphemy, Pakistan
Abstract
This paper discusses the religious sensitivity in light of Semitic religions and blasphemy law in Pakistan. It argues that religious sensitivity refers to insulting the reputation, fame and honor, greatness or glory of any Messenger or using defamatory words about any religion or finding fault in any kind of religious book or uttering such words that hurt their followers. The followers of every religion are convinced of the respect and honor of their founders, because no one can have heartfelt devotion and commitment to any leader unless there is a firm belief in the moral purity and high character of that person. But Judaism and Christianity is completely different in this regard. On the one hand, they consider the prophets and messengers to be the messengers of God, and on the other hand, they impose such moral accusations on their character that they imagine the messenger to be an ordinary noble person. On the contrary, the Holy Quran declares the purity of all prophets. And acquits the prophets of all the accusations that we find in the Bible. According to Islamic belief, all prophets are innocent, they are free from all kinds of minor and major sins. And these events are a cause of heartache for the Muslims of today. Apart from this, the accusations made by Jews and Christians about Islam cause severe pain to the Muslims, besides, the Holy Qur'an describes such events as fitna. The blasphemy laws in Pakistan owe their existence to the British laws in the subcontinent in the 19th century. About a century before the partition of India, in 1860, the British added three laws named Sections 295, 296 and 298 to the Indian Penal Code due to increasing crimes of religious nature.
References
Muhmmad Ḥabīb Sultān, Tarjmān al-Qurān (Lahore: Ever New Book Publiser), 846.
Ḥāfiz Muhammad Ṣadīq, Sawālāt-e-'Arūdh (Bahālpūr: Subḥān Publications), 93.
Encyclopedia of Bartanika, 13: 105.
Encyclopedia of Religions and Ethics, 1: 581.
Shaikh Aḥmad Dīdāt, Masīḥat aur Islam (Lahore: Mushtāq book Corner), 30.
Encyclopedia of Bartanika, 13: 166.
Dāira al-Mu'āraf Bartanika, 2010.
Imām Rāghab Aṣfhānī, Mufrdāt al-Qurān, 1: 76.
Al-Nisā 4: 171.
Encyclopedia, 5: 693.
Encyclopedia of religion & Ethics. James Hasting. V:3, p 518, New York, 1910.
Imām Juzī, Tazkrat al-Hufāz, 1342.
Al-Imran 3: 42, 43.
Ṣalāḥ al-Dīn Yūsuf, Aḥsan al-Bayān (Lahore: Dār al-Salām, 1998AD), 174.
Al-Imrān 3: 42, 43.
Ibn Kathīr, Qaṣaṣ al-Anbiyā, 445.
Yūsuf, Aḥsan al-Bayān, 199.
Qāmūs al-Kitāb, 912.
Qāmūs al-Kitāb, 93.
Qāmūs al-Kitāb, 73.
Qāmūs al-Kitāb, 234.
Encyclopedia Bartanika, 22: 479.
Yūḥanā 1: 1.
Afrīqī, Lisān al-Arab, 6: 345.
Mujam Maqāsbīs Fī al-Lugha, 3: 90, 91.
Afrīqī, Lisān al-Arab, 6: 345.
Majma al-Baḥrain, 2: 407.
Al-Imrān 3: 78.
Al-Imrān 3: 19.
Kitāb Pīdāish, 9: 20, 21.
Kitāb Pīdāish, 9: 35.
Salāṭīn Awal 11: 1-6.
Samūil 11.
Al-Zumar 60: 10.
Shiblī, Maqāran al-Adyān, 2: 218.
Al-Nisa 4: 94.
Ibn al-Asīr, Asad al-Ghāba Fī Marfat al-Ṣaḥāba, 776.
Muhammad Ismāīl Qureshī, Nāmūs Risālat aur Qānūn Tuḥīn Risālat (Lahore: Lair māl), 329.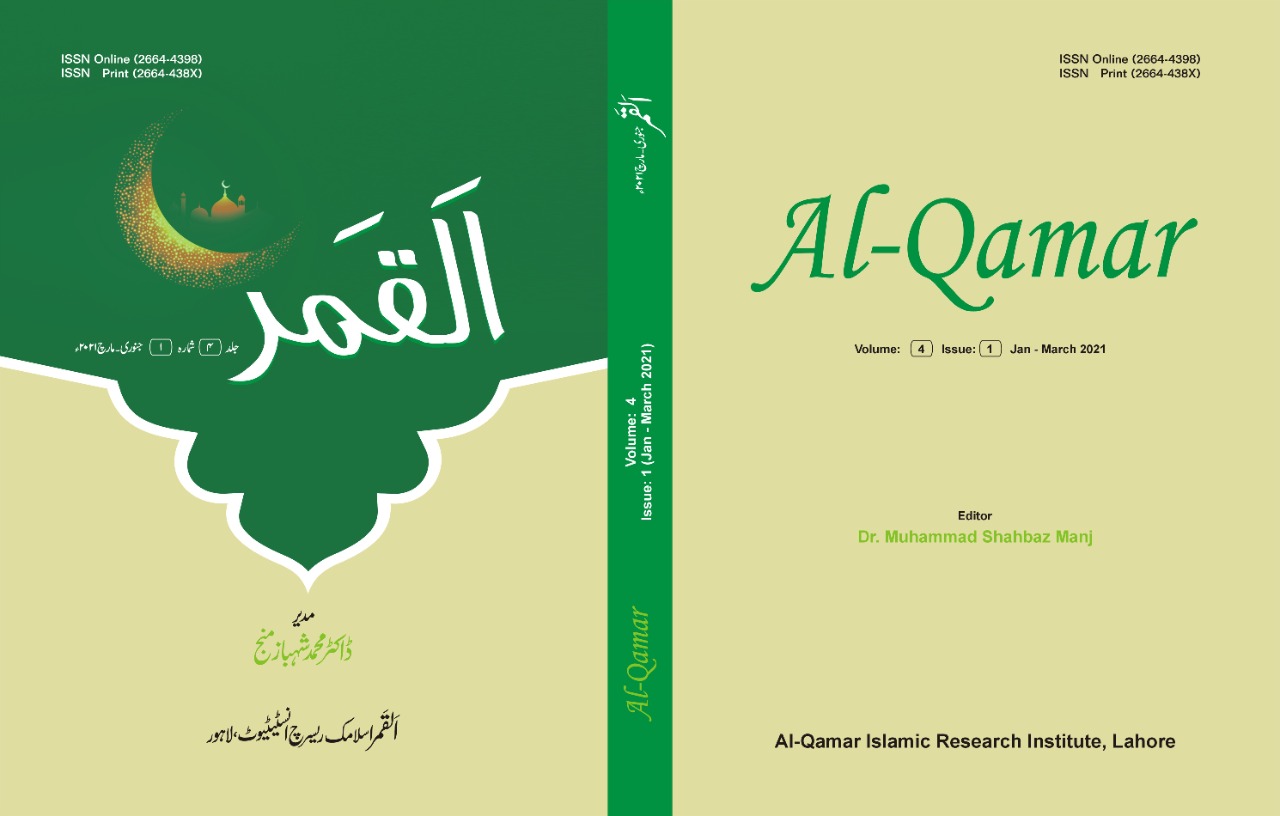 How to Cite
Fawad Saeed, Dr. Mushtaq Ahmad, and Dr. Sohail Akhtar. 2021. "سامی مذاہب کی تاریخ ، ان میں مذہبی حساسیت اور پاکستانی قانونِ توہینِ رسالت : ایک مطالعہ: A Study of the History of Semitic Religions, Religious Sensitivity in These Religions and Blasphemy Law in Pakistan". Al-Qamar 4 (1):477-86. https://alqamarjournal.com/index.php/alqamar/article/view/1129.
Copyright (c) 2021 Al-Qamar
This work is licensed under a Creative Commons Attribution 4.0 International License.