اختلافِ قراءات کےتفسیری اثرات: "حاشیۃالجمل" کے منتخب مباحث کا مطالعہ
Interpretive Effects of Variant Readings of the Quran: A Study of Selected Discussions from "Ḥāshiah al-Jamal"
Keywords:
Variant readings, Tafsīr, effects, al-Jalālayn , al-Maḥall, al-Suyūtī, Ḥashia al-Jamal
Abstract
Variant readings of the Quran and their interpretive effects are discussed in different commentaries of the Quran. This paper studies the selected discussions in this regard from Ḥāshia al-Jamal by Sulaimān Ibn ʻUmar al-Jamal (1204 AH), a commentary on prominent tafsīr work al-Jalālayn by Jalāl al-Dīn al-Maḥallī (791AH-864AH) and Jalāl al-Dīn al-Suyūtī (849AH-911AH). It concludes from a study of three selected verses: al-Baqarah 37, 148 and Āl-e-Imrān 81, that the frequent readings have interesting and constructive effects on Qur'ānic exegesis. The study finds that in the Islamic world Qirāʻāt by the majority of Qārīs is common and reliable. Although the interpretations of the under discussion two variant readings are different, both are accurate and reliable in their respective positions and are included in the ten frequent readings. Therefore, accepting both as correct would be an accurate decision according to Quran and hadiths of the Prophet (ﷺ).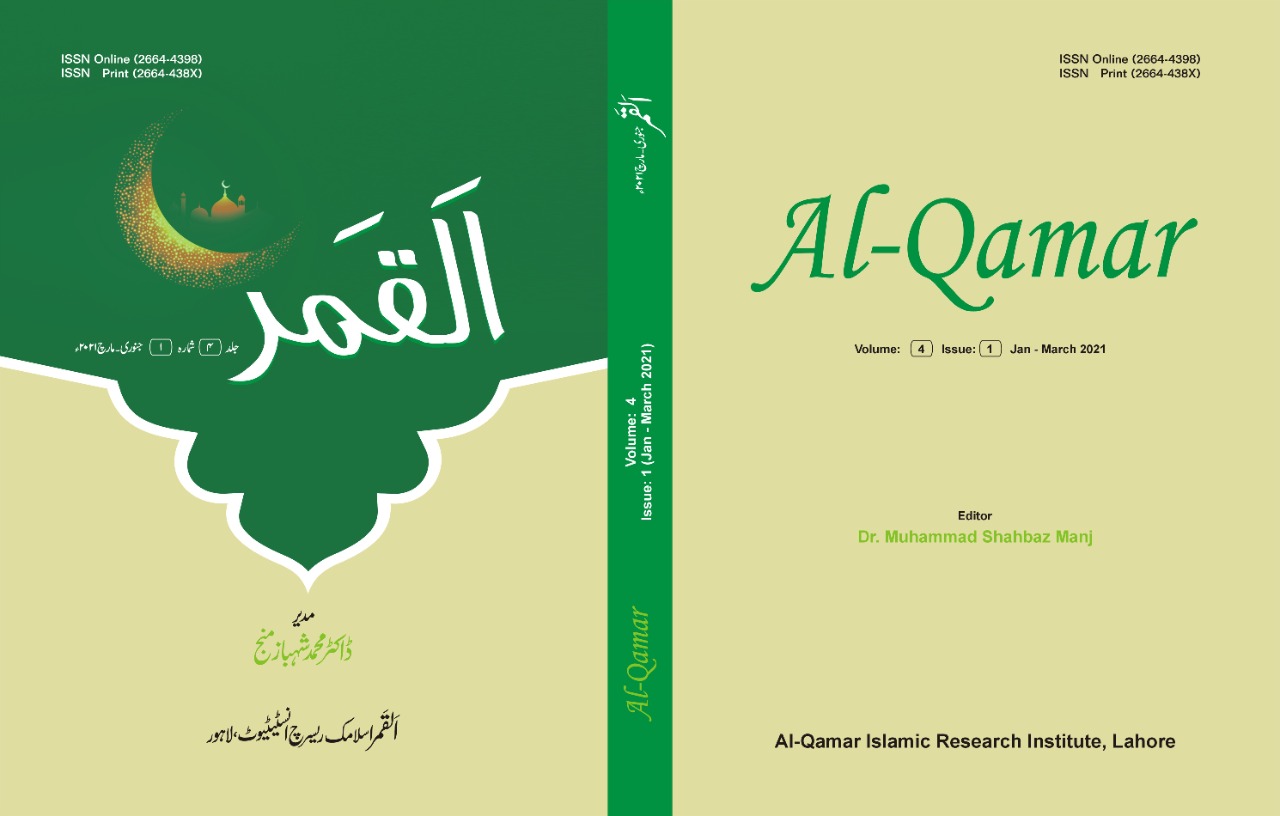 How to Cite
Abdul Nasir, Qammar Aziz, and Dr. Matloob Ahmad. 2021. "اختلافِ قراءات کےتفسیری اثرات: "حاشیۃالجمل" کے منتخب مباحث کا مطالعہ : Interpretive Effects of Variant Readings of the Quran: A Study of Selected Discussions from 'Ḥāshiah Al-Jamal'". Al-Qamar 4 (1):79-88. https://alqamarjournal.com/index.php/alqamar/article/view/510.
Copyright (c) 2021 Al-Qamar
This work is licensed under a Creative Commons Attribution 4.0 International License.