اُردو نعت میں معجزات ِ رسول کا تصور
Concept of Prophet's Miracles in Urdu Na'at
Keywords:
Na't, Miracles, Prophet, Innovative Thinking, Affirmation of Prophethood, Beyond Reason
Abstract
The proclamation of Allah's words has been the basic obligation of the man since his presence on earth and from series of Prophets to our last prophet Hazrat Mohammad (PBUH) till it was completed. The messengers were bestowed with a number of miracles which verified their messages. The last Prophet Muhammad (PBUH) has been blessed with the most extra-ordinary miracles such as cleavage of moon, Ma'iraj and others. These miracles have been well versified in in-numberable couplets in Urdu Na'at with overwhelmingly innovative style of poetry and aesthetics. These prophetic miracles found a unique treatment in Urdu poetry. Although these miracles  are religious in their essence but they have been  depicted in Urdu poetry with such an artistic art which makes it some thing special. The readers of these Naats, and couplets find themselves in spell bounding situation which spread peerless serenity on their heart and soul. This article is a key attempt to explore the concept of miracles in Urdu Na'at and its charismatic influence.   
References
Agha Ashraf, Miraj and Science (Lahore: Al-Faisal Publishers, 2016), 34
Imam Raghib Isfahani, Al-Mufardāt: Bazeel Ujaz, trans. Maulana Amin ur Rehman Qadri (Karachi: Islamia School, 2006), 547
Pyār Muhammad, Bhog Bil (Delhi: Farogh-e-Adab, 1988),47.
Burhanuddin Janam, ed; Dr. Rafia Sultana, Kalamat al-Haqayq ( Hyderabad Deccan: Osmania University Press, 1961), 23
Amir Mināi, Khayaban-i-Afrinish (Hyderabad Deccan: Amir-ul-Matabiʻ), 254
Mināi, Khayaban-i-Afrinish, 234.
Mināi, Khayaban-i-Afrinish, 654.
Mulana Kifayat Ali kafi, Khyaban-e-Firdous (Delhi: Matbaʻ Ahmed, 1906), 33.
Bedam Warsi, Kulliyat-e-Bedam Warsi (Lahore: Abdullah Academy, 2012), 36.
Warsi, Kulliyat-e-Bedam Warsi, 77
Mawlānā Zafar Alī khān, Kuliyat-e- Mawlānā Zafar Alī Khān (Lahore: Al-Faisal nāshrān, 2011), 38
Warsi, Kulliyat-e-Bedam Warsi, 56.
Mulana Altaf Hussain Hali (Karachi: Fazli centre Limited, 1999), 34
Allama Dr. Muhammad Iqbal, Kulliyāt-e-Iqbal (Lahore: Iqbal Academy, 2016), 456.
Hijazi, Arfaʻ Zāt Muhammad Ki ,66.
Hijazi, Arfaʻ Zāt Muhammad Ki, 48.
Hafeez Taib, Sallu Alaihi wa Ālihi (Lahore: Majeed Publishers, 2015), 103
Taib, Sallu Alaihi wa Ālihi, 121.
Imam Busairī, trans; Muhammad Noor Bakhsh Tawakli, Sharh Qaseedah Burda ( Lahore: Akbar Booksellers, 2018), 154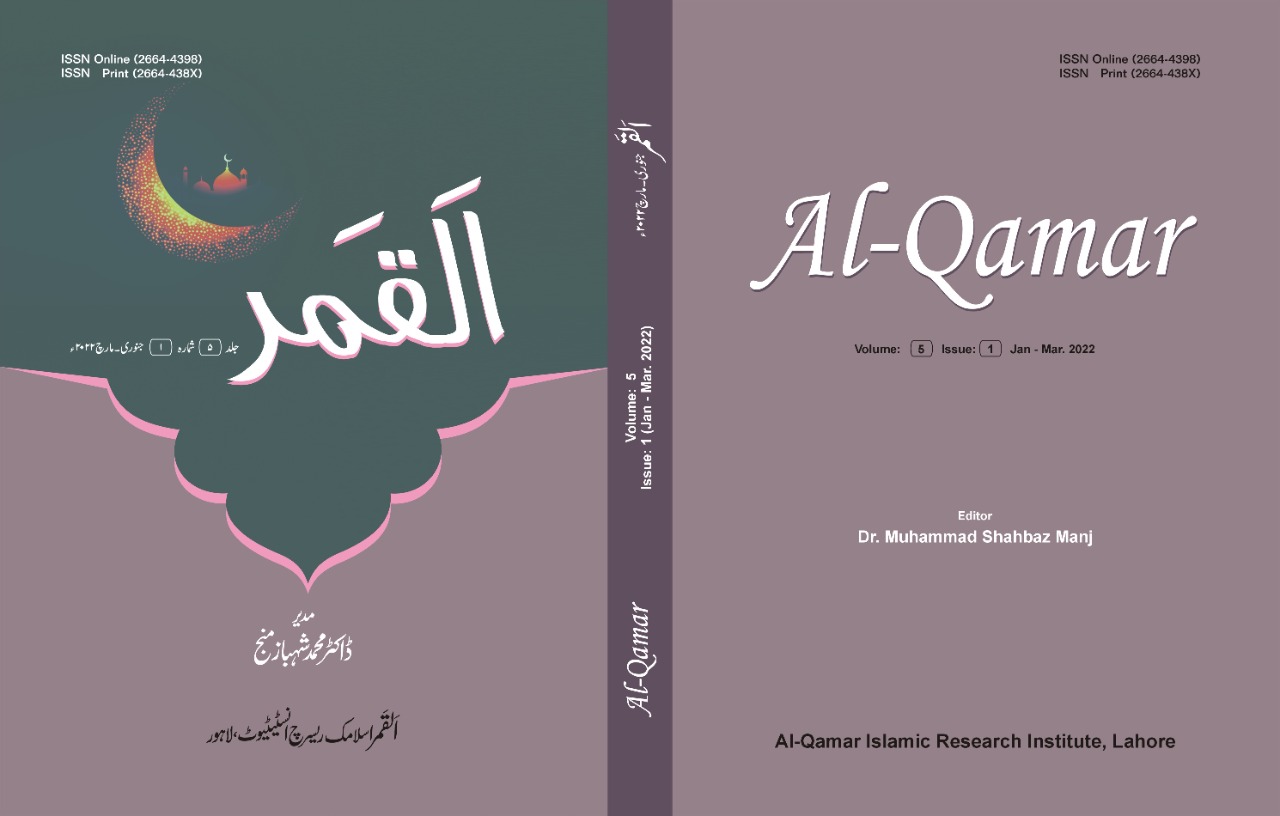 How to Cite
Dr. Shazia Andleeb, Dr. Tayyaba Nighat, and Dr. Uzma Bashir. 2022. "اُردو نعت میں معجزات ِ رسول کا تصور: Concept of Prophet's Miracles in Urdu Na'at". Al-Qamar 5 (1):205-12. https://doi.org/10.53762/alqamar.05.01.u16.
Copyright (c) 2022 Al-Qamar
This work is licensed under a Creative Commons Attribution 4.0 International License.