حدیثِ بخاری "من عادی لی ولیا" کی ثقاہت کا مسئلہ:جاوید احمد غامدی کے نقطۂ نظر کا تجزیاتی مطالعہ
The Issue of the Authenticity of Ḥadīth from Bukhārī "Man ʻAdaī lī Waliyyan": An Analytical Study of Jāved Ahmad Ghāmidī's Perspective
Keywords:
Ḥadīth, "Man ʻaadī lī waliyyan" Ghāmidī, authenticity
Abstract
This paper studies the perspective of Jāved Ahmad Ghāmidī (b.1951), a Pakistani modernist scholar, on the issue of the authenticity of a Ḥadīth from Bukhārī "Man ʻadaī lī waliyyan". It concludes that Ghāmidī has denied the referred Ḥadīth because of his personal inclination, as no one among the Imams has denied this Ḥadīth. As for the denial of al-Dhahabī is concerned, it is investigated that if he found it in Musnad Ahmad, he would not hesitate to accept it. Moreover this Ḥadīth is not only found in Bukhārī and Musnad but also in many other sources. It is ironic that not all the narrators of the Ḥadiths which Ghāmidī himself accepts are free from the interrogation. Furthermore, he himself has taken the Ḥadīths of the narrators of which Imam al-Dhahabi has questioned. He is rejecting the referred Ḥadīth on behalf of Khalid Ibn Mukhlid, but he himself is quoting his narration, which has even many other chains also. All these facts speak that Ghāmidī has set his own criteria for accepting the Ḥadīths which is unknown to traditional Ḥadīth experts.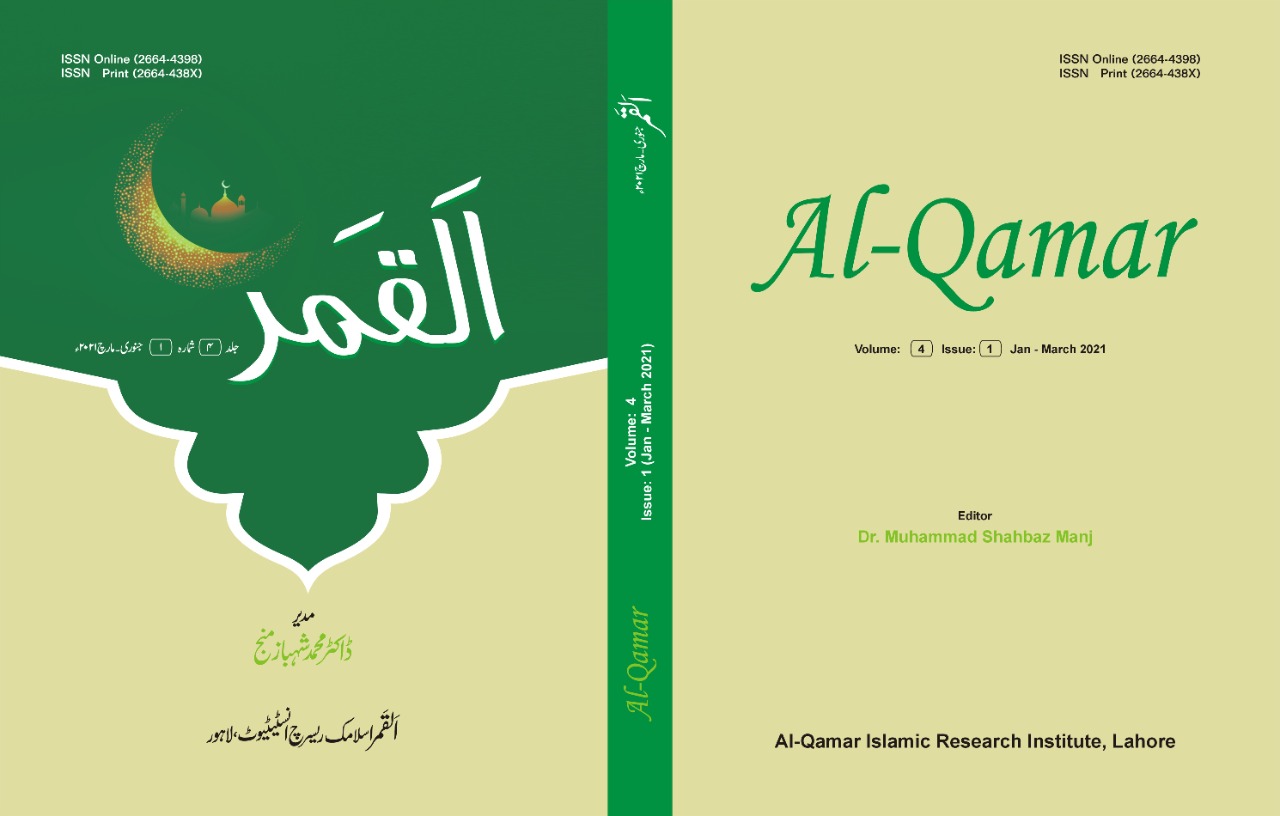 How to Cite
Hussain Akram Mohayyodin, Dr. Mohib ul Nabi Tahir, and Dr. Hafiz Muhammad Abrar Awan. 2021. "حدیثِ بخاری "من عادی لی ولیا" کی ثقاہت کا مسئلہ:جاوید احمد غامدی کے نقطۂ نظر کا تجزیاتی مطالعہ: The Issue of the Authenticity of Ḥadīth from Bukhārī 'Man ʻAdaī Lī Waliyyan': An Analytical Study of Jāved Ahmad Ghāmidī's Perspective". Al-Qamar 4 (1):89-102. https://alqamarjournal.com/index.php/alqamar/article/view/537.
Copyright (c) 2021 Al-Qamar
This work is licensed under a Creative Commons Attribution 4.0 International License.